Criminal Justice
Manhattan DA candidates differ on gang conspiracy cases
Famous for taking down crime lords, conspiracy charges are now more often levied against young Black men.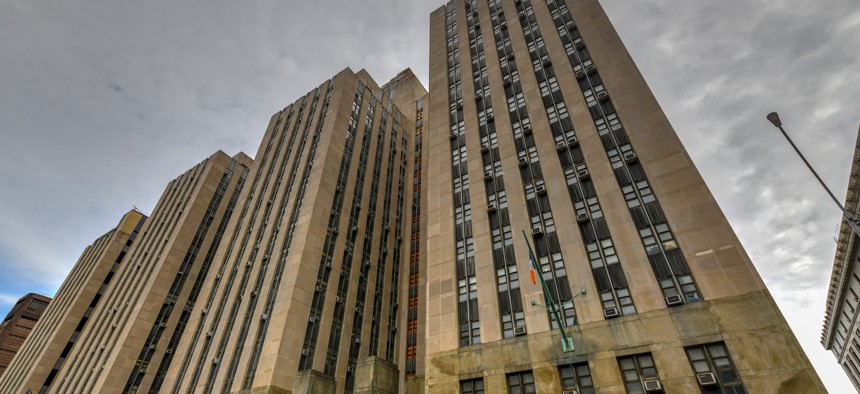 Criminal justice reform will likely play a large role in next year's race for New York City mayor, and even more so in the race for Manhattan district attorney. The race has already attracted nine candidates competing to replace Cyrus Vance Jr., who has not yet said whether he will seek reelection. And in that wide field, everyone is trying to prove that they have the progressive chops to reform criminal justice and policing in Manhattan.
Despite several key similarities between many of the candidates pledging reform and a less punitive criminal justice system, a difference emerged in a recent forum over the use of gang conspiracy charges, with three vowing never to prosecute such cases. The use of gang conspiracy charges are considered controversial, with criminal justice reform advocates saying they are used to target and arrest large groups of Black and brown people, sometimes based on scant evidence. But several former prosecutors in the race remained open to prosecuting such cases, arguing that conspiracy charges in certain instances remain useful tools while acknowledging the harm these cases have caused. The divergence on the issue previews what could become ongoing debates on the nuanced use of controversial prosecutorial practices as candidates try to prove their reform bona fides. 
Conspiracy charges, such as those under the federal Racketeer Influenced and Corrupt Organizations Act, have been used to take down high-profile gang leaders, cartel members and mafiosos, and large swaths of their organizations. And the charges have been used for decades in New York City to break up violent gangs. But conspiracy charges are also used in mass gang sweeps that generally target low-income communities of color and lead to mass arrests of Black and brown residents on evidence as circumstantial as being friends with someone or making posts on social media that could indicate gang ties. "There are so many tools in a DA's belt, they don't have to hang on to this," civil rights attorney and Columbia Law School Lecturer Alexis Hoag told City & State. "The way it's being deployed in practice is almost exclusively against poor Black and brown people."
A conspiracy in the first degree charge is a Class A felony, the same category as aggravated murder, even if that person has committed no violent crimes themselves or is only tangentially related to the crime in question. Often, those arrested will plead to lesser charges, generally after spending time in jail and sometimes in exchange for testimony against other people. "The utilization of these gang conspiracy charges tends to lead to a lot of overcharging," Jennvine Wong, an attorney with The Legal Aid Society's Cop Accountability Project, told City & State, "the kind of overcharging that is endemic to mass incarceration, the kind of overcharging that turns low-level offenses into violent crimes." 
Some district attorney candidates took a nuanced approach to conspiracy charges and remained open to their use in some circumstances. "We have times when we can use those laws to root out the kinds of harm that's hurt my community," former federal prosecutor Alvin Bragg said during the debate. Bragg, who is Black, said that he knows firsthand the harm that comes from the abuse of the law, but added that he has used it to take down international violent criminals posing serious threats. His sentiments were echoed by fellow former prosecutors Lucy Lang, Tali Farhadian Weinstein, Diana Florence and Liz Crotty, some of whom similarly referenced how they've successfully used such charges. They agreed that gang conspiracy charges can still be useful tools when used properly and that they would not target low-level operators and young Black and brown people. Civil rights attorney Tahanie Aboushi, one of the candidates who remained open to gang conspiracy cases, later clarified on Twitter that she felt that conspiracy charges could theoretically be used to go after those who force people into prostitution or attempt to silence protesters. Public defender Eliza Orlins, civil rights attorney Janos Marton and Assembly Member Dan Quart ruled out prosecuting any gang conspiracy cases, illustrating one of the tangible differences that may wind up setting a slew of reform candidates apart from each other.
Conspiracy charges made headlines in 2014, when a raid in West Harlem led to the arrests of 103 people, and again in 2016 when another raid led to 120 arrests in the Bronx. They were each the largest gang raids in New York City history when they occurred, and both targeted loose-knit crews that lack traditional gang affiliation and structures. And in both cases, prosecutors – Vance and then-U.S. Attorney for the Southern District of New York Preet Bharara – touted the sweeps as victories against gang violence resulting in arrests of major players. "The takedown, we believe, will immediately improve public safety in the communities (where) these gangs operated," Vance said at a press conference announcing the 2014 indictments. And the vast majority of those arrested in those raids plead guilty to a range of charges.
But scrutiny in the years since have revealed the tenuous nature of the charges brought against those arrested, even if public safety improved at least in the short term following the raids. A report released in 2019 found that half of the 120 people arrested as part of the 2016 Bronx raids were never accused by prosecutors of being gang members and two-thirds were not convicted of a violent crime. The result was that 115 out of 120 accepted plea deals on lesser charges. "Why on earth would they bring mass gang indictments, have a press conference saying that this is the largest takedown of two violent gangs in history, and actually be taking down dozens of people who are not gang members, and 80 individuals who are not violent?" report co-author and CUNY School of Law professor Babe Howell told The Intercept last year. "It's because these prosecutions are politically advantageous."
In the 2014 raid, 95 out of the 103 accepted plea deals, often after spending a year on Rikers Island after being unable to make bail. "Even if that person then pleads to avoid jail time, they still have a criminal conviction on the record, and we know, based on the laws that we have created in this country, what happens when somebody has a criminal conviction," Hoag said. "They're prevented from obtaining educational loans, they're prevented from potentially obtaining housing, they might lose custody of their children." In one instance, the evidence against a young man facing conspiracy charges was a few social media posts and his socialization habits. He could have been imprisoned for decades if he took his chances at trial and instead cut a deal to testify in a murder case in which police had no physical evidence. "This is how our criminal legal system currently works," Wong said of the practice of using gang conspiracy and other serious charges as leverage for testimony when prosecuting other crimes.
Wrapped into the issue of gang conspiracy cases is the New York City Police Department's controversial use of a gang database, which includes about 18,000 people according to the NYPD, but could have as many as 42,000 people. Only 1% of the people in the database are white, with the majority being Black and Latino. "That now has become this tool for law enforcement to ensnare young, poor Black and brown people, because they can't do stop and frisk, so they'll just put you on the list," Hoag said. The incredibly opaque database has not set criteria for how people are placed on it or how they are removed. "Public defenders know that oftentimes, our clients are adversely affected by oftentimes wrongly being put on this gang database and not having really any recourse to get off of it," Wong said.
Ultimately, Wong wouldn't say whether local prosecutors should completely swear off the use of gang conspiracy charges, but said that they and police should certainly be exploring alternatives that also better address the underlying problems that lead to gang violence like poverty and disinvestment. Hoag, however, took a stronger stance, arguing that there were no good reasons to keep even the prospect of such cases on the table, even with the best of intentions, because district attorneys have other ways to go after people posing legitimate public safety risks or are otherwise dangerously powerful. "If you as a general matter say, 'I am against criminalizing poor Black and brown people,' but then yet you still want to employ and have in your reserves the conspiracy for gangs as a charging tool, then to me, that's disingenuous," Hoag said. "That shows us really who, among this massive collection of candidates, is actually willing to walk the walk."
Powered By
NEXT STORY: How accurate are rapid COVID-19 tests?