NYPD
The NYPD has a surveillance problem
The department is facing multiple lawsuits over the use and disclosure of its digital surveillance practices.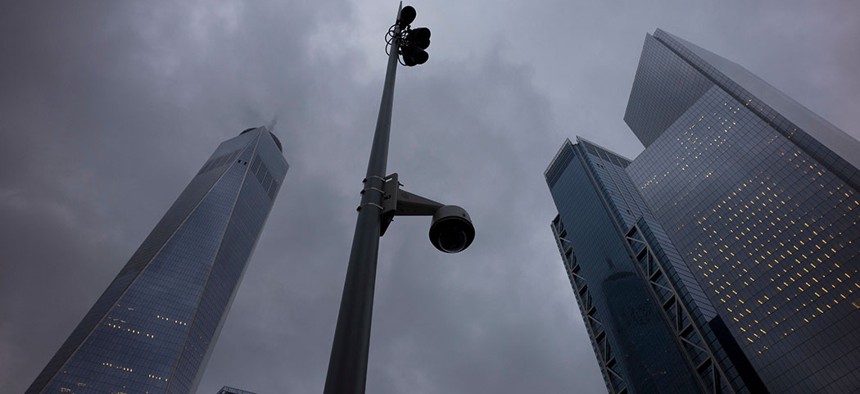 The New York City Police Department has eyes everywhere. Before the passage of the Public Oversight of Surveillance Technology Act by the New York City Council in June, the public had few ways to learn how the NYPD was using surveillance technologies like facial recognition, running checks against controversial databases or even tracking public opinion about the department itself.
While the passage of the POST Act will require the NYPD to disclose more information to the City Council about how it uses some of these technologies, the first report from the NYPD isn't due until early next year. But Council Member Vanessa Gibson, who sponsored the law, said on-time reporting compliance was often a problem for city agencies, and she foresaw that the report could be delayed due to the coronavirus pandemic.
But with the public still largely in the dark about how police use digital surveillance or technologies like facial recognition, some individuals and civil liberties advocacy groups have filed lawsuits to obtain that information in court. In the past two weeks alone, two such suits have been in the news, including one dealing with the department's alleged practice of stopping mostly Black and Latino New Yorkers without cause and searching their identities in law enforcement databases, and another over its use of an electronic survey to measure public sentiment on the NYPD. The NYPD declined to comment for this story.
Here are a few of the recent lawsuits over the NYPD's various efforts at keeping digital tabs on New Yorkers.
"Digital stop and frisk"
This week, The Intercept reported on a federal class-action lawsuit filed last year that alleged the NYPD has stopped and searched mostly Black and Latino people, and even after finding nothing illegal on them, demanded their IDs and ran them against databases to cross-check for arrest warrants or other information like alleged gang affiliation. The lawsuit claimed that these checks were unconstitutional because they were done with no reasonable suspicion – hence the "digital stop and frisk" moniker. "The NYPD's own data confirms that the vast majority of people who they stop each year are Black and Latinx. So, when they run warrant checks and record searches on the majority of people who they stop, it is a continuation of their racist stop-and-frisk practices, but with an invasive digital component," said Molly Griffard, an attorney with the Legal Aid Society's Cop Accountability Project, who represents plaintiffs in the case. "They're not just looking into people's pockets for drugs and guns, they are going on a fishing expedition into the NYPD's massive and ever-growing database to see what they can find."
That the alleged "digital stop-and-frisk" practice was documented mostly in poor neighborhoods, involving mostly Black and Latino people, hit one of the central issues with law enforcement's use of surveillance technologies. Studies of some of the technologies themselves, such as facial recognition, have been shown to be ineffective at identifying Black faces, for example. But there's also the question of how tools are deployed. "There's a potential use of surveillance, where it might be posed as a neutral alternative to biased police practices, but ultimately, if they're being deployed in the same neighborhoods to achieve the same effect, things won't necessarily change," said Ángel Díaz, counsel in the Liberty & National Security Program at the Brennan Center for Justice.
Gibson said that while she respected the desire of the NYPD to protect officers engaged in undercover work – an argument often leveled by the NYPD against disclosing the tools it can deploy – there had to be a balance. "It's about not imposing on people's civil rights, it's not coming into communities of color just because there's an assumption that all crimes happen in communities of color," she said. "I guess the big fundamental question we should ask (is) are we safer with police surveillance technology in communities of color?"
Sentiment data tracking 
The Surveillance Technology Oversight Project, a privacy-focused nonprofit, filed a lawsuit last week that aimed to produce information about how the NYPD collected and used polling data tracking how New Yorkers feel about the department. This data came from a multiyear contract with the private polling firm Elucd, which developed this "sentiment meter" with the NYPD and asked people through online surveys whether they felt safe and trusted the police.
The lawsuit alleged that the NYPD refused to comply with a Freedom of Information Law request that sought all information related to the "sentiment meter" by replying that the request was unduly burdensome. While the NYPD has released some results of the polling, they haven't released information at the neighborhood or precinct level, or shed light on how the results have changed policing practices. "We want to understand the specifics of how this tool works, what data was collected, how the data was then acted upon," said Albert Fox Cahn, the project's executive director. "But we also want to understand why the NYPD engaged in this multiyear, multimillion-dollar project to begin with, and then why they systematically withheld it from the public."
Cell phone searches
Another lawsuit filed by the Surveillance Technology Oversight Project late last year attempted to procure information on how the NYPD has used mobile device forensic tools – technology that can unlock and download all the information on a cellphone. In this case, the group filed the suit alongside Upturn, a technology nonprofit that has been assembling information on the use of this kind of technology across the country. While other localities complied with requests for that information, Cahn said, the NYPD did not comply with a Freedom of Information Law request for details on what technology it has and how it is used.
Facial recognition
Law enforcement's use of facial recognition technology has been one of the most high-profile sources of criticism when it comes to digital surveillance. Other states and cities banned the technology outright. But in New York, civil liberties groups are still working to figure out how that tech is being used. A lawsuit filed by the Georgetown University Law School's Center on Privacy and Technologyin 2017 sought information related to the department's use of a facial recognition database. That lawsuit produced documents last year that revealed the NYPD had loaded mugshots of minors into that database, even though there was evidence that the technology didn't work as well on children as on adults.
That work continues today, and a third lawsuit from the Surveillance Technology Oversight Project was filed in July for information on the department's use of other types of facial recognition technology, after the group received a tip that biometric surveillance systems were being used in and around Times Square.
While those who pushed for the passage of the POST Act, including Gibson, Cahn and Díaz, said the legislation will create more transparency about the NYPD's use of systems like facial recognition as well as tools like drones and license plate readers – hopefully preventing the need for lawsuits seeking that information – they agreed that more work lies ahead in figuring out how the NYPD should or shouldn't be using these technologies.
Powered By
NEXT STORY: NYC could ban criminal background checks on potential tenants