New York State
'The weapon that ends the war': the COVID-19 vaccine distribution process begins
Beginning this week, the rollout will likely continue until the middle of 2021.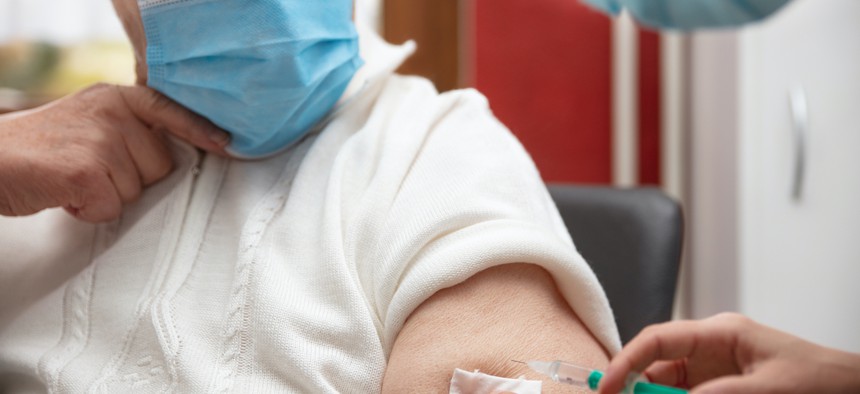 Even though the coronavirus is once again raging across New York state and setting new records nationwide, a few people will be made safe from COVID-19 this month.
The final stage of the coronavirus pandemic begins tomorrow at an advisory committee meeting of the Food and Drug Administration to grant emergency-use authorization to the first COVID-19 vaccine in the United States. At least 140,000 doses of the vaccine (which requires two doses three weeks apart) will arrive in New York as soon as next Tuesday if all goes as expected. As many as a half-million vaccines could arrive by the end of the month if the FDA approves a second vaccine. 
Vaccines can only be manufactured and distributed so fast, so it will likely take around six months to inoculate enough Americans to achieve herd immunity, experts say, which means that policymakers have to prioritize who gets the vaccine first. 
"If your goal is to maximize the preservation of human life, then you would bias the vaccine toward older Americans," Dr. Scott Gottlieb, the former FDA commissioner, recently said, according to The New York Times. "If your goal is to reduce the rate of infection, then you would prioritize essential workers. So it depends what impact you're trying to achieve."
The strategy outlined by New York state is based more on protecting various classes of people than on targeting the spread of the coronavirus. Gov. Andrew Cuomo has already announced that the approximately 110,000 nursing home residents and staff in the state will get vaccines first. Some front-line health care workers are also expected to get shots this month, though limited supplies mean many will have to wait until early next year to get their shot at the shots.
Public health officials expect there to be high overall demand for a vaccine, especially one developed through an approval process that is much more rigorous than that of countries like Russia, China, and even the United Kingdom. Limited supplies mean tough decisions for states, which have the ultimate say on prioritizing access to vaccines. Cuomo has already detailed how essential workers and older people will get vaccines in the second phase of the five-phase distribution process. Everyone else (except possibly children) comes next, but the governor has not yet said how the state will decide on the order of vaccination for people within each group. "I would think by the time you get to the beginning of April," Dr. Anthony Fauci said Monday of when regular New Yorkers could expect vaccines to become available. 
That is why an increasingly fierce advocacy effort is getting underway. First-responders like firefighters say they deserve first dibs. Essential workers ranging from stockbrokers to more other professions say they should also come first. Advocates for incarcerated people say congregate settings like prisons warrant the same consideration as nursing homes. There is a growing consensus that people of color deserve special treatment because the pandemic has hit them disproportionately hard, though figuring out how to do that is easier said than done. 
There is no shortage of details still to be worked out, including to what extent the approval of other vaccine candidates might ease the supply bottleneck or improve access by only requiring a single dose. One thing is certain: Approximately one year after this novel coronavirus infected its first person, the biggest pandemic of the past century is beginning to come to an end. "The vaccine is the weapon that ends the war," Cuomo told reporters Saturday. "The question is how long it takes."
Powered By
NEXT STORY: NYC to get over 500,000 COVID-19 vaccinations