Sheldon Silver
Sheldon Silver's many prison sentences
The former Assembly speaker is finally serving time – and he's staying in prison.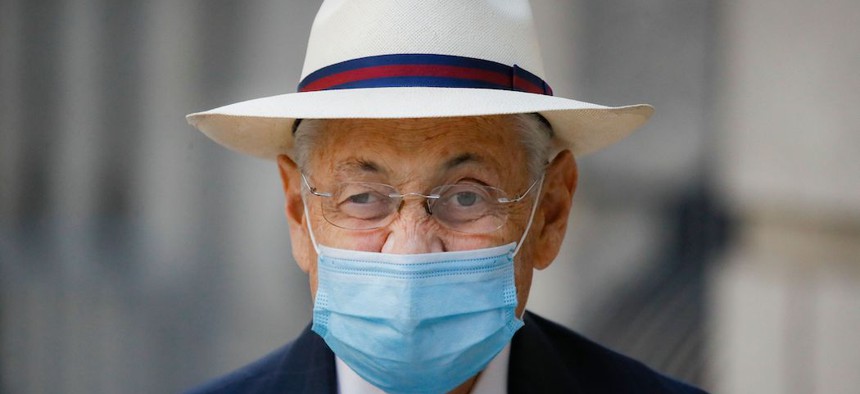 Sadly, there will be no silver lining for former Assembly Speaker Sheldon Silver, whose prison sentence was not commuted by former President Donald Trump during his final hours in office.
On Jan. 18, it was reported that Trump was planning to pardon Silver. Gov. Andrew Cuomo criticized the decision upon hearing that Silver would be spared from the prison sentence he has been trying to avoid for years. However, Silver was not among the 144 individuals who were pardoned or granted clemency by Trump as his lone presidential term came to an end, which means the former Assembly speaker will most likely have to serve his full 6 1/2 year sentence for corruption – we think.
In 2015, Silver was first convicted of obtaining $4 million in payments by using his position of power as Assembly speaker to take official actions on behalf of Columbia University cancer researcher Robert Taub and two real estate developers. Here's a timeline of all the times that Silver has been convicted and sentenced to prison over the past few years:
2015: Silver is convicted of corruption
While still in office, Silver was convicted on seven counts of corruption, including honest services fraud, money laundering and extortion, for his part in two separate schemes for which his involvement earned him $4 million. Upon his conviction, Silver was forced to leave his post as speaker, one that he had held for 40 years.
2016: Silver sentenced to 12 years in federal prison
A year after his conviction, Silver was sentenced to 12 years in a federal prison. He was also told he must forfeit $5.3 million and pay a $1.75 million fine. 
2017: Silver's conviction is overturned in an appeal
The former speaker's conviction was overturned after a federal appeals court found that when giving the jury instructions, the trial judge's definition of an "official action" was too broad.
"We recognize that many would view the facts adduced at Silver's trial with distaste," Judge José A. Cabranes, part of the three-judge panel of the United States Court of Appeals for the Second Circuit in Manhattan that overturned Silver's conviction, acknowledged in the decision.
Federal prosecutors promised to retry Silver.
2018: Silver gets sentenced to seven years in prison
Just one year after his appeal, Silver was sentenced to prison for seven years on charges of federal corruption and was again given a $1.75 million fine. Silver was given a slightly shorter sentence, as the original one was deemed "longer than necessary to accomplish the goals of sentencing," according to the presiding judge.
2020: Silver sentenced to 6 1/2 years in prison
After Silver was allowed to remain free while his case was being appealed again, he was finally forced to pay the piper on July 20, 2020, when he was sentenced to 6 1/2 years in prison. Silver will also be forced to pay a $1 million fine.
Silver's lawyers attempted to delay his prison sentence once again due to health concerns around the coronavirus pandemic, asking that he be allowed to serve the beginning of his sentence at home. Judge Valerie Caproni, who presided over Silver's case, dismissed the request. "Mr. Silver, his time has come," Caproni said at his sentencing. "He needs to go to jail." He began serving his sentence in August at a federal prison in Otisville, New York.