Criminal Justice
Can legalizing pot help communities heal?
Lawmakers and advocates fear that Cuomo's proposal won't.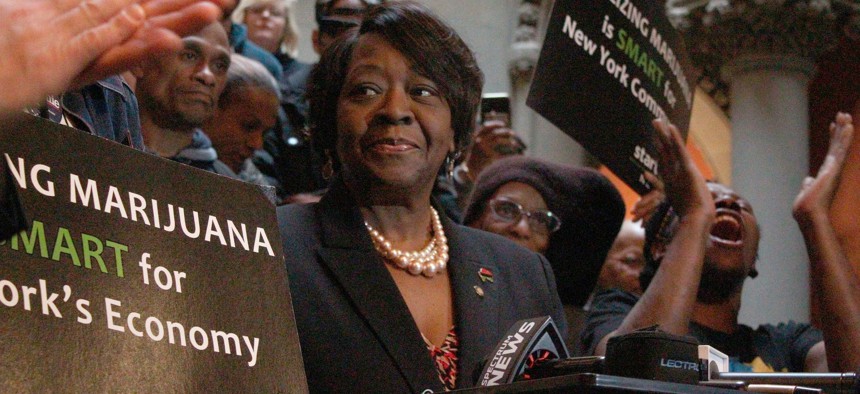 Editor's note: Since this story was printed in our magazine, Gov. Andrew Cuomo has updated his marijuana legalization proposal. Amendments include more specifics on how proposed funding for social equity will be spent and a change permitting delivery services for legal marijuana. The governor also announced changes to proposed penalties for the sale of marijuana to underage people and the sale of illicit marijuana, making punishments for both crimes less severe. Read more here.
In a press conference before a recent virtual lobby day in Albany, Peggy Herrera joined with other recreational marijuana legalization advocates to speak about the importance of passing legislation this year. A member of the criminal justice advocacy group Center for Community Alternatives, Herrera is also the mother of a son who was arrested on marijuana charges. Her son, whom she did not name, had been on probation when the NYPD stopped him and claimed to have smelled marijuana. Although Herrera said they found none, her son was nonetheless charged and remanded. "And the funny thing is, my son doesn't even smoke," Herrera said. "It cost him his job, his car and let's not talk about the trauma he went through, and the trauma I went through as a mother."
Herrera's story is hardly unique, but it's illustrative of why activists have been pushing not just to legalize recreational marijuana, but to center social equity and racial justice when doing so. And for them, that means taking a holistic approach to equity that permeates through all aspects of legislation, including directing where revenue goes and preventing further criminalization.
Despite roughly equal usage of marijuana among racial groups, data has shown that Black and Latino men get arrested and ticketed for marijuana offenses at eight times the rate of white men in New York City, even as enforcement has declined under Mayor Bill de Blasio. This policing disparity exists in communities throughout the state. And the existing data likely doesn't account for the full impact that marijuana prohibition has had on communities of color through police encounters that may not have resulted in marijuana-related charges. "We really see, as a public defender, the odor of marijuana has kind of become a go-to rationale for stopping people and searching them after stop-and-frisk was outlawed," Eli Northrup, policy counsel with the Bronx Defenders, said. "And it's something that's very hard to disprove." 
Addressing how the odor of marijuana has been allegedly used to justify police stops is just one of the ways that advocates want to see justice through legalizing recreational marijuana. In the Marijuana Revenue and Taxation Act, sponsored by Assembly Majority Leader Crystal Peoples-Stokes from Buffalo and state Sen. Liz Krueger from Manhattan, lawmakers include a specific provision explicitly prohibiting police to use the smell of pot as a reason for a stop or for an arrest. Gov. Andrew Cuomo's (similarly named) Cannabis Revenue and Taxation Act has no similar language meant to protect people from potentially improper stops and searches. "I really think the governor was counting on people not paying very close attention to his proposal," Northrup said. "And we're paying attention, because we need to get this right."
Possession that may be decriminalized now could be recriminalized under the governor's proposal.
It's one of many reasons that marijuana legalization and criminal justice advocates feel that Cuomo has not truly focused equity at the core of this proposal. "I think he's coming at it from the wrong place," Anne Oredeko, an attorney with the Legal Aid Society, said. "I think he lacks imagination in his plan. And I think he's woefully unprepared to really talk about equity in a meaningful way." For Oredeko, the governor's proposal risks continued criminalization of communities of color through penalties for illegal sale and possession. Under state legislators' proposal, New Yorkers can legally possess up to three ounces of marijuana. Anything more than three ounces, up to 16 ounces, is simply a violation punishable by a fine of up to $125. Under the governor's proposal, getting caught with three ounces of pot is considered criminal possession in the second degree, a misdemeanor punishable by a fine of $125 for every ounce over two ounces, up to 64 ounces, with even higher payments for those convicted of marijuana-related crimes within the past three years. Differences between monetary penalties may seem somewhat trivial – although fines can quickly add up – but a misdemeanor leaves someone with a criminal record, while a violation does not.
RELATED: How Cuomo's and the Legislature's marijuana legalization plans differ
The governor's proposal additionally differentiates between illicit (or untaxed) pot when it comes to possession, while legislators' bill makes no such distinction. Getting caught with any amount of illicit pot is a crime. In other words, possession that may be decriminalized now could be recriminalized under the governor's proposal. "Even possession is a misdemeanor, which is kind of crazy," Northrup said. 
More egregious to marijuana legalization activists and public defenders is the fact that the governor's proposal in fact includes a new, harsh penalty explicitly for selling marijuana to someone under the age of 21. Cuomo's legislation would make any such sale, regardless of the amount, a Class D felony. By comparison, the Marijuana Revenue and Taxation Act would make such a crime a Class A misdemeanor. Currently, sale to someone under 18 is a Class D felony, with the governor's proposal effectively expanding the current criminalization by increasing the age. "The governor's bill is abysmal in these areas, there's just no other way to put it, it's really horrific," Melissa Moore, New York state director of the Drug Policy Alliance, a legalization advocacy organization, said. "And the implications for communities are pretty dire." A spokesperson for the governor did not respond to a question about increased and continued penalties for marijuana offenses, like sale to someone under 21.
"The governor's bill is abysmal in these areas, there's just no other way to put it, it's really horrific. And the implications for communities are pretty dire." – Melissa Moore, New York state director of the Drug Policy Alliance
Some legalization experts, like the late Mark Kleiman, a former public policy professor at New York University's Marron Institute, argued that stiff penalties for unlicensed dealing are needed to entice both buyers and sellers into the legal market, which will be more expensive because it's taxed. California is especially infamous for the continued flourishing of the illicit marijuana market despite legalization, and lawmakers there are considering increased fines to crack down on it. "Legalization and commercialization does not eliminate the illicit market, it actually does the opposite and grows the illicit market," Dr. Kevin Sabet, president of the anti-legalization group Smart Approaches to Marijuana. "Colorado and California have seen drastic increases in illicit market cultivation and trafficking following legalization, there is no reason to expect New York to experience a different result."
Public defenders pointed out another disparity between the governor's proposal and the one from the Legislature when it comes to righting the harms of past criminalization. While both bills have provisions for the resentencing and retrial of those with pot convictions under the new laws to permit for less severe penalties or records, only the Marijuana Revenue and Taxation Act includes language to automatically expunge, vacate or seal low-level convictions that would no longer be crimes under the new law. "It's not something that you can just do on your own if you're not well versed in the law, or at least have someone who's connected to help you navigate that system," Oredeko said. The state set up a system to automatically seal the records of people with low-level convictions with the passage of the 2019 decriminalization law. A spokesperson for the governor did not provide a response to a question about the absence of automatic expungement, sealing or vacature provisions in his proposal.
Legalization and criminal justice advocates are pleased by one change in the newest iteration of Cuomo's pot legalization proposal: For the first time in three years, the governor has included a statutory commitment to using a portion of the tax revenue for a fund to invest in communities harmed by marijuana enforcement, although his legislation does not include details about what that may look like. In the past, the governor avoided dedicating revenue for any particular purpose in hopes of keeping those funds flexible. Under Cuomo's scheme, the state would invest $100 million over four years starting in fiscal year 2023, with $50 million every year after. That's out of the estimated $300 million to $350 million per year in tax revenue legal pot is expected to produce once the market is up and running. "Social and economic equity are the bedrock of Governor Cuomo's proposal to legalize cannabis for adult-use," Norman Birenbaum, the state director of cannabis programs, said in a statement in response to critiques about social equity. He mentioned the new investment commitment, as well as provisions for the creation of a social equity plan in distributing licenses in a new legal marketplace. 
But activists are still skeptical of Cuomo's commitment, especially given that the governor has included pot legalization among his proposed revenue raisers, along with mobile sports gambling, as the state faces a major budget shortfall amid the COVID-19 pandemic. "One hundred million dollars would go to a social equity fund," Cuomo said on Jan. 19 while outlining his budget proposal, referring to the first five years of investment. "That would still give us $250 million towards the budget and our needs." For Jawanza Williams, organizing director at VOCAL-NY, an advocacy group for progressive policies, the governor's focus on the state's potential windfall during the pandemic did not sit well. "If you're talking about legalization, in the context of the deficit … it doesn't center the need for social and racial, racial and economic justice," Williams said. He added that tax revenue from legal marijuana would not begin rolling in for at least a year, with an even longer wait for the full $300 million to $350 million. "I don't want people to only think about marijuana legalization and the equitable elements of it being specifically about the community reinvestment."
Removal of on-site consumption locations would effectively block low-income public housing residents out of the new legal marketplace.
Moore said the newest iteration of the Cannabis Revenue and Taxation Act "took steps backward … in almost every category" from the governor's previous versions of the legislation. She said that Cuomo's new cannabis social equity fund is just a "nod" to advocates that doesn't go far enough – the Marijuana Regulation and Taxation Act dedicates 50% of tax revenue to a community grants reinvestment fund. Moore said the governor's proposal sneaks in changes that damage overall equity. In particular, Moore said that Cuomo's newest proposal has removed both on-site consumption and delivery licenses, which the governor previously included and are part of the Marijuana Revenue and Taxation Act. "Those are two enormous things," Moore said. "And I think the significance is hard to overstate, especially when we're talking about having a focus on making sure we do have a viable social equity program." When it comes to delivery, it not only provides more accessibility to some New Yorkers, it is also one of the easiest ways for those already part of the illicit market to enter the new legal framework. Black market deliveries have boomed in New York City since the pandemic, and getting a license would allow people to build off that existing network without needing the capital to start a brick-and-mortar operation. Massachusetts, the first state to implement a statewide social equity plan for licensing, has seen some success in dedicating delivery licenses exclusively for social equity applicants, such as minority-owned businesses and those previously ensnared in marijuana law enforcement.
As for on-site consumption, those locations would have provided one of the only safe places for residents of public housing to partake in the new legal substance. Because public housing is partially overseen by the federal government, possession of marijuana – which remains illegal at the federal level – would remain prohibited in public housing. Removal of on-site consumption locations would effectively block low-income public housing residents out of the new legal marketplace. A spokesperson for the governor did not provide an answer to a query about why these two license types were removed, nor were they mentioned in Birenbaum's statement.
Cuomo's legislation shares similarities with legislators' bill in setting up a social and economic equity plan. The purpose of the plans is to ensure that minority- and women-owned businesses, disadvantaged farmers and people with prior marijuana-related convictions – or coming from a community that has been disproportionately negatively impacted – have access to participate in the new legal business. This includes prioritization for licenses, low- and no-interest loans and access to mentorship and incubator programs. In both bills, details of the plan would be developed after passage, to be approved by the Cannabis Control Board, which would make regulatory decisions about the legal marijuana business. Jessica Gonzalez, general counsel for Minorities for Medical Marijuana, said that while data on the success of such programs remains fairly limited, New York still has models to follow. "When we're talking about setting up a regulatory scheme, and one that is equitable, it's important to look at the programs that have had success," Gonzalez said. "But it's also just as important, if not more, to look at the programs that are currently facing various hurdles." She mentioned Massachusetts, which set aside delivery licenses for social equity applicants – and is getting sued over that decision. 
"I'm looking for investments into the communities and the multiple generations of lives that have been impacted by the war on drugs, and I didn't get that from (Cuomo's) proposal." – Assembly Majority Leader Crystal Peoples-Stokes
For Gonzalez, oversight of such a program must be in place, lest promises of equity not be met, from license issuance to the sealing of records. "What we've seen a lot of times is the language is great, and it looks pretty on paper, but the implementation has been disastrous," Gonzalez said. 
This is yet another area where there are slight differences between the executive and legislative proposal. The Legislature's bill would create the position of a chief equity officer. This person would consult on the formation of the social equity plan and be responsible for aiding in its implementation and issue yearly reports on compliance with the plan, with the first one coming no later than Jan. 1, 2023. The chief equity officer would also lead a steering commission to administer the community grants reinvestment fund. "That's something that the sponsors felt was really important to have codified as an official role," Moore said. The closest position created in Cuomo's plan is a deputy director for social equity. The bill does not include any statutory responsibilities for this role, and tasks the executive director of the Office of Cannabis Management, a state agency that would oversee all aspects of the legal marijuana industry, with formulating and adjusting the social and economic equity plan.
The text in the competing proposals have grown closer in the years of negotiation between the governor and state legislators, but Peoples-Stokes acknowledged there remains a lot of daylight between the two bills. "I'm looking for investments into the communities and the multiple generations of lives that have been impacted by the war on drugs, and I didn't get that from (Cuomo's) proposal," Peoples-Stokes told City & State. For many legalization advocates and lawmakers, social equity will make or break the success of legalization. And after years of lobbying and negotiating, they aren't prepared to accept any proposal that they think won't achieve it. 
Powered By
NEXT STORY: PATH and NYC's subway air is unsurprisingly toxic