Transportation
Should community boards weigh in on bike lanes?
Alternative transportation advocates say a New York City law intended to give communities a voice should be repealed.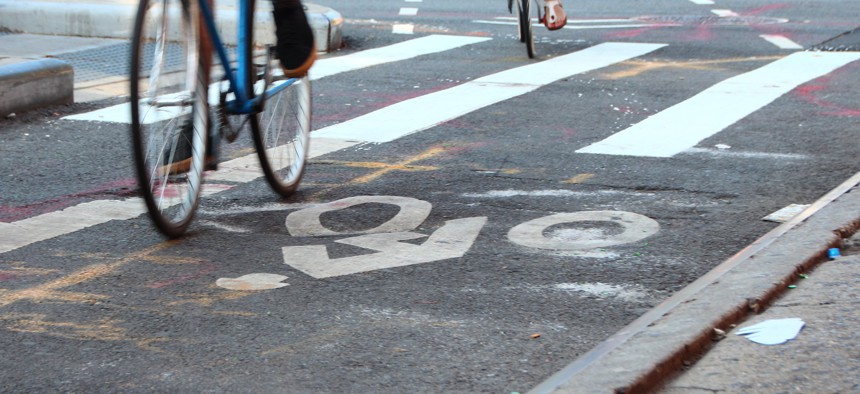 The Jan. 6 Zoom convening of New York City's Community Board 8 to discuss two new bike lanes connecting the Queensboro Bridge to Central Park was a typically contentious bike-versus-car debate. The temporary lanes under discussion stretched across East 61st and East 62nd Streets, and one man who lived on East 61st was furious that the lane on his block made it impossible for him to legally unload his two small kids directly in front of his building. Others argued that the lanes made the streets all-around safer for kids, and just about everyone. "Instead of just doing something as performative as clapping" for delivery workers, urged Juan Restrepo, Queens organizer of the bicycle and pedestrian advocacy organization Transportation Alternatives, "we need to create the infrastructure so these people can" make a living and then go home to their families "without risking their lives."
But the COVID-19 pandemic had also shifted the script in important ways: the lanes under discussion were not mere ideas in a Department of Transportation PowerPoint. They were already up-and-running protected bike lanes that the city had installed on a temporary, emergency basis in response to New York City's bike boom spurred by the pandemic – without the local community board voting on them.
Under normal circumstances, New York City's plans for a bike lane can lead to months or even years of back-and-forth between communities and the transportation department before moving forward, or getting squashed. That's due in part to a New York City law requiring that communities be consulted regarding bike lanes. The law is intended to safeguard the needs and wants of the people living and working in affected neighborhoods – a principle that seems especially urgent in an era of heightened awareness of racial and economic justice. 
But New York City's transportation and safe street advocates claim that the well-intentioned law routinely backfires, or gets misused or misinterpreted, too often overrepresenting the views of a privileged few while hampering or stopping promising projects in their tracks. "What happens here is that bike lanes literally get delayed for years over community board opposition, and the DOT puts aside safety for anecdotes and personal experiences that people have on community boards," City Council Member Antonio Reynoso told the Brooklyn Eagle in 2019. 
Jon Orcutt, Bike New York director of advocacy, agrees. "If the community board disagrees with (DOT's proposed bike plan), (DOT) goes around the block with them…before either capitulating or overruling," said Orcutt, who worked for DOT under former Mayor Michael Bloomberg. "DOT is an agency with street planning expertise that lets a lot of yokels in on the decision."
Orcutt is one of many advocates who says that if the city is to create the kind of connected network of bike lanes that allows bikers to glide safely between neighborhoods and boroughs, it must move away from this "inch by inch battleground" approach to building lanes, and toward a more holistic, citywide strategy to bike infrastructure.
In some ways, the new protected bike lanes discussed on the Upper East Side last month represented this tactic – the Transportation Department had fast-tracked the lanes, along with several other key connecting lanes, by calling them "temporary," using plastic barriers, and tabling for later the usual exchange with the community board that is required for permanent lanes. Announced by the city in June, they were up-and-running by September – a speed almost unimaginably fast compared to most lanes installed under Mayor Bill De Blasio's administration. Last summer, Mike Lydon, principal of the urban planning firm Street Plans, said this kind of expedited, temporary approach should make for a smoother, more informed community board approval process later down the line. Community boards would be evaluating not an untried idea, after all, but the merits of an actual lane. 
But at the January meeting of Community Board 8's transportation committee, some residents appeared to feel duped. They'd been led to believe by the city the lanes would be temporary to accommodate pandemic biking, they said, but now it was seeming that the city's main intention was to replace the flimsy plastic dividers marking the lanes with something more permanent. "The neighborhood was just fine the way it was," one resident said. Another asked, "When can this come to an end?"
New York City's fight for a connected network of bike lanes – and the desire for communities to buy into it – dates back to the Bloomberg administration, when, under then-Commissioner Janette Sadik-Khan, DOT was rapidly expanding the city's bicycle lanes. Sadik-Khan's master plan was to create a network of connected bike lanes to reduce traffic deaths and pollution, focusing first on the city's high-congestion business districts. 
The new lanes encountered resistance. Then-Rep. Anthony Weiner from Brooklyn reportedly told then-Mayor Mike Bloomberg that when it was his turn to live in Gracie Mansion he would spend the first year having "a bunch of ribbon-cuttings tearing out your (expletive) bike lanes."
Proposed bike lanes often faced fierce pushback from local business owners and communities reluctant to give up free curbside space for parking and unloading. "Bike lanes drop out of the sky without any notice to the community," then-Council Member Lew Fidler of Brooklyn complained at the time.
Fidler went on to sponsor the bill that requires the Department of Transportation to give community boards 90 days advance warning of any proposed bike lane in its territory. While the law does not empower communities to stop the city from installing bike lanes, it does require that they be consulted, which usually means holding hearings in which the transportation department presents their plan and solicits feedback. 
In 2011, City Council passed the bill unanimously. "I want more bike lanes, but I also see a benefit in the community board determining if they are necessary," then-Council Member Letitia James of Brooklyn, now the state attorney general, had said in support of the measure. "They're the voice of the people."
Today, bike lanes continue to be a kind of Rorschach test. Coasting on a protected lane might be akin to freedom for some, while making others feel more vulnerable to policing, and harassment. To a senior dependent on Access-a-Ride or a car, it might be a barrier to freedom of movement. To some, the popularity of bicycles among young professionals signals gentrification and displacement. "Cyclists are thought of as rolling gentrification through our community… when they show up, whether it's in Red Hook or Bushwick, it's the end of our time," said Elizabeth Yeampierre executive director of community-led environmental justice group UPROSE at a 2017 Sunset Park hearing. 
At their best, community hearings ensure that urban planners – who are often white, and male – incorporate these perspectives into their work and designs, while enabling residents to glimpse the world through their neighbors' eyes. It's in pursuit of this ideal – coupled with a more nuanced and widespread awareness of how urban planning practices of past eras actively disenfranchised Black and Brown communities – that some cities and planners have been consciously seeking ways to incorporate added community input into their street planning processes. 
But transportation and safe street advocates insist that when it comes to street infrastructure in New York City, the biggest equity issue is not that underserved communities don't have a say in proposed projects, but that projects too rarely target those neighborhoods in the first place.
In a well-circulated 2019 study, Ryan Morgan, an urban planning graduate student at NYU, found that while the city's best bike infrastructure is most frequently in the wealthiest parts of Manhattan, some of the poorest neighborhoods of New York City – including car-centric transportation deserts with high levels of pollution – disproportionately lacked bike infrastructure. 
Council Member Ydanis Rodriguez, who represents Washington Heights and Inwood in northern Manhattan, likens this to neglect. "I think the moment when CitiBike was created, it was not invented to think about transportation deserts, it was not done thinking about Black and Latino neighborhoods. It was merely thinking about downtown Manhattan and the upper class who live in those neighborhoods," Rodriguez told Brownstoner in November. 
When bike lane proposals do wind their way to less affluent areas, there's no guarantee that the community boards considering the projects will represent the full spectrum neighborhood's interests. Community boards, who are appointed by borough presidents and City Council members, tend to skew whiter, wealthier, older, maler and are more likely to own cars and homes than many of their neighbors. Gustavo Ajche, a leader of the delivery worker organizing group Los Deliveristas Unidos, told City & State it's also a problem that their meetings are typically in English, when some who stand to benefit most from the lanes, including him, are non-native English speakers. 
Earlier this year, Queens Borough President Donovan Richards updated the borough's application form to ask applicants about what modes of transportation they used to get around the city – a move safe street advocates applauded.
Others take aim at the 2011 law itself, saying community boards should not be weighing in on citywide public health or safety projects in the first place. "Whether or not protected bike lanes are needed should never be up for a vote," said Laura Shepard, bike network organizer at Open Plans, a nonprofit that supports civic engagement and livable streets. "We don't go to community boards to ask for their approval for new sewers. That's just public health infrastructure, and it's a given that if the experts say we need it, we need it. And our streets should be treated similarly."
One City Hall source said that DOT was hoping to streamline the community board notification requirements, and in 2019 had proposed to work with the City Council to create legislation that would help to "implement life-saving interventions in a more reasonable time frame." The plan also committed to building more bike infrastructure in the outer boroughs. 
But some say that now – as the city plans bike lanes in lower-income neighborhoods outside of Manhattan – is not the time to be shortening the process. If anything, the city should be seeking more, rather than less, community input on lanes, said Yeampierre of UPROSE, the environmental justice group in Sunset Park, Brooklyn. "Those who work on bicycling tend to create solutions for us and expect us to sign on to the solutions that they have for our communities," said Yeampierre. "But that really diminishes the knowledge of the community when you have people who are in their cubicles drawing up the plans for us." 
Ajche of Los Deliveristas Unidos said that in the 17 years he has delivered food by bike in lower Manhattan, he has never heard of a city official, urban planner, or a community board member asking him or another delivery worker for their input on bike lanes. "When we find out that there is a bike lane is when we are doing our work. And they make our life easier. But nobody has ever asked us or consulted with us about the creation of a bike lane," he said. "This is the first time somebody asked me what we think about bike lanes."
In lower Manhattan protected lanes are plentiful. But like many delivery workers, Ajche commutes from an outer-borough neighborhood with scant bike infrastructure. "What we know is that in our neighborhoods where we live, there are not bike lanes, and that's where most of the accidents are happening, where we see the deaths," he said.
Ajche is eager to see the kind of bike lanes he depends on in Manhattan installed in working-class neighborhoods like Bensonhurst, Brooklyn, where he lives. In planning those lanes he wants the city to work closely with the community, reaching far beyond the community board for input and ideas, and speaking all of a neighborhood's languages.
Last spring, when the pandemic hit, as cities including Paris and Bogota took quick action to reduce crowding on public transportation and sidewalks by creating protected bike lanes, New York transportation and safe street advocates saw an unprecedented opportunity for their city to move decisively on building a connected network of bike lanes that would save lives and environmental damage, but which had so far proved elusive.
For years, many advocates held that once more people started riding bikes, the city would push through local opposition to develop the bike lanes necessary to protect bikers. But until there was safe bike infrastructure, many would-be bikers would refrain.
The pandemic broke this stalemate. With people eager to avoid public transportation or taxis, more New Yorkers started biking. With novice bikers taking to the streets, the case for fast-tracking protected bike lanes, which studies have demonstrated is the safest bike infrastructure not only for cyclists but for drivers, had never felt more urgent. Transportation gurus urged cities to seize the moment. Sadik-Khan cautioned about the steep rise in car ownership unfolding in parallel with the bike boom. "Our cities are not going to recover if we add a traffic crisis to the ongoing health crisis and economic crisis," she told Market Watch. 
Lisa Orman, chief of strategy and operations at Open Plans, was amazed to see that at Manhattan community board meetings, some of the same New Yorkers who had fought most "wildly, rabidly" against bike lanes over the last two decades, became sudden champions of sidewalk dining, never mind that it, like bike lanes, would also remove free parking spaces. "On the Upper West Side, when they debated Open Street restaurants it wasn't even a debate. It was a lovefest," she said. "That was shocking to me."
But as streets opened to pedestrians and diners without requiring official community board approval, Orman and other advocates were dismayed to see the city continue to follow the same protocol for installing bike lanes. "DEFINITION OF INSANITY: DOT Still Seeking Community Board 'Yea' for Bike Lanes," read the headline for a late March Streetsblog story looking at efforts to install the last stretch of protected lane that would connect Manhattan's Sixth Avenue to Central Park, and which DOT had been committed to finishing for years, and with the community board's encouragement. 
In June, the Regional Plan Association released a sweeping vision for post-pandemic biking in New York City, including a 425-mile network of connected protected bike paths running through the boroughs that would be operating in just five years. At the time, only about 100 miles of protected lanes existed in parks and greenways.
While both de Blasio and City Council Speaker Corey Johnson had offered plans for connected bike lanes the year before, the RPA's vision was the most ambitious of the three, aiming to build 60 miles of bike lanes each year that would be protected from traffic with car-proof barriers.
It also took on the thorny issue of community boards, noting that realizing their vision at such a pace would require preventing local dissent from squelching, delaying, or diluting the plans. To "build trust with communities through engagement" the report suggested an approach that would make social workers and community organizers shudder: that the city enter discussions "with an understanding that the network will be implemented," and that the goal of a conversation is simply to make sure that the plan be rolled out in ways that work best for a neighborhood.
In May and late June, DOT announced plans to create temporary, protected bike lanes that would connect already-existing lanes as an emergency response to the pandemic. Many of the lanes announced were already in the works. But some Community Board 8 members seemed surprised to learn that their East 61st and East 62nd Street lanes were on the list. 
The city was already months into the pandemic bike boom and 2020 was on track to be one of the bloodiest years ever for bike traffic fatalities. By the end of year, Streetsblog would tally 26 cyclists killed. Many of the cyclists killed that year were delivery and other essential workers, many of whom were bicycling in low-income areas lacking in street safety infrastructure.
The city, meanwhile, would fall over one mile short of its own pre-pandemic goal of 30 miles of new protected bike lanes for the year. "We blew this crisis as far as bikes go," said Orcutt.
City Hall Director of Rapid Response Mitchell Schwartz contested this view. "New York City overcame a pandemic-shortened installation season and an unprecedented budget crisis to install the most protected bike lanes in the history of the city," he wrote in an email. "And as the mayor made clear in his State of the City address, we're not stopping there. The bike boom is here to stay. We're proud to accommodate it by making permanent cityscape changes that make cycling easier and safer than ever."
But some members of Community Board 8's transportation committee saw things differently. At the January meeting, a number of them wanted more, not less, say in planning the bike lanes in their neighborhood. It wasn't that they were against bike lanes, one member said, it was that they didn't think the streets they lived on were the right place for them, with reasons ranging from: "My doorman said no one uses it," to only delivery workers use it, to "It's very nice to say that this is to accommodate all the people in the city. They don't live on the street."
In the end, a board member instructed a DOT representative in attendance to see how the transportation agency might resolve two specific concerns: that of a dialysis center on the block, which said the bike lane made it difficult for patients to safely come and go from car services, and the father who complained that he could no longer easily unload his two children (who, for the time being at least, were still small) directly in front of his building. The DOT representative assured members that once the lanes were one-year old, the department would return to the neighborhood with data about the bike lanes' use and safety impact, and allow them to vote before the city made it permanent.
A few weeks later, de Blasio announced during his final State of the City speech a grand biking plan that would impact the neighborhood: The city would turn a lane of traffic on the Queensboro Bridge into a two-way protected bike lane, which would make East 61st and East 62nd Streets critical connections to the bridge. De Blasio explained it was one piece of a larger vision to bring New York City "into the 21st Century and embrace the vision of a future without cars with a radical new plan." 
It was the kind of decisive gesture that transportation advocates had been waiting for since March, since de Blasio first stepped into office, since forever, it seemed to some. Of course, there was something that made it easier for the mayor to build this particular bike lane: no one lives on the bridge, and it doesn't have a community board.