Labor
Advocates worry about barriers to excluded workers fund
Pay stubs and bank statements could prevent undocumented workers from receiving retroactive pandemic relief.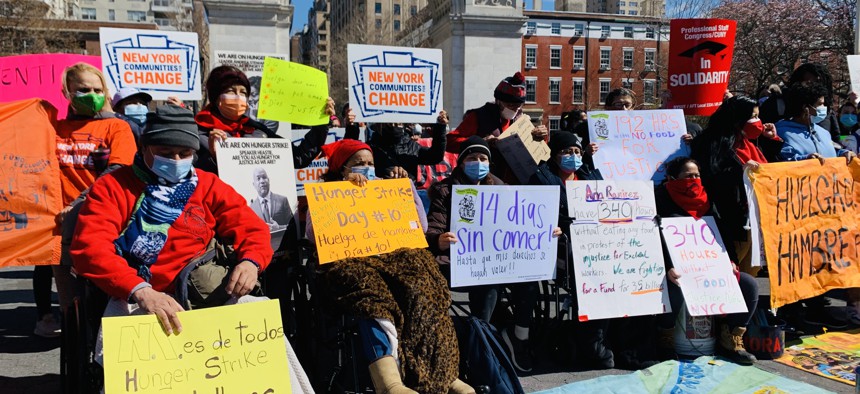 State lawmakers and immigrant rights advocates are decrying what they call "poison pills" in state budget negotiations that could make it more difficult for undocumented people and other workers to receive retroactive COVID-19 relief.
At issue is a potential fund in the state budget to support workers who have not been eligible for unemployment during the COVID-19 pandemic. Advocates are calling for $3.5 billion. A state Senate version of the fund includes $2.1 billion. But now, on the 14th day of a hunger strike for the fund, documentation barriers are reportedly getting discussed during negotiations. 
At a rally in Manhattan on Monday, legislators and activists said Gov. Andrew Cuomo is fighting to make the application requirements more stringent than those laid out in the state Senate's one-house budget proposal. Namely, they said he's pushing to require pay stubs, bank statements or individual tax identification numbers in order to prove financial hardship or loss of income during the pandemic. Bianca Guerrero, coordinator of the Fund Excluded Workers coalition, said during the rally that many people who would benefit from the fund, especially undocumented immigrants, day laborers and delivery workers, don't always have access to those documents, or have a bank account. "We cannot create a fund that requires these documents in order to access relief," Guerrero said. "We are calling for a flexible application process for all excluded workers who have access to this fund."
In the state Senate one-house proposal, people applying to the fund would be allowed to self-attest their eligibility for aid if they don't have the documents to prove it. That version does, however, require some form of identification authorized by the state Department of Taxation and Finance, such as an individual taxpayer identification number, for tax purposes. The original legislative proposal did not include that requirement. Guerrero told City & State the Senate version was not perfect, but the specific language in question was added with the understanding that it would act as a placeholder while lawmakers worked with advocates to figure out how not to exclude workers without individual tax identification numbers. She said that the problem arises when people without those numbers are treated differently, and are not eligible for benefits.
"The devil is in the details, and we're here to fight the devil," said Assembly Member Zohran Mamdani. He warned that if the requirements to get the money are too restrictive, the money would not get spent. Mamdani pointed to a $100 million rent relief program passed last year that reportedly only gave out $47 million despite a large number of applicants, with critics blaming an overly restrictive application process. "If you set up this fund with all of the governor's suggested requirements, you're not going to give money to excluded workers … so we want $3.5 billion and we want it to be easily accessible," Mamdani said.
Spokespeople for Cuomo and the state Division of the Budget did not return a request for comment asking for confirmation that the governor is pushing for these requirements, and if so, why he is asking for them.
Powered By
NEXT STORY: Rent hardship declarations spike