New York State
How virtual court could be harming defendants
An essential human element of the justice system may be lost when proceedings happen remotely.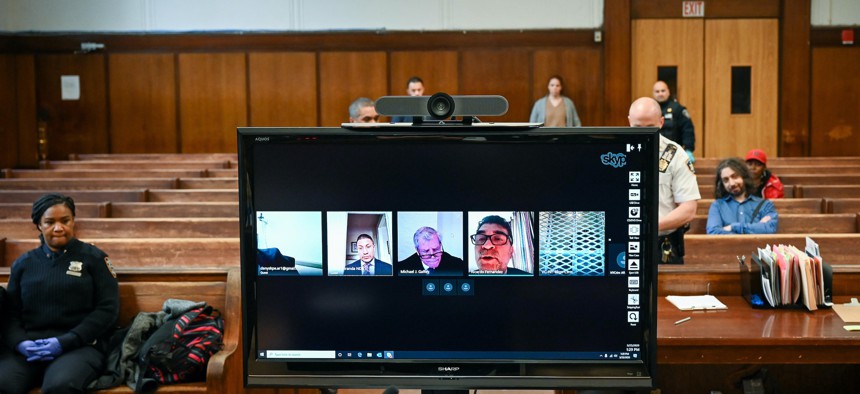 When a person is charged with a crime in New York, he or she typically has an opportunity to go before a judge within 24 hours of being arrested to hear the charges, confer with a lawyer and answer to those charges. Arraignments can be quick hearings, often over in minutes, at which the judge either will or won't set bail, and the accused person learns whether or not they can be released immediately. Most significantly, it's the first opportunity a defendant has to come face to face with the system and the people that will be deciding their fate.
An arraignment may not seem like a difficult thing to do over Zoom or Skype, as video conferencing can accommodate quick meetings among several parties. But arraignments are just one step in the criminal justice system that some public defenders in New York say has been upended by the pandemic. Some said that defendants stand to lose when you strip court proceedings of face-to-face interaction. "When judges have to make important decisions about bail, release, things like that, I think what happens is that people get dehumanized when they're on video," said Yung-Mi Lee, the legal director in the criminal defense practice of Brooklyn Defender Services. "There's that distance that doesn't occur when someone is actually standing in front of you."
All kinds of court proceedings in New York have gone largely virtual during the pandemic out of a need to limit the spread of COVID-19. That includes arraignments and bench trials, or trials with a judge and not a jury. That transition has been a sea change for people moving through the criminal justice system, their attorneys, judges and more.
New York state has a complicated web of city and county courts, superior courts and specialized courts, such as family court, and each operates a little differently, including differences between civil and criminal cases. But for the most part, court operations have been happening virtually for the last year.
Lucian Chalfen, a spokesperson for the New York State Unified Court System, said that all arraignments and most preliminary hearings in New York City Criminal Court are still virtual, and Family Court in the city conducts mostly virtual proceedings. Housing Court in the city has had virtual bench trials. Statewide, grand juries continue to be empaneled in person, Chalfen said. New jury trials, which were suspended a year ago, were briefly brought back in the fall before being suspended again in November amid rising rates of COVID-19 across the state.
Except for emergency cases pertaining to the absence of heat or hot water, housing courts are remote too. "They changed overnight – at least the high-volume courts did – from being a place where we were negotiating in hallways packed with people and the calendars were hundreds long, to now (having) very few cases on a calendar," said Sara Wagner, an attorney who works for the Teamsters Local 237 Legal Services Plan and who serves as chair of the housing court committee of the New York City Bar Association.
While some say courts have adjusted to these remote proceedings as best as they could, several lawyers City & State spoke too agreed that virtual court has made the process more difficult, particularly for those who lack easy access to technology and for Black and Latino New Yorkers, who are disproportionately represented among defendants and the incarcerated. Virtual proceedings offer efficiencies that some lawyers hope will stick around after the pandemic, but other parts of the process, such as arraignments or sentencings, suffer for lacking an essential human element. "Doing really significant, life-changing things by phone or video is just not the same as doing it in person," said David Patton, executive director and attorney-in-chief of the Federal Defenders of New York.
Though there's not sufficient data available now to prove that virtual hearings in particular have made defendants in New York less likely to be released pretrial, for example, some public defenders pointed to New York City's jail population, which is now higher than it was prior to the pandemic. That could be due in part to the state rolling back bail reforms last year. The New York Times reported earlier this month that a forthcoming report from the Center for Court Innovation, a criminal justice nonprofit, found that judges in violent felony cases have set bail and sent defendants to pretrial detention at higher rates than before the pandemic.
In criminal cases, concerns about the effect of virtual proceedings aren't new. In some instances, studies suggest that they have led to harsher consequences for defendants. In 1999, Cook County, Illinois, began using closed circuit TV for bail hearings with defendants appearing before judges over video. A 2010 study from Northwestern University later found that the average bail amount in televised hearings increased 51% from before the televised system was implemented.
Several lawyers told City & State that it's too soon to tell whether remote proceedings during the pandemic have led to harsher outcomes. But anecdotally, some lawyers raised concerns that virtual proceedings wouldn't be as fair as they would be in person. While virtual appearances may be technically feasible, they are no replacement for in-person proceedings, some lawyers said. Virtual proceedings can make it difficult for defendants to fully take advantage of their right to counsel.
Privacy can be a concern, and defendants have a right to constantly confer with their attorney in confidence. "You could also tell whether you were really having a private conversation or not," Lee said of prepandemic hearings. "In the video setting, where everyone's on a video camera, you don't know who is in the room with you ... You don't know (if for) the person who you're supposed to be representing and fighting to get out, whether there's a police officer in that room or nearby."
Defendants also have the right to public proceedings, and while Lee said that courts have set up separate video feeds for family members to watch virtual arraignments, for example, it doesn't have the same effect. "It's not like the judge can see necessarily or knows that there are family members or friends in the courtroom who are there to support the person who's been arraigned and might possibly have bail set," she said.
But if there's an upside to the transition courts have had to make during the pandemic, it's that the need to set up remote operations has made some parts of the process more efficient. Previously, Wagner said, attorneys weren't able to do any filing online, despite pushing for such a system. "Now we do everything online. There's an e-filing system with some courts," she said. "Each court has its own particulars, but they did a vast technological leap in a very short period of time. So the courts, in my mind, are to be commended for that."
In other instances, the option to appear virtually in court might be attractive for people who would otherwise need to take a day off work or schedule child care in order to appear at the courthouse in person.
Utilizing that advantage is more accessible to some than others. A major stumbling block for the success of virtual court is the inequitable access to reliable internet and technology that currently exists in New York City and across large parts of rural New York. In the city in particular, Black and Latino people disproportionately lack access to reliable internet. Nearly one-fifth of New York City residents lack a mobile or home broadband connection. According to a report by New York City Comptroller Scott Stringer, roughly 30% of Black and Hispanic people lack a broadband internet connection, compared to roughly 20% of white people and 22% of Asian American people in the city. "There are many people who don't have access to either a smartphone that can download the Microsoft Teams app, and then have sufficient data or Wi-Fi in order to be able to actually get in on the phone. People don't have computers at home," said Alice Fontier, managing director at the Neighborhood Defender Service of Harlem.
Lacking the ability to appear remotely for arraignments or other hearings may not be as much of a problem for people who are incarcerated, but for people who are not incarcerated and have to appear virtually, the onus can be on them to secure the technological means. Lee said that Brooklyn Defender Services has distributed cellphones to people who lack phones with video cameras, so that people can make their appearances. "When appearances are virtual, you need the technology. And unfortunately technology requires money," she said.
Patton, of the Federal Defenders of New York, said that clients' access to technology has not been a major hurdle in his experience over the past year. "It's posed challenges here and there, but we've been able to work through those either by helping them get set up from where they are," he said. "We can even have people coming to our office to do that."
A lack of reliable internet access – or just malfunctioning technology in general – has meant stumbling through proceedings at times, Wagner said. "Sometimes we stop and adjourn the matter for another day," she said. "Sometimes we stop for a few minutes and try to reconnect. There are a lot of breaks – the judge can't hear, you can't hear the interpreter patch in."
It's unclear when the majority of court appearances will be in-person again. Judges and justices in the state became eligible to receive the coronavirus vaccine last week, under state guidance authorizing public-facing essential government employees to receive the vaccine. But other categories of people that work in courthouses, such as attorneys or witnesses, are still not eligible. Incarcerated people as a category are also still not eligible for the vaccine, despite the high risk of living in a congregate setting. Chief Judge Janet DiFiore said earlier this month that a limited number of civil and criminal jury trials will be allowed to resume starting March 22. While few denied that trials can't continue to be suspended indefinitely, some lawyers said they're apprehensive about going back before vaccinations have been more widely administered. "When the courts reopened too early months ago, people were getting infected," Lee said, of when trials resumed in the fall. "So we'll see what happens this time around."
Powered By
NEXT STORY: New ideas on how to slow teacher turnover