Health Care
Is New York reopening too soon?
More transmissible COVID-19 variants are rapidly spreading, yet restrictions are being loosened.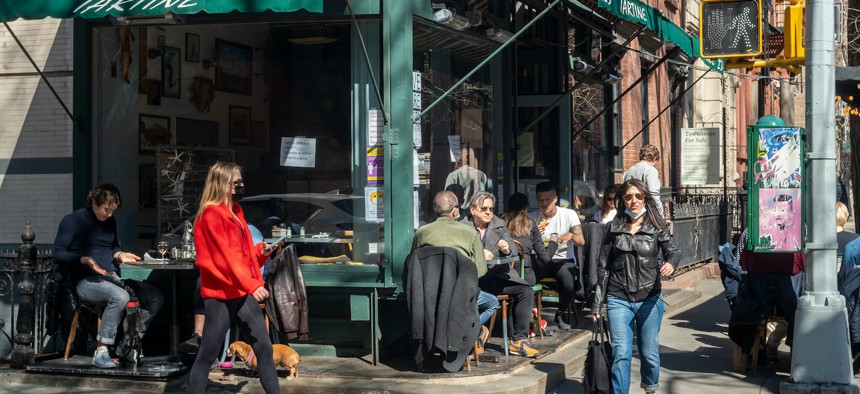 New York, like much of the United States, has begun acting as though its battle against COVID-19 has been won.
Vaccines are becoming more readily available, the prevalence of COVID-19 has dropped since its post-Christmas peak and COVID-19 restrictions are being steadily rolled back as many New Yorkers are eager to resume their normal life. However, health experts have warned that if the state rushes to reopen, as the virus continues to circulate and more infectious mutations of the disease emerge, it may undermine the progress that has been made.
On March 8, Gov. Andrew Cuomo announced that beginning on March 19, the entire state, with the exception of New York City, would be allowed to increase indoor dining capacity to 75%. However, more local restaurants in the state's counties have been forced to temporarily shutter due to the emergence of new COVID-19 cases. Last Wednesday, the governor announced that the city would be allowed to increase indoor dining capacity from 35% to 50% on March 19. Cuomo has also allowed movie theaters to reopen at 25% capacity beginning this month, loosened restrictions on social gatherings, allowed indoor fitness classes to resume at reduced capacity and ended the need for vaccinated domestic travellers coming to the state to quarantine for 14 days.
On Thursday, New York City Mayor Bill de Blasio accused Cuomo of rushing to reopen the state in an attempt to divert attention away from the recent sexual harassment allegations made against him. "Is this being done because of what the data and science is telling us or is this being done for political reasons?" de Blasio asked during a press conference, regarding new restrictions being lifted. "Because it sure as hell looks like a lot of these decisions are being made by the governor because of his political needs."
Cuomo's office did not respond to a request for comment.
Over the past few weeks, the number of individuals testing positive for the virus in New York Cityhas oscillated between 6% and 7%, over seven-day periods. This is down from a rate of positive cases of 7.42% – coming up from a very low positivity rate attained over the summer – after the holidays, which peaked in early January. The total number of new daily cases also peaked in early January at over 6,000 per day, and is now around half of that. 
Still, epidemiologists are concerned that they won't be able to further lower the positivity rate, especially due to new variants. About 50% of all new positive cases in the city are infections caused by new COVID-19 variants. 
During a press appearance on CNN's "State of the Union," Dr. Anthony Fauci, director of the National Institute of Allergy and Infectious Diseases, said that the best way to reduce the threat of new variants is to "get as many people vaccinated as quickly as we possibly can" and continue adhering to "public health measures." 
"If you wait just a bit longer to give the vaccine program the chance to increase the protection in the community, then it makes pulling back much less risky," Fauci said on "Fox News Sunday." "But if you do it prematurely there really is a danger of triggering another surge."
While New York's vaccination distribution has been speeding up, only 11.6% of the state's population has been fully vaccinated as of last Thursday, while 23.6% has received at least one dose of the vaccine. Public health experts have argued over what the ideal percentage of vaccinations that would need to be met before restrictions are relaxed. Some have said 60%, others have said over 80%, Dr. Tiffany Harris, an associate professor of epidemiology at the Columbia University Medical Center, told City & State. 
Whatever the exact percentage, experts are nearly unanimous in their agreement that full reopening is premature, as too few individuals have been vaccinated and too little is known about the variants that have spread across the state – and the rest of country.
"At this level of cases, with variants spreading, we stand to completely lose the hard-earned ground we have gained." Dr. Rochelle Walensky, director of the Centers for Disease Control and Prevention, told Newsday on March 1, in regard to rolling back restrictions.
There are two main variants of concern that have been spreading around the state, known as the New York and UK variants, which researchers have found to be more infectious, though that doesn't necessarily mean they're more deadly to those who are infected.
The New York variant, known as B.1.526, first began showing up in November. Caltech researchers found that by mid-February, the variant accounted for 27% of viral sequences in the city, according to its database. That it has rapidly come to account for a large share of cases means it's likely more transmissible. It has travelled through much of the metropolitan area and has been detected in other states. Some vaccinated individuals may not be fully inoculated against the mutated virus according to research conducted at Caltech and Columbia University. 
"Not all variants are of public health concern," Dr. Jay Varma, a senior public health adviser to de Blasio, said during a press conference on Thursday. "We need to just consider this a variant of interest – something that is interesting that we need to follow and track. But it doesn't change anything about our public health concern. We need more data and studies to understand that."
The most worrisome aspect of loosening restrictions so quickly is that the state may see a surge in new infections, which could lead to more health risks. "Right now, they (the variants) do appear to be more contagious or more infectious, so more easily transmissible. But they don't seem to be causing increased morbidity and mortality. However, if more people are getting infected that can translate to increased hospitalizations and deaths."
Public health experts are also concerned about reinfections becoming more common, as the virus and its variants continue to be transmitted. "The more time that goes on (that COVID-19 continues to infect people), the more mutations happen, the more that variants develop, the likelihood that you're going to get ones (variants) that the vaccines are not effective against (increases)," Harris said.
Assembly Member Richard Gottfried, who has chaired the Assembly Health Committee since 1987, told City & State that "we have to move slowly and carefully on all steps in reopening and understand that, like it or not, we may need to take a step or two back at some point – we may need to take a lot of steps back, depending on what happens." 
"I think people need to listen to what the doctors and scientists and epidemiologists are telling us and use that as the guide for policy, not ideology or our wishes," he said. "Unfortunately, from the start there have been a lot of people who have been reacting to this pandemic based on their personal politics or their wishes and hundreds of thousands of people died as a result."