Budget
NYC mayoral contenders propose direct cash assistance
A majority of Democratic candidates want to give more money to New Yorkers.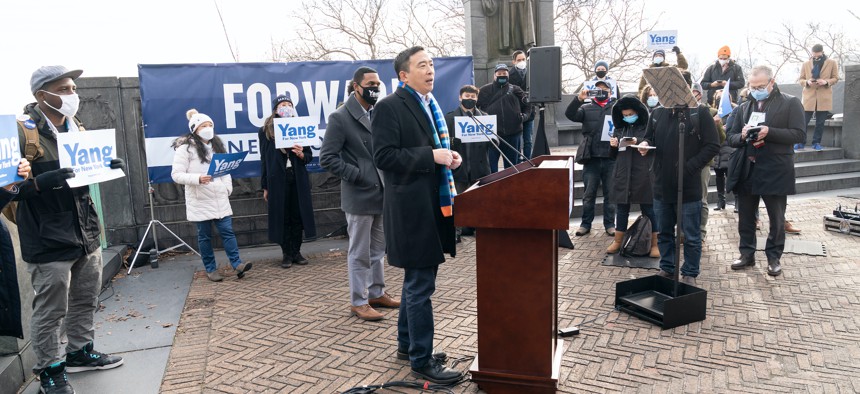 As a third round of COVID-19 relief checks hits bank accounts around the country, direct cash assistance is growing in political popularity, including at the local level. Stockton, California's 2019 cash assistance pilot program, for example, gave 125 low-income residents a $500 monthly stipend for one year and ultimately raised their full-time employment rate. The program, which has since been cited as an example of direct cash assistance policies' potential effectiveness, was a municipal effort spearheaded by the city's Mayor Michael Tubbs.
Some of New York City's Democratic mayoral hopefuls would like to create or expand cash assistance programs, but they each have different ideas about who should collect a check. Others question whether municipal governments – particularly cash-strapped ones like New York City – should initiate direct payment programs to combat poverty and inequality. New York City already has one of the highest tax burdens in the United States, and cities in New York state can't raise taxes to pay for such a program without approval from the state government. New York City's fiscal woes in the 1970s were blamed in part on the burden of high social welfare costs, leaving critics wary of programs that distribute city money to residents. 
We laid out below the leading contenders' plans and how they would pay for them. 
Brooklyn Borough President Eric Adams 
Plan: NYC AID 
How it works: Adams proposes increasing working families' earned income tax credit and paying it out on a monthly basis. Currently, New York City pays a matching tax credit equal to 5% of what low-income families receive from the federal government. NYC AID would increase this matching amount to as high as 60% for the city's poorest households. A policy paper on the proposal shows that a family with two children earning $30,000 per year could expect to see payments of around $250 per month under the plan, up from around $250 per year currently. 
Who's eligible: Working families that already qualify for payments would receive significantly more city money under this plan. Adams also hopes to expand NYC AID to include childless families, those with unemployed adults, and individuals whose previous-year income doesn't accurately reflect their need – such as those who recently lost their jobs.
How many people would get payments: ~900,000
Payment amount: The amount paid out to families would vary by household based on income, number of children and other factors. However, some of the city's poorest families could expect to see annual totals as high as $3,000-$4,000 from the city's coffers.
Cost: ~$1 billion per year
Funding: Adams hopes to pay for this program expansion with 3-5% cuts to city agencies, which would require City Council approval, and a small tax increase on the extremely wealthy, which would need approval from Albany. 
Learn more: Last month the Adams campaign shared a policy paper on NYC AID exclusively with the New York Daily News, who reported on it here.
Former Counsel to the Mayor Maya Wiley
Plan: Universal Community Care Model
How it works: One section of this multipronged program would remunerate the unpaid labor of NYC's neediest informal caregivers, many of whom are women of color. The plan would provide an annual "care income" of $5,000 to New Yorkers who care for children, the elderly, or sick or disabled family members at home. 
Who's eligible: Family caregivers who provide care to relatives without compensation.
How many people would get payments: Wiley's plan would fund stipends for 100,000 of New York City's "most high-need" informal caregivers.
Payment amount: $5,000
Cost: ~$500 million
Funding: Wiley has proposed a hiring freeze for the NYPD that she says would free up around $300 million to help pay for this program. The remaining $200 million would come from an existing federal Childcare Community Development Block Grant that Wiley says the city under-utilizes currently.
Learn more: Wiley explains the proposal on her campaign website.
Former US Sec. of Housing and Urban Development Shaun Donovan
Plan: Equity Bonds 
How it works: This program would create savings accounts for all New York City children. The government would give every child a starting amount of $1,000, and then add up to $2,000 per year to the accounts of children from poor families. This money would become accessible when children turn 18, but could only be used for certain expenses like "paying for college, buying a home, starting a business, eradicating debt and other methods of achieving economic security."
Who's eligible: All of the city's 1.4 million children, included undocumented immigrants, would qualify for this program and be given a one-time $1,000 payment upon enrollment. Recurring yearly deposits would only go to those from families making less than roughly $150,000 per year. 
How many people would get payments: ~1.4 million
Payment amount: $1,000 for all recipients, then up to $2,000/year for those from poor families. Exact payment amounts would be calculated on a sliding scale based on family income.
Cost: ~$3.2 billion in the first year alone, followed by ~$1.9 billion annually after initial enrollments are complete.
Funding: Donovan hopes to fund this program using a combination of city funds, federal money, and private donations. He does not plan to increase taxes on the wealthy in order to help pay for it, instead predicting that a federal version of this same idea will eventually become law and bolster funding to the program. 
Equity Bonds is a city-specific version of the "Baby Bonds" proposal developed by economist Darrick Hamilton and popularized by U.S. Sen. Cory Booker and Rep. Ayanna Pressley. These legislators recently reintroduced the idea to Congress as the "American Opportunity Accounts Act," but the bill has yet to gain widespread support. 
Learn more: Donovan explains the proposal on his campaign website.
Former nonprofit executive Dianne Morales
Plan: Income Relief for Excluded Workers
How it would work: Throughout her mayoral bid, Morales has positioned herself as a left-wing candidate representing transformative change for the city. In a December radio interview, she stated her support for a "universal basic income for people who need it" – the only other frontrunner who supported a citywide UBI was City Council Member Carlos Menchaca, who suspended his campaign on March 24. 
In recent months, Morales seems to have backed away from this stance. "Guaranteed income relief for us means establishing a city fund to ensure cash grants to excluded workers who were left out on the federal and state level," said Morales' communications director Lauren Liles in an email to City & State, referring to the recent coronavirus relief bill. "It also means advocating for increased and more inclusive relief checks for every household from the state/federal [government]." If a Morales administration would involve direct cash assistance beyond pandemic relief, it is unclear exactly who would be eligible for this cash support, how many people would get payments, what amount those payments would be, and what the program would cost.
In a TV interview last month, Morales stated that assistance could take the form of expanded government programs, rather than just cash payments. "Any sort of cash support should not be treated as something that would be provided in lieu of critical social services and structural changes to our local economy," Liles added. 
Funding: Morales' communications director noted that her campaign supports the Invest in Our New York movement, an initiative in Albany to raise revenue by ending tax breaks for the state's wealthiest residents. 
Learn more: Morales says she would "Advocate for basic income relief" in her First 100 Days plan, but gives no specifics on what New Yorkers would receive. 
Former nonprofit executive Andrew Yang
Plan: A Basic Income for NYC 
How it works: This proposal would provide payments totalling around $2,000 annually to the half-million poorest New Yorkers with the stated goal of "ensuring that every household has an annual income that is at least above extreme poverty."
Who's eligible: All New Yorkers regardless of immigration status, homelessness or former incarceration would be eligible to receive this money based on their income.
How many people would get payments: 500,000
Payment amount: ~$2,000, although Yang predicts this number could rise as the program expands.
Cost: ~$1 billion / year
Funding: Yang hopes to fund this program using a combination of city money and private donations. He notes that this cash assistance would not be classified as "income," and so would not affect New Yorkers' eligibility for other social welfare programs. However, his ideas for accruing city money to pay for the program include eliminating "inefficiencies" in the current social safety net, as well as levying taxes on currently-tax-exempt institutions like Madison Square Garden and Columbia University.
Learn more: Yang explains the proposal on his campaign website.
Everybody Else
Other frontrunners in the mayoral race who haven't laid out explicit direct cash assistance plans include former Sanitation Commissioner Kathryn Garcia, businessman Ray McGuire, and current City Comptroller Scott Stringer. Garcia's campaign website notes that she "support(s) emergency cash assistance funding programs for undocumented workers" in the restaurant industry, but she has not expanded this position into a specific policy proposal. Her campaign, as well as McGuire's, did not respond to requests for comment. 
Stringer's campaign notes that he currently supports a number of economic assistance policies as city comptroller, citing a 2016 call to triple the city's earned income tax credit payments. He has also introduced a robust childcare proposal that he hopes to enact as mayor – a plan that campaign spokesman Tyrone Stevens calls "meaningful support that the city can actually provide on a broad level."
Some skeptics still doubt that the city government can afford to provide cash assistance. But the number of candidates either tacitly or explicitly in support of the idea speaks to how popular the policy has become in recent months. Yang, whose name became nearly synonymous with universal basic income during his presidential bid last year, recently told the New York Times that the policy has cemented its place in the progressive political conversation. "Frankly, any mayoral candidate who is not making it part of their platform is missing the boat," he said.