Education
The kids are not alright
Getting them back into the classroom will help, but they'll need more mental health support when they return.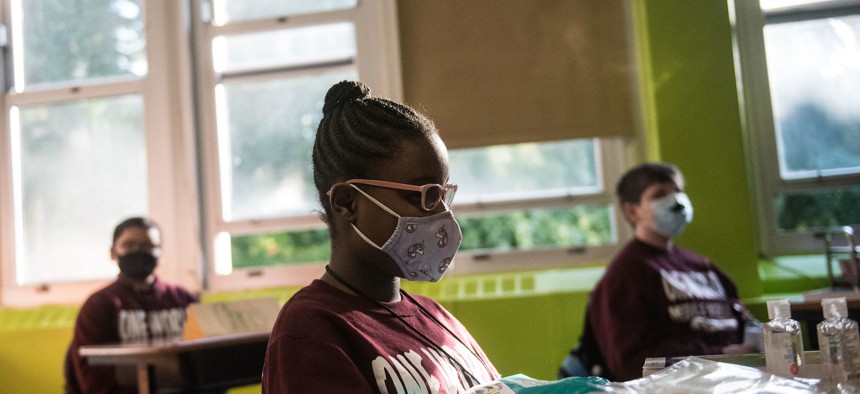 During a Wednesday press conference, Gov. Andrew Cuomo echoed President Joe Biden's call to get kids back into classrooms as soon as possible by prioritizing teachers for vaccinations.
Cuomo also made similar comments a week earlier, implying that once teachers are vaccinated there should be no impediment to bringing kids back to school. "There is damage being done to children with remote learning," the governor said during a press briefing last Monday. "You're going to find mental stress for children who have been home. You'll see emotional issues because children have been home. We want to open schools."
A growing number of health experts, including the American Academy of Pediatrics, have also been encouraging states to reopen schools over concerns that attending school remotely may be negatively affecting children's academic growth as well as their mental health. 
While stopping the accumulation of more damage to children's learning and psycho-social development is an urgent priority for New York, undoing the damage already done is another challenge. Some educators and mental health experts say that children returning to classrooms simply isn't enough to fully combat the mental health issues many have been dealing with.
Students who are attending school remotely have been found to be more stressed than those still going to in-person classes. A lack of socialization and supportive resources offered by schools, including meals, guidance counselors and assistance from teachers, have helped contribute to poor mental health among children who are attending school remotely since the onset of the pandemic. Additionally, many students studying remotely are experiencing new stressors, such as faulty internet service, distracting siblings and overwhelmed parents.
As of Oct. 17, 2020, there was a significant increase in the number of children who were brought to hospital emergency rooms across the U.S. due to mental health issues last year, according to a Centers for Disease Control and Prevention report published in November. There was a 24% increase in children ages five to 11 admitted to emergency rooms, compared for mental health-related reasons and a 31% increase among children ages 12 to 17, compared to those admitted in 2019. The CDC's data appears to reflect what has also been occurring in New York. For example, Central New York pediatricians have reported seeing a record number of patients experiencing mental health crises, some as young as four years-old.
Child psychiatrists have also been warning that the pandemic may be creating more of a suicide risk in children who are having trouble dealing with the various stressors it has placed on them. "The kids that we are seeing now in the emergency department are really at the stage of maybe even having tried or attempted or have a detailed plan," Dr. Vera Feuer, director of pediatric emergency psychiatry at Cohen Children's Medical Center of Northwell Health in New York, told NPR. "And we're admitting to the hospital more kids than usual because of how unwell they are."
Research has also indicated that classrooms and schools do not possess a high threat of COVID-19 transmission.Children under the age of 18 are much less likely to contract the disease and are far less likely to develop severe symptoms or die – they are also less likely to transmit the disease to others. 
Now that the state has received a vast supply of Johnson & Johnson vaccines – and more shipments are anticipated to arrive over the next few months – it's looking more likely that teachers will be inoculated and able to safely return to in-person teaching soon. 
But can simply returning children back to school diminish the mental health crisis that emerged as a result of the pandemic, or does more need to be done? After all, many of the state's schools do not look the same as they did when children were last in class. Desks are far apart to create six feet of distance between students and teachers – some schools have even made use of plastic partitions to prevent the spread of free-floating germs – and face masks are mandated. 
"There's no cafeteria socializing with your friends in the lunchroom anymore," Nicholas Ferreira, senior vice president of youth development at The Child Center of NY, a children's counseling center that offers mental health programs in various public schools and has partnered with Thrive NYC, told City & State. "The socialization is there for sure and you're out of the house and you have a teacher in front of you, who can explain things better and help you through things but the experience (of being in school) is nothing like it was before." 
Some New York City schools offer mental health and wellness programs and have guidance counselors and social workers. More often than not, the resources, when available to students, are stretched thin. 
"We have a lot of students, 2,400, and we have basically zero social workers," a teacher who works at a public high school in Manhattan, who asked to remain anonymous to protect their job, told City & State. "Our (few) guidance counselors are extremely overwhelmed and they have about 400 students each and they rotate them every semester."
"The support network we have in place is really, in my opinion, not great, but that's almost true for every school I've worked in. Most schools I've seen are really lacking in mental health support, such as social workers and guidance counselors," they continued.
The lack of mental and behavioral support for children in public schools predates the COVID-19 pandemic but the need for these services have been amplified by the crisis. In New York City there are only about 3,000 guidance counselors available to aid the public school system's student population of 1,126,501. 
Even as the need for more mental health services for children within the state becomes increasingly apparent, New York City and New York state do not appear to have developed plans to provide these services to all students. Neither the state nor the city's departments of education responded to a request for comment.
Some state lawmakers have already begun talking about ensuring that some of the federal funding New York is expected to get goes directly toward schools to pay for mental health support. 
"We want to make sure that this next tranche of federal money goes to schools, not to the state, and is used for expenses related to COVID, including compensatory learning, summer school, the costs of paying for PPE, new air filtration systems – all the costs related to having kids come back and addressing their mental health needs. Whether it's psychologists, social workers, or guidance counselors, these kids are going to face quite a bit when they get back to school full time," state Senate Education Committee Chair Shelley Mayer told City & State in an interview earlier this week.
Still, mental health experts agree that a more concerted and targeted effort will need to be made to combat increases in mental health issues among the state's children now and long after the pandemic's end. "We're still going through the trauma (of COVID-19) and it hasn't ended," Linda Rodriguez, senior vice president of behavioral health and early childhood at The Child Center of NY, said. "Even if funding opens up now, this (addressing children's mental health) does need to be a long-term planning commitment."