Labor
Labor hasn't found its NYC mayoral candidate yet
If unions coalesce around a candidate, they could resume their traditional role as kingmakers.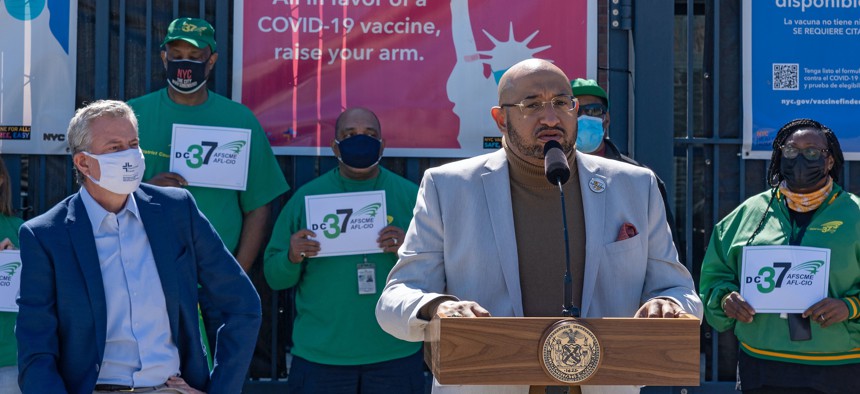 In the crowded New York City Democratic mayoral primary, with the odds stacked against a Republican capturing City Hall, organized labor could have a large say in determining who will lead the city's post-pandemic recovery. The last time there was a competitive Democratic primary, health care workers union 1199SEIU helped propel then-candidate Bill de Blasio to a general election victory.
That year, the city's "Big 4" unions – 1199SEIU, the United Federation of Teachers, District Council 37 and 32BJ SEIU – split their support evenly among the four leading Democratic contenders. This year, the largest unions to endorse thus far have backed three candidates: New York City Comptroller Scott Stringer, Brooklyn Borough President Eric Adams and Maya Wiley, who used to serve as a counsel to de Blasio. Yet it's former presidential candidate Andrew Yang, a newcomer to city politics, who has jumped out to an early lead in the polls.
Organized labor is far from a monolithic constituency. Unions run the political gamut from the more conservative police unions to generally pro-development trade unions to unions like 32BJ SEIU that are closely aligned with the progressive movement. As such, their priorities often diverge when it comes to deciding which candidates to support.
"Organizations like unions that can mobilize their base, and instruct their base, will have a lot of impact," said Joshua Freeman, a labor historian at Queens College. "Labor is certainly a player here, but the fact that they are all over the map in terms of who they are supporting dilutes their power."
Public sector unions are unique in that they have a say in electing their ultimate employer, and in this election cycle municipal labor leaders have an eye on the upcoming round of collective bargaining. Whoever New York's next chief executive is, addressing the fiscal crisis will be at the forefront of their agenda, and union leaders are already making it clear that they want the sacrifices that the city's essential workers made during the pandemic to be recognized by the next administration.
"One of the concerns that we have is that, similar to what we saw after Sept. 11 with the economic downturn, there was an inclination to try to protect businesses and business interests above people," said Henry Garrido, the executive director of District Council 37, the largest municipal workers union in New York City.
"Labor is certainly a player here, but the fact that they are all over the map in terms of who they are supporting dilutes their power." – Joshua Freeman, Queens College labor historian
Garrido, who has endorsed Eric Adams, said that "austerity budgets" following previous tragedies increased economic inequality, and he wants the next mayor to protect "the lives and the well-being of essential workers, rather than sacrificing them for the sake of keeping the business community happy."
Private and public sector unions often have differing views on tax policy, economic growth and development. Trade unions, for instance, keep close tabs on how economic policies could impact the construction industry, and their political agenda skews toward spurring development.
"Our priorities are a lot of times around job creation because we work our way out of a job every day unlike a public sector employee who has an office to go back to five days a week, year after year," said Mike McGuire, political director of the Mason Tenders' District Council. McGuire has endorsed Scott Stringer, saying that his experience as comptroller best qualifies him to steer the city through the coming fiscal crisis.
In addition to concerns around policy, existing relationships frequently factor into who unions endorse. Maya Wiley, who counts Patrick Gaspard, a former 1199SEIU political director, as a close ally, received that union's coveted endorsement in February. Katie Moore, Eric Adams' campaign manager, previously worked as the political director of the New York Hotel and Motel Trades Council, which has backed the borough president. The Uniformed Sanitationmen's Association has backed former New York City Sanitation Department Commissioner Kathryn Garcia, and a number of trade unions have endorsed Scott Stringer, who as comptroller regulates the prevailing wage schedule.
Another important factor in the weakening solidarity among labor unions and the progressive movement was when Amazon pulled out of a deal to locate a headquarters in Queens in February 2019. For starters, there were unions entrenched on both sides of the fight. But there were additional fissures that were laid bare among organized labor and the Democratic Socialists of America, which opposed the Amazon deal. In August 2019, a leaked DSA memo detailed the organization's plans to infiltrate city unions, which triggered sharp responses from labor leaders. Despite that past friction, there is also ideological convergence between the DSA and many labor unions, which have rallied together around many causes.
"The relationship status is: 'It's complicated,'" said Evan Stavisky, a partner at The Parkside Group, a political consulting firm that works with labor clients.
"One of the concerns that we have is that, similar to what we saw after Sept. 11, with the economic downturn, there was an inclination to try to protect businesses and business interests above people." – Henry Garrido, District Council 37 executive director
Over the past few years, the DSA has eclipsed the Working Families Party, which for years joined progressive activists and labor unions under a single banner. The WFP began to lose clout in 2018, when several unions withdrew from the party following a dispute over whether to endorse Gov. Andrew Cuomo. "The party was always a little bit tough to hold together because you had different constituencies within it," said Steven Malanga, a fellow at the Manhattan Institute, a conservative think tank. "I think right now the DSA is kind of a purer form that is starting to supersede the Working Families Party."
The DSA has indeed raised its profile with recent wins – most notably Rep. Alexandria Ocasio-Cortez's seismic 2018 congressional campaign and the 2020 state legislative races – and they will face a major test in the 2021 New York City elections. The large unions, on the other hand, have a long track record of playing kingmaker in New York City, but early primary polls show them struggling to move the needle against an outside mayoral candidate who has not wooed organized labor as aggressively as many other candidates.
"I think Andrew Yang has complicated the calculus for a lot of these unions, and I think there is probably a recognition on the part of organized labor that as Yang begins to consolidate in both perception and reality somewhat of a front-runner status, their collective ability to help one candidate is much stronger than if they were divided up," said Neal Kwatra, the founder of Metropolitan Public Strategies and former political director of the Hotel Trades Council.
Last month, DC 37 and 32BJ SEIU rolled out their endorsements of Eric Adams on consecutive days. And a few influential unions – the UFT, Transport Workers Union and the New York State Nurses Association – haven't endorsed a candidate yet. Harry Nespoli, chair of the Municipal Labor Committee, told City & State that his organization, which represents around 100 municipal unions, plans on hosting Zoom calls with the remaining candidates this month.
"Who knows which candidates are going to be there in April?" Nespoli said. "You always have other people that you know that you are looking to support if the candidate you are saying you want to go out for and you want to help become mayor isn't there."
There are still months to go before the June primary, and even though a candidate new to the city's political scene has taken the lead, the race is still fluid.
Stavisky said: "If you're running for office in New York City, you have to be a schmuck not to realize that this is a union town, and you're better off having labor endorsements than not."