Energy & Environment
Mayoral hopefuls tout their green thumbs
The crowded field of candidates in New York City's upcoming June primary discussed their plans for the environment in a new Earth Day video.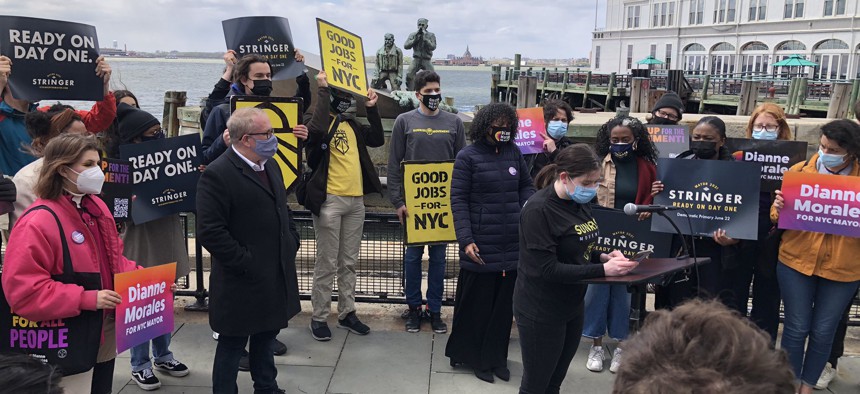 Five leading New York City mayoral candidates hoped to boost their environmentalist credentials as they talked about their green plans in an Earth Day video released Thursday night by the New York League of Conservation Voters. 
"The next mayor has a monumental task. We cannot afford to wait anymore on climate change. We must act," NYLCV President Julie Tighe said to open "A Greener City Hall: conversations with NYC Mayoral candidates." "That means increasing the amount of recycling we do. That means protecting our world class drinking supply and keeping it clean. That means greening our transportation sector and investing in resilience infrastructure to protect our communities from flooding and from the impacts of heat."
Five of the leading Democratic contenders appeared in pre-recorded interviews: New York City Comptroller Scott Stringer, former New York City Sanitation Commissioner Kathryn Garcia, former Citigroup vice chairman Ray McGuire, Brooklyn Borough President Eric Adams and former director of the U.S. Office of Management and Budget Shaun Donovan. Three other major candidates – Andrew Yang, Maya Wiley and Dianne Morales – did not take part. A spokesperson for NYLCV said they were invited, but the three were unable to find a time to record a video. 
The video is different than the virtual forums which have dominated this year's mayoral race. Candidates answered questions while sitting outdoors on park benches – a few of them appeared outside City Hall, others near Battery Park in Lower Manhattan. Earlier on Thursday, Stringer and Morales both appeared in Battery Park together to receive the co-endorsement of Sunrise NYC, the local chapter of the youth-led Sunrise Movement, which supports a Green New Deal. It was a validating endorsement for Morales, and just one in a longer list of supporters for Stringer, who also received an Earth Day mayoral endorsement Thursday from actor Mark Ruffalo, who has built a reputation as an environmental activist. Stringer's mayoral campaign was previously endorsed by environmental activist Bill McKibben and Food and Water Action, an environmental group that has reportedly helped create an independent expenditure committee to back Stringer. NYLCV has not yet endorsed for mayor. Shachar Sharon, a spokesperson for the organization, said the endorsement committee will be meeting next week to discuss.
In an ironic twist, NYLCV's forum was sponsored by National Grid, the gas utility that's currently under fire from environmental activists for its project building a natural gas pipeline through northern Brooklyn. Stringer himself has joined rallies against the project. 
The candidates answered questions on transportation and open streets, parks, lead poisoning and more. Here are excerpts of some of their answers. 
What is your plan to act on climate change?
Stringer: "We're going to build a solar panel on every rooftop. And an electric battery in every basement. … We are going to invest in an infrastructure that speaks to the green economy. Because here's our opportunity: we can retrofit all of the dirty buildings in the city. We can adopt Congresswoman (Alexandria) Ocasio-Cortez' NYCHA Green Plan. … We can retrain and develop a talent pool in communities of color by accessing workforce development programs that I've proposed for CUNY students. Make them free, give kids a retrofitting career opportunity. The next step on the road to a renewable New York City is the green economy."
Garcia: "We need to ensure that Local Law 97 is actually implemented. And that we are not focused on fines or fees but on helping people actually achieve the goal of decarbonizing our economy. We know that means we need to bring more renewable power into this city. Both for Canadian hydro, as well as from Upstate. Solar, wind, geothermal all have to be part of the mix … We need to make sure that there is a Green New Deal for NYCHA. That they have the funding to make sure that they are investing in geothermal and in heat pumps. So not only do they have heat and hot water, but also that they have air conditioning in those units."
McGuire: "My plan looks to build climate resiliency focusing on not only air, but what's taking place with the 100-year flood that comes every five years… Building to make certain that we've dealt with coast lines that we have in Hunts Point and Red Hook and the Rockaways and Coney Island and yes, in Lower Manhattan. We have a resiliency plan on which we've never executed. So the only thing that we have in reserve are sandbags."
Adams: "My full-frontal assault on greenhouse gases will be matched with the full-frontal assault that greenhouse gases is attacking our planet. … We're going to look at the overconsumption of meat in this city. It is time to have a more healthy food source on where we feed people in government, such as schools, prisons. People don't realize that meat, and our overconsumption of meat, is destroying our Amazon. It is destroying our environment. It is not only unhealthy and is hurting our mothers and children, but is hurting Mother Earth. … We're going to have a full-frontal assault on the current peaker plants. We're going to change and use battery storage so that we can cycle off of our current use that is attacking our greenhouse gases. We're going to have a real greenhouse bond program where we're going to put people back to real employment of how they participate in cleaning our environment."
Donovan: On buildings, our biggest source of emissions: Not only am I going to accelerate implementation of Local Law 97, get the tools and resources like PACE to every building that needs it. But we're also going to lead with our public buildings. We're going to make sure that public housing is a model around the world for sustainable, green housing. … That's going to be key to all of our plans, leading on buildings. I'm going to make sure that within the first 100 days of a Donovan administration, we issue an all-of-government executive order on environmental justice. We're going to increase the use of social vulnerability mapping and all kinds of other tools to really know where the impacts are the greatest and where we need to focus our resources. And I'm going to create real accountability by appointing the first ever chief equity officer in the history of this city, reporting directly to me. Every agency will be accountable to those goals on environmental justice and we will actually make sure that climate change no longer disproportionately devastates our communities of color."
How will you ensure we get to Zero Waste?
Garcia: "We know that a third of our waste comes from food and yard waste. We have to bring back the composting program and ensure that it is at everybody's doorstep, as well as in every big building. It's going to have to be mandatory. But we also need to have community compost facilities in all five boroughs, and I've committed to a renewable Rikers. Not only for renewable power, but also to have a place to make compost so that we can return it to all of our green spaces. I believe that we can get to zero waste, and I am absolutely the person to do it."
McGuire: "We collect 50% less than what we set out the goal to be. We need to focus on that. We need to focus on composting. … Climate has got to be the highest priority. And we keep moving it out. We keep moving it out as though it's not the issue that it really is! So my plan is to address this and address it directly and make sure it's the highest priority. We have no alternative!"
Stringer: "Let's get real about this. One: pick up the garbage. But more importantly, stop using garbage bags. One of those parking spaces we talking about, we could put a dumpster right there. That's a healthy way of disposing garbage. That's an idea. … Let's start composting for real. They've gutted the composting plan. We only have 1% composting in a city that it should be scaled up to lead the nation. Why aren't we investing in the kind of separation of bottles and paper and goods and recycling. We haven't had a new idea in approaching this in the city in the last 40 years. Time to do that."
Adams: "When people think of the waste in the city, what they don't realize is that we are wasting money. It is no longer inexpensive to send our garbage out of the city, to transport garbage away. The real savings will come from investing in the long-term infrastructure of processing our waste. … My goal as mayor will be to ensure that every New Yorker participates in the organic waste renewal program. And we're going to start with our schools. We're going to make sure every school has a composting bin. Have an organic waste renewal program. So that our children can learn at an early age that this is part of the process of getting rid of waste."
Donovan: "New York only recycles about 1/5th of its waste, when other cities like San Francisco and Seattle are three times that level. We've got to lead the country in recycling. And we're going to do that by bringing back organics recycling and making sure it works everywhere. … I would implement, for the first time ever, a serious construction waste recycling program to ensure that we're really leading the country in recycling."
Adams: "Prospect Park! Is there another park?... It is our South of France, it is Bahamas. It is the poor man's first date. It is just a great place to enjoy the city and the borough"
Stringer: "As a kid growing up Uptown in Washington Heights, Fort Tryon Park was just where we went, where we played."
Garcia: "Prospect Park is my favorite park. I grew up not too far from there. I have lovely memories of occasionally grabbing a 40 (ounce drink)."
McGuire: "I love Central Park. Just given all the vast and rich experiences from the Ramble to Sheeps' Meadow to me going to the lower part of the northern part of Central Park and trying to make sure I could use the bike to get back up."
Donovan: "It's Brooklyn Bridge Park, just a few minutes' walk from our home. And why? Because my wife is a landscape architect who helped design it. And so we walk through that park, she knows the names of every one of the plants. She has nicknames for them."