NYPD
Should cops have to live in NYC?
It could improve community relations, but unions object and even some reform advocates are unenthused.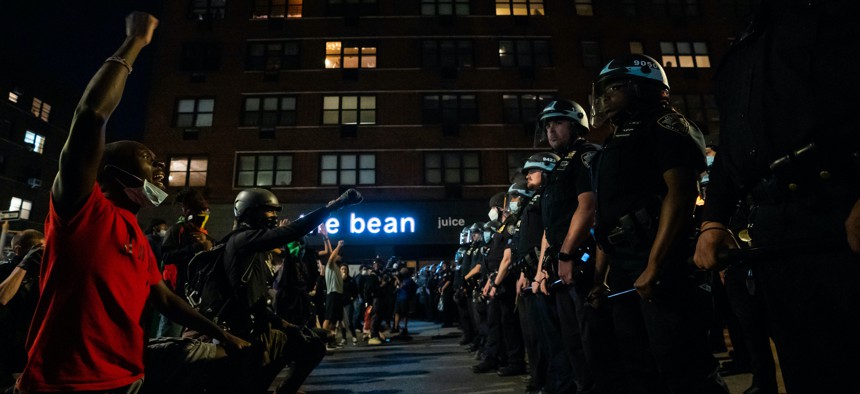 For most New York City government jobs, living within the five boroughs is a prerequisite for getting hired, but there are a few exceptions under state law. Police officers, for example, are allowed to live in Nassau, Suffolk, Rockland, Westchester, Putnam or Orange counties, and a slim majority of NYPD uniformed officers take advantage of that flexibility to live in the surrounding suburbs.
A growing number of elected officials and political candidates said that distance worsens community relations. That's why state Sen. Kevin Parker from Brooklyn and Assembly Member Catalina Cruz from Queens have sponsored legislation that would require all newly hired NYPD officers to live in the city. The measure has broad support among New York City political leaders. In March, the City Council voted overwhelmingly for a resolution calling for the bill's passage. Five mayoral candidates – Maya Wiley, Ray McGuire, Shaun Donovan, Kathryn Garcia and Andrew Yang – support the reform. State Attorney General Letitia James also recommended New York City police residency requirements be instituted in a July 2020 report.
For Parker, largely white officers coming in from the suburbs to police majority-Black neighborhoods may be more likely to act as an "invading force."
"I think that it really rubs people the wrong way," he said. "I think that adds to the lack of relationship or connectedness to various communities that creates fear in the cops."
Most cities don't require officers to live within their jurisdiction. In fact, having officers who don't live in the place where they work can be seen as a way to reduce corruption or conflicts of interest. NYPD officers are prohibited from living in the precinct where they serve. Some cities have a hybrid approach, such as Newark, New Jersey, which requires city residency for the first year of employment.
Parker and Cruz's bill is intended to embed officers in the city and increase racial diversity within the NYPD's ranks. Black New Yorkers make up 24.3% of the city's population, but only 15.2% of uniformed officers in the city are Black, according to figures from August. Black officers are far more likely to live in the city than their white peers. Only 45% of white police officers lived in New York City, data from 2010 showed, compared to the 77% of Black officers and 76% of Hispanic officers.
The legislation would also keep city tax dollars within the five boroughs, rather than paying residents of suburban counties.
 "I think that adds to the lack of relationship or connectedness to various communities that creates fear in the cops." – state Sen. Kevin Parker
Police unions have been long opposed to residency requirements. "We can't talk about changing the NYPD residency requirements without talking about police officers' pay," Pat Lynch, president of the Police Benevolent Association, said in a statement. He argued that officers can't afford to live in the city, as NYPD officers on average earn $49.17 an hour over the course of a 25-year career, less than counterparts in some nearby police departments. State troopers earn $64.19, according to data provided by the Police Benevolent Association, while Suffolk County officers receive on average $86.57 in hourly pay.
Mayor Bill de Blasio also was sympathetic to those concerns when asked last year about instituting police residency requirements, saying: "A lot of NYPD officers who happen to be people of color are living in the suburbs for purely economic reasons, because they can't find enough affordable housing here."
But many other New York City residents earn less than NYPD officers. After about five and a half years of service, NYPD officers earn a base annual salary of $85,292, excluding overtime or holiday pay. Even without that additional pay – which can lead to officers earning more than $100,000 a year – NYPD officers make more than New York City's median household income of $63,998. On top of that, police officers in New York City receive benefits like 27 paid vacation days and unlimited sick leave, with an option to retire after 22 years while continuing to receive half their salary.
The salaries of officers in some suburban police departments are unusually high: Suffolk County officers are the highest paid in the state, which has led to complaints from residents that local police are overpaid. The county also has a median household income of $101,031, well exceeding New York City's.
NYPD officers are also better compensated than most city employees, who are required to reside in the five boroughs. A recent city job posting for a playground associate – who would be subject to a residency requirement – offers an hourly wage of $17.72, for example.
"There is no evidence that residency has a positive effect on police performance or community relations." – New York City mayoral candidate Dianne Morales
"The majority of (District Council 37 members) are probably not making what a police officer makes, yet they could afford to live in the city," Cruz said, referring to the union that represents a wide range of municipal employees, including janitors, school aides, secretaries and park rangers. "Why are you different?"
Stephen Nasta, a former NYPD inspector and professor at John Jay College of Criminal Justice, warned that requiring cops to live in the city could hurt recruitment efforts and create resentment among officers that some other civil servants aren't subject to the same mandate.
The question about residency requirements also goes beyond just police officers, as firefighters, sanitation workers and teachers are also exempt from the residency requirements (certain other city employees can also live in the suburbs after two continuous years of service). Parker said he was in the process of drafting legislation with guidance from the Vulcan Society, an association of Black firefighters, to create similar mandates for firefighters.
"I think the police issue is most pressing," he said. "But I think other bargaining units also should be living in the city."
Police reform activists in New York City are surprisingly unexcited by the proposal, seeing it as unlikely to significantly reduce police abuse and misconduct. "I don't think there's anything that points to diversity getting at the root problems of policing in this country," said Kesi Foster, an activist with Communities United for Police Reform and Make the Road New York. He noted that Chicago has a police residency requirement, but it still continues to deal with police brutality. Instead, he said lawmakers should focus more energy on police accountability and reducing the scope of police departments. Dianne Morales, the only New York City mayoral candidate to oppose the proposal, referred to such requirements as a "distraction."
"There is no evidence that residency has a positive effect on police performance or community relations," she said in a statement.
Criminal justice experts said there was limited research on the issue, which makes it difficult to evaluate on its merits. "There's only a couple of studies I'm aware of – and mine is one of them – that has to do with really researching the effect in terms of crime or how a community relates to law enforcement within its jurisdiction," said David Pritchard, an adjunct criminal justice professor at the Wilder School of Government and Public Affairs at Virginia Commonwealth University. "So it's a very understudied issue."
Pritchard's study found that when police lived in the communities where they work, crime went down and communities tended to function more peacefully. "My study, I would argue, shows on a neighborhood level that it reduces crime and on the neighborhood level that it reduces social disorganization," he said. But it would be difficult to conclude whether that would hold true in a large city like New York City, he said, where officers may live in different boroughs than where they work.
Supporters point out that the residency requirement isn't meant to be a panacea. "It isn't just, let's diversify it, and all of a sudden, everything is happy and dandy," Cruz said. "Part of it is diversifying the force, part of it is having better training, part of it is … prioritizing programs that divert people away from interactions with the police."
Powered By
NEXT STORY: Why New York City hasn't gotten police overtime under control