Budget
Police funding returns as issue in NYC budget
The mayor doesn't propose more cuts to the NYPD, but police reform activists still want them.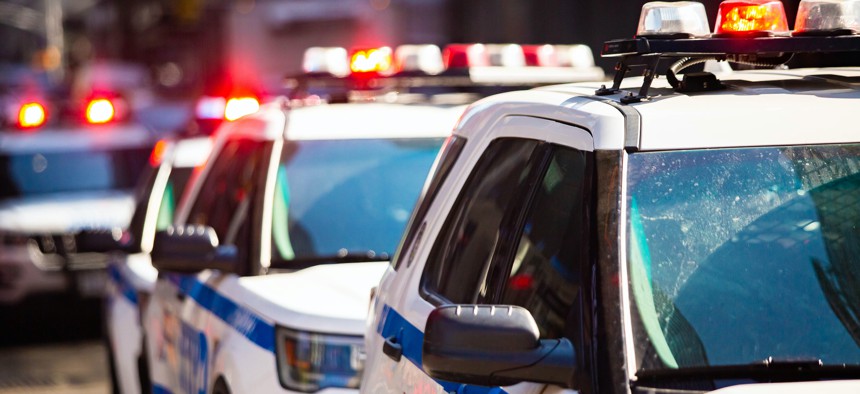 A year after police reform advocates camped out at City Hall Park demanding at least $1 billion be cut from the New York Police Department's $6 billion annual budget, activists are still demanding more cuts to the NYPD, but they face a steeper challenge this year with a rebounding economy, a rise in crime and no mass protests to keep lawmakers' feet to the fire. 
Last year, calls to defund the police rang through New York City in the wake of the murder of George Floyd by police in Minneapolis. Cuts were made, but most seeking structural reform considered them cosmetic at best. 
Mayor Bill de Blasio and the City Council agreed to about $1 billion in nominal cuts to the NYPD budget, but most reform advocates considered the cuts insufficient, made largely by shifting funding for school safety agents to the Department of Education, making overtime cuts none expected to be adhered to and forgoing just one new class of cadets. In the end, the city adopted an NYPD budget of about $5.2 billion – about $860 million less than it had been. 
Dissatisfied with the result last year, police reform activists are once again asking for reductions to the NYPD budget. "We're still calling for a serious reduction in the NYPD budget that needs to get reinvested in community infrastructure," said Joo-Hyun Kang, director of Communities United for Police Reform. But despite the heavy emphasis during last year's negotiations, slashing the police budget further has not dominated early spending talks. Unlike last year, de Blasio has proposed a historically large budget with new spending and an eye towards regrowth – a very different position than the city was in when the focus was on finding ways to save money. "I think it's outrageous," Kang said of de Blasio's $5.44 billion NYPD proposal for the upcoming fiscal year. "It's grown slightly in terms of what they're proposing, which probably means it's going to grow more by the time the budget is adopted without significant resistance." 
De Blasio's proposal keeps the uniformed headcount at about the same number as last year, when the city forwent a new class of cadets to bring down the number of officers. But the civilian headcount is increasing slightly and he's planning to build a new precinct in Queens as well. He hasn't returned the NYPD budget to its pre-pandemic funding levels, but he said in April that he doesn't plan to cut the funding further.
Although the current budget capped overtime at $272 million, the department has already spent an extra $74 million on overtime, and is expected to end this fiscal year having spent an extra $200 million. The NYPD's inability to reign in overtime costs – a perennial issue that Kang faults both the mayor and Council for failing to address – was a point of contention during a recent Council budget hearing on public safety. "You agreed to the budget. You blew it," Council Member Daniel Dromm said to Police Commissioner Dermot Shea in one particuarly heated exchange. "Are you going to blow it again?" The mayor's executive budget this year proposes increasing overtime even more, to $434 million in the next fiscal year, compared to $837 million spent in fiscal year 2020, the last one before the current round of cuts took effect.
Council Member Carlos Menchaca from Brooklyn, who voted against last year's budget for not cutting enough, said that while he's pushing to implement systemic change to the NYPD, he's still waiting for a framework from advocates. The main coalition, Communities United for Police Reform, has not yet put out its budget priorities. "I want to still be open to figure out where we're going to go, how we're going to move together," Menchaca said.
But Menchaca also said this year's situation is so different from last year that the conversations may just be harder in general. "Part of that is just the fact that the flow of the money is reversed now," Menchaca said. Unlike last year, where conversations centered around saving programs from deep cuts, talks this year are around how best to spend new federal cash and what new investments to make. Cuts to the NYPD were easy to pitch if they meant saving social services that were on the chopping block. Plus, a spike in crime has New York City on edge. "People are afraid," Menchaca said, even as he continues to push the idea that more police does not equate to greater public safety. 
Council Member Adrienne Adams from Queens, chair of the Public Safety Committee who opposed the broader defund movement last year, agreed that this year's vastly different circumstances make it difficult to gauge how a fight to make further cuts to the NYPD may go. She said that there's room for reductions through the civilianization of several hundred uniformed officers doing clerical work, and that behavioral health services should be shifted away from the NYPD. But she acknowledged the lack of mass protests and spikes in crimes have changed the dynamics. She said that she hasn't had conversations with colleagues yet to see where they stand. "I'm just as curious as you are to get that collaborative dialogue going to know where everyone lines up right now in 2021, a year later," Adams said. 
Kang said that Communities United for Police Reform will release its priorities for fiscal year 2022 soon, but that the demand will be at least $1 billion in reduced funding. She emphasized that enacting structural change is key to whatever demands they make, rather than simply shifting some costs around and finding ways to increase cost efficiency like the civilianization that Adams suggested. That means reducing a uniformed headcount that Kang called "bloated," truly controlling overtime spending and potentially eliminating units advocates consider abusive – Menchaca, for example, said he would like to eliminate the vice squad.
But perhaps most notably, Kang said that reform advocates are taking a multi-year approach for defunding the police. "Probably the more important budget is going to be the next budget, meaning the (fiscal year) 2023 budget, which will be the first budget of the new administration and the new City Council," Kang said. Several leading mayoral candidates, including Maya Wiley, Dianne Morales, New York City Comptroller Scott Stringer and Shaun Donovan, have pledged to reduce the NYPD budget and reinvest it in social services and other programs. But the two candidates consistently leading the polls, Brooklyn Borough President Eric Adams and Andrew Yang, oppose defunding the police, although Adams proposes to find savings through civilianization and reinvest the money in new initiatives that avoid getting police involved in certain situations.
VOCAL-NY, a progressive advocacy organization, has already released its individual priorities calling for a $3 billion cut to the police budget, a large demand that only Morales has echoed among the mayoral candidates. Keli Young, civil rights campaign coordinator with VOCAL-NY, called last year's cuts "meaningless." But like Kang, Young said that these are not demands they expect to be met all at once. "We know we might not get there this year, or next year, (but) this is a goal and we're not willing to lessen that bar," Young said. "What we're talking about is fundamental and structural change that we do understand is not going to happen in one budget cycle." 
Like others, Young acknowledged that the circumstances this year will make the fight more difficult, but that the most important thing is to keep the momentum going for that multi-year effort. "The influx of new council members does provide a good deal of hope for this movement," Young said, referring to the fact that most current members are term-limited and will be replaced next year. "Even if this year, we don't get the wins that we want, we're still working to lay that foundation."