Transportation
So when will NYC have congestion pricing?
Biden's approval of an environmental assessment is a shortcut on the long road to completing the toll project.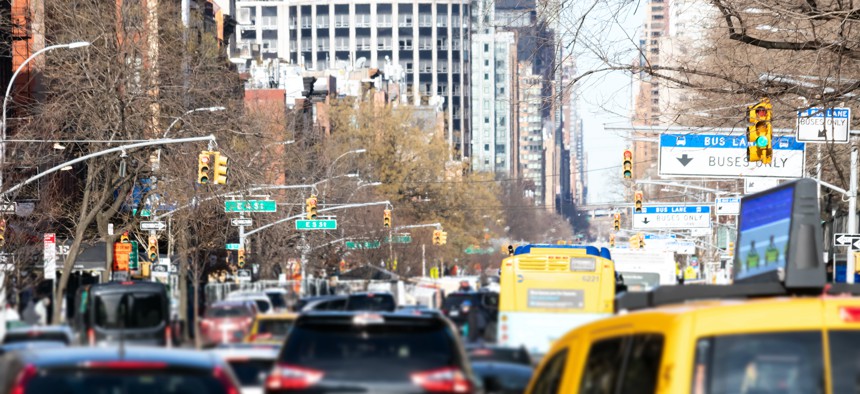 The road to tolling Manhattan's central business district has been a long one. As far back as 1933, proposals to enact a surcharge for crossing New York City's East River bridges have come up short. Most recently, former Mayor Michael Bloomberg attempted to push congestion pricing through during his first term in office, but opposition from the city's outer boroughs and suburbs ultimately thwarted the plan.
In 2019, the state Legislature finally passed a congestion pricing law, which made New York City the first city in the country to have congestion pricing. But because some of the roads that would be tolled have received federal funding, the Federal Highway Administration can require an environmental review prior to implementation. The Trump administration, however, never told the Metropolitan Transportation Authority whether it needed to conduct a full environmental impact statement or if an abbreviated assessment would suffice, and the program got stuck in limbo.
Finally, in March, the Biden administration informed the MTA that it could submit an environmental assessment, which will take less time than drafting an environmental impact statement – a welcome development for proponents of congestion pricing.
"After the environmental assessment is done, the U.S. Department of Transportation will need to decide whether a full environmental impact statement is necessary," said Michael Gerrard, director of the Sabin Center for Climate Change Law at Columbia Law School.
"But I would say the recent decision to require only an assessment is a good sign that they won't then require a full environmental impact statement."
However, politically difficult decisions will have to be made before tolls to enter Manhattan south of 60th Street can be installed. The 2019 law stipulated that the board of the Triborough Bridge and Tunnel Authority would determine the charges and exemptions, credits, or discounts for any group of drivers, including taxis and ride-hailing vehicles. A six-member Traffic Mobility Review Board would be tasked with advising on toll structure. But two years have elapsed since the passage of the law, and that board hasn't been appointed yet. Gov. Andrew Cuomo would ultimately select five of its members through his control of the Triborough Bridge and Tunnel Authority, and Mayor Bill de Blasio would select the other member.
Past congestion pricing proposals have recommended charging $12 to $14 for cars and $25 for trucks, but the cost will likely fluctuate based on the time of day and other considerations, such as whether to grant credit to motorists who already pay tolls entering the city – via the Henry Hudson Parkway or Triborough Bridge, for instance – and whether to charge on each leg of a commute.
Congestion pricing was originally slated to come online this year, with the tolls originally estimated to fund $15 billion in bonds for the MTA's $51.5 billion 2020-2024 capital plan. For every $1 billion expected in toll revenue per year, the MTA can get $5 billion in bonding over the next three years. The cash-strapped MTA, can use bonding to help underwrite long-term infrastructure needs in public transportation. Congestion pricing proponents fear that granting too many exemptions could diminish the program's effectiveness.
"One of the things we are concerned about is that a ton of carve-outs will dilute the impact," said Renae Reynolds, who was the transportation planner at the New York City Environmental Justice Alliance at the time of the interview and is now the new executive director of the Tri-State Transportation Campaign.
David Jones, an MTA board member, told City & State that he expects the concerns of small-business owners and other groups to be raised during the public hearing process, and that elected officials will likely attempt to reduce the impact of the tolls on their constituents.
"I am worried, obviously, that someone could try to throw their body in front of it," he said.
Jones, who is president and CEO of the Community Service Society (and a member of City & State's advisory board), said he expects that the question of discounts or exemptions for low-income drivers will also be raised, but cited a study conducted by his organization that found a relatively small number of low-wage earners would have to pay the congestion tolls regularly. The high cost of parking in the core of Manhattan, he said, was a factor.
"The progressive policy is investing in mass transit, and that's what this does," said Tom Wright, president and CEO of the Regional Plan Association. "What's regressive is to have a crappy transit system and say everybody needs to rely on their car to get anywhere, because owning an automobile costs $10,000 a year on average."
Some have argued for waiting until the city has recovered from the pandemic to implement the tolls, but the fiscal crisis at the MTA, which is facing an $8 billion deficit through 2024, has added a sense of urgency among policymakers, at the same time that the general public has come to view tackling climate change as a pressing issue. Reducing the number of vehicles on the street, moreover, is consistent with recent efforts to make New York City more user-friendly for bicyclists and pedestrians.
The political will, therefore, seems to have shifted both in recent years as well as since the onset of the pandemic.
"The crisis mode we are in right now is greasing the wheels in our favor," Reynolds said.