Health Care
COVID-19 delta variant looms as NY reopens
New York City Mayor Bill de Blasio has heralded this season as the "Summer of New York City," in which the five boroughs will come roaring back from their pandemic-induced slumber, but the highly contagious new delta variant of COVID-19 threatens the mayor's vision for the city.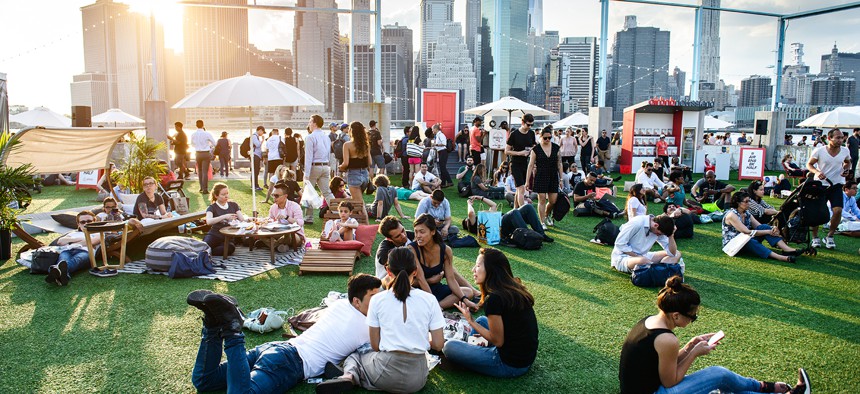 New York City Mayor Bill de Blasio has heralded this season as the "Summer of New York City," in which the five boroughs will come roaring back from their pandemic-induced slumber, but the highly contagious new delta variant of COVID-19 threatens the mayor's vision for the city.
Research indicates that being infected with the new coronavirus strain could lead to an increased risk of hospitalization. Experts familiar with the disease are also predicting that this much more aggressive version of the virus, which is spreading twice as fast as other strains, is on track to become more dominant than the original COVID-19 virus. As of June 12, 23% of new COVID-19 cases in New York City have been identified as the delta variant, though the number of new coronavirus cases remain fairly low. However, it is still unclear how deadly the delta variant is, compared to other versions of the virus.
Public health experts now fear that those who have yet to be vaccinated against COVID-19 are at great risk of contracting the new variant and hope people will continue to follow safety guidelines, such as wearing masks and social distancing, even though most legal requirements for masks or social distancing have been relaxed.
"It is very concerning," Dr. Robyn Gershon, clinical professor of epidemiology at New York University's School of Global Public Health, told City & State. "We've come so far for us to slide back again, it's unthinkable to go back to that time with the ambulances every few minutes."
Those most at risk of falling prey to the delta variant are those who have not been vaccinated. "If you're unvaccinated, you will get infected, and you will have a higher probability of ending up in the hospital," Dr. Theodora Hatziioannou, a virologist at Rockefeller University, told Gothamist. "The vaccinated people might get infected too, but they will deal with this a lot better."
Thus far, 50.7% of the city's population has been fully inoculated against the virus, according to city data, which means that about half of the city's residents are at higher risk of contracting the delta variant. Throughout the state, 53.9% of the population have been fully vaccinated, according to state data.
Vaccines made by Pfizer and Moderna are considered to be highly effective at preventing infection from most COVID-19 variants. Both Pfizer and Moderna have also said that their vaccines are very effective against the delta variant, however, no vaccine is 100% effective and with a much more transmissible strain, more "break-through" infections of vaccinated people will occur. According to NBC 5 Chicago, "Chicago Department of Public Health Commissioner Dr. Allison Arwady reported Tuesday that a recent study showed the Pfizer vaccine was 84% effective against the variant after two doses," as compared to 95% effective against earlier strains in clinical trials. 
In Israel, which has vaccinated 59% of its population, it has been reported that vaccinated people became infected with the new delta variant. The country re-implemented its indoor mask mandate on Friday to avoid further outbreaks.
Already the delta variant has made its way to 85 countries since it was first discovered in December 2020. It accounts for 90% of new cases in the United Kingdom and 20% of new cases in the United States.
While there is cause for concern, experts do not believe that the U.S. will see another wave of outbreaks like it did during the winter but they anticipate smaller outbreaks will occur within areas that have lower rates of vaccination. States with lower vaccination rates, such as Mississippi and Missouri, are already seeing a spike in cases caused by the delta variant. 
The World Health Organization issued new guidance last week, advising vaccinated individuals to continue to wear masks indoors, social distance and avoid crowds, due to how infectious the delta variant is. 
"We have to reduce our own exposure, so we get exposed to less virus, which is the infectious dose, and we have to ensure we're wearing masks and doing other things to prevent us inhaling particles that will cause us to be sick," Michael Ryan, executive director of WHO's Health Emergencies Programme, said during a WHO meeting on June 25.
It was also noted at the meeting that evidence suggests that the delta variant's aerosol droplets contain higher levels of the virus, compared to the original strain of the coronavirus, which may be what makes it more infectious.
On Monday, Los Angeles County health officials recommended vaccinated people continue to wear masks indoors to prevent spreading the virus, despite having relatively high vaccination rates, due to concerns over the variant.
At the moment, neither the city nor New York state have plans to reinstate any COVID-19 restrictions but they are strongly encouraging people to listen to the Centers for Disease Control and Prevention and to get inoculated against the virus if they haven't yet. 
"Unvaccinated individuals are required to continue to follow CDC guidelines which includes wearing a mask when in public indoors and when unable to socially distance outdoors," Erin Silk, a spokesperson for the state's Department of Health, told City & State in an emailed statement. "Those who are unvaccinated have the greatest risk of becoming seriously ill, which is why the New York State Department of Health urges all eligible New Yorkers to get vaccinated as soon as they are able."
De Blasio has also said that the city is monitoring the delta variant and new infections closely and will alter its guidance if needed.
"Our healthcare leadership believes that the best answer to the variant is just keep deepening the vaccination effort," the mayor said during an appearance on WNYC's "The Brian Lehrer Show" on Friday. "But Brian, we're going to watch it carefully. There's no evidence at this moment that it changes the trajectory. But if anything occurs, when we have to make adjustments, we will make them quickly."
Still, public health experts and epidemiologists fear that the longer it takes for more people to get vaccinated, the more inevitable it is that newer and even more detrimental versions of the virus will emerge and threaten the progress that has been made in containing and mitigating it.