Transportation
How accessible is transit in New York?
Every New Yorker knows what it's like to be exasperated with train delays or miss a muffled announcement from a subway conductor that a local train is suddenly going express.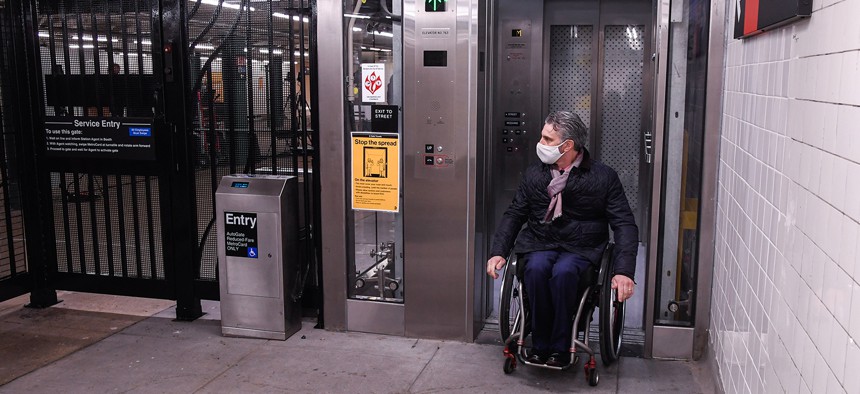 Every New Yorker knows what it's like to be exasperated with train delays or miss a muffled announcement from a subway conductor that a local train is suddenly going express. Unreliable transit service is reliably annoying. But for people with disabilities trying to navigate New York City and its surrounding neighborhoods, those annoyances become real impediments. The city has services available and work underway to make transportation more accessible, but those services don't function perfectly.
Take, for example, the widespread lack of subway elevators in the city or the less-than-satisfactory Access-A-Ride paratransit service. That's not to say that the city is uninhabitable for people with disabilities. In fact, some people with disabilities argue just the opposite, noting that few other places have transit systems as comprehensive as New York City's subway and bus system. And the Metropolitan Transportation Authority has made some progress during the COVID-19 pandemic, with 12 more subway stations becoming compliant with the Americans with Disabilities Act during the pandemic. Still, roughly three-quarters of stations remain inaccessible. 
Advocates and people living with different kinds of physical disabilities told City & State there is a collection of imperfect options when it comes to accessible modes of transportation in New York. Here's what some of those options look like.
Subways
Though the Americans with Disabilities Act passed over three decades ago, much of New York City infrastructure is still not ADA-compliant, and one of the worst offenders has been the city's subway system. The Metropolitan Transportation Authority has committed a large chunk of its capital plan to accessibility upgrades, hired its first chief accessibility officer, and during the pandemic made an additional 12 stations ADA compliant, but elevator and escalator access remains an issue at the majority of stations. And even once on the train or platform, navigating the system can be made difficult for people who rely on auditory cues because of a disability, thanks to often garbled conductor announcements signaling a service change or a lack of subway platform edge strips that some blind or low vision people use to navigate. 
Despite all of this, the New York City subway has certain advantages that make it a relatively attractive option, several people with physical disabilities told City & State. With the exception of service changes or unexpected stops, the subways are fairly predictable, making the same stops every day, unlike buses. Using the subway might still mean going out of one's way to travel through elevator-equipped stations or find sufficient navigation tools, but thanks to its fairly expansive geographical reach – excluding outer borough transit deserts – it can still be the most convenient option for some people.
Buses
New York City's buses are all wheelchair-accessible, equipped with either a chair lift or a ramp, but that doesn't mean that they are always a breeze to use. Some riders have said that bus drivers don't always know how to operate the chair lift, and one person told City & State that drivers sometimes don't know how to use the straps on board to secure a wheelchair. Charles Catherine, the associate director of special projects at the National Organization on Disability, said that as a blind person who uses a cane, his preference is still the subway. "Navigating on the bus is typically more difficult for people who are visually impaired than the subway," Catherine said. "On the subway, you can count the subway stops. On the bus, you're not sure if you're skipping a stop or if you are stuck at a red light."
Buses, of course, have the benefit of being at the street level, so actually reaching the stops typically doesn't come with the same concerns about elevator or escalator access. And like the subway, some riders with disabilities are able to qualify for reduced fare MetroCards, making the bus relatively cheap compared to some of the other options on this list.
Access-A-Ride
The MTA's paratransit program is meant to provide better access to transportation to New Yorkers with disabilities, but some users (and would-be users) say it's more of a headache than it's worth. The basic program requires riders to book trips a day in advance and warns that drivers are permitted to arrive 30 minutes early or late, making it inconvenient for last minute rides or ensuring predictable arrival times.A pilot program that launched in 2017 allows participants to book on-demand Access-A-Ride trips for the same $2.75 fare, but prior to the COVID-19 pandemic, the MTA announced plans to increase the fare while expanding the number of pilot participants. Those planned changes were shelved during the pandemic, and a spokesperson for the MTA said that the program will continue as is through 2021, with more updates coming in the fall. Meanwhile, since the pandemic, a shortage of taxi and ride-hailing vehicles has meant a rise in complaints about the pilot program and passengers waiting longer for their rides to arrive. 
Prior to the pandemic, some riders have called the Access-A-Ride pilot program a "godsend," and the Access-A-Ride program in general can be useful for people who aren't able to access the subway and don't want to shell out for an Uber, or who don't have jobs where they need to reliably arrive on time. But with remaining scheduling issues and potential changes to the on-demand pilot program, it remains a flawed option for riders.
For-hire vehicles
While not a public transit option, ride-hailing services like Uber, Lyft and Via are required to fulfill a certain number of ride requests for wheelchair-accessible vehicles within a certain time frame, under rules passed by the New York City Taxi and Limousine Commission. Those rules followed multiple lawsuits alleging that ride-hail services discriminate against riders with disabilities. Right now, the threshold that these services have to meet in 2021 is fulfilling 80% of accessible ride requests within 10 minutes and 90% of accessible ride requests within 15 minutes. Those three companies will be evaluated for their performance on their metric this month by the TLC.
And for riders with other kinds of disabilities, the Uber and Lyft apps, for example, are compatible with screen reading and other tools. 
One major downside, of course, is the high cost of for-hire vehicle rides, especially compared to transit fares. Commuting via ride-hail is not an option for everyone. And Zachary Borodkin, an advocate at Disability Rights New York who has cerebral palsy, noted that for people with disabilities who don't use wheelchairs, ride-hail services can sometimes pose issues. "I've had to turn drivers away ... because the vehicles that they've shown up in are not accessible," Borodkin said, noting that vehicles that are high off the ground are not suitable for him. "There needs to be something where you can identify yourself as needing assistance because you have a disability, or as a disabled rider, so that Uber can offer you options that work for you." A spokesperson for Uber said that this feature does not currently exist in New York City. Lyft and Via did not respond to requests for comment.
Commuter rail
One of the biggest issues in accessing commuter rail like the Long Island Rail Road or Metro-North from New York City is navigating the often congested Grand Central Station or Penn Station. "Grand Central and Penn Station happen to be very difficult, very confusing places for people who are visually impaired, or for me, at least," Catherine said, noting that he always budgets extra time when traveling through those stations. But Catherine said he's usually able to find someone to assist him with locating his train or navigating the stations.
The MTA is also working on accessibility updates at LIRR and Metro-North stations in other locations, as commuter rail stations are still not 100% ADA compliant, meaning riders can encounter the same issues they do at subway stations. A full list of accessible stations is available on the MTA's website, but the LIRR recently launched an app that shows riders the exact locations of elevators, escalators, and ramps at given stations.
Ferries
While far from the city's most common mode of transportation, the NYC Ferry is not only relatively cheap – a standard $2.75 fare – but also fully wheelchair accessible, according to the city. Catherine said that he uses the ferry more for leisure than commuting and has found it to be very accommodating, but noted that riders traveling on their own might encounter issues navigating. 
The Staten Island Ferry, which is free, also reports that all boats and terminals are ADA compliant.
Correction: This story has been updated to correctly reflect which sources responded to requests for comment and which did not.