Transportation
The governor's plan to reinvent Penn Station might need some rethinking
New York City has changed a lot over the past century, but its commuter rail network remains fundamentally the same.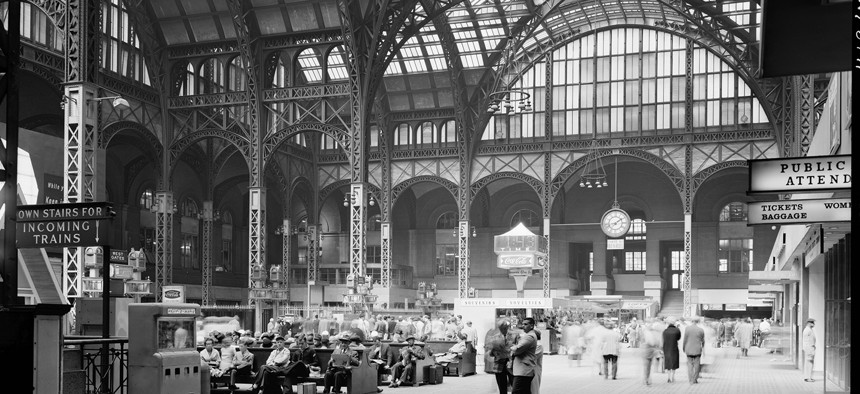 New York City has changed a lot over the past century, but its commuter rail network remains fundamentally the same. Almost every line still leads to midtown Manhattan, like spokes on two wheels that rotate around Penn Station on the west side and Grand Central Terminal to the east. They are the transit hubs inherited from a bygone era of railroading, when private operators laid tracks and built stations that still bear their names. The rail lines that bring hundreds of thousands of people to Penn Station each day via New Jersey Transit and Amtrak are the same ones the Pennsylvania Railroad installed to bring people to the imposing train station modeled on the ancient Roman Baths of Caracallain 1910. The station also serves as the main New York City terminal for the Long Island Rail Road. By tunneling under the Hudson River, passengers from points west no longer needed to take a ferry from New Jersey. The only long-distance trains entering Manhattan at that time came via the Bronx on tracks controlled by the New York Central Railroad. That route is now part of the Metro-North system.
The rail network has reflected and enabled the outsized economic importance of Manhattan ever since. Nine out of 10 commuter trips to the city end up in the borough, according to a September 2019 study by the New York City Department of Planning. This has placed unforeseen pressure on the underground transit hub that replaced the original above-ground Penn Station demolished in 1963, according to the Metropolitan Transportation Authority, which operates Penn Station in cooperation with Amtrak and NJ Transit. The current station that opened in 1968 handled 200,000 daily commuters in its early years. As reported by the MTA, ridership grew to about 600,000 people per day by 2020. This overcrowding contributes to the station's well-earned reputation as a depressing, disorienting warren to pass through.
Gov. Andrew Cuomo wants to change that. He is championing a plan that he first unveiled before the pandemic that aims to expand the station while restoring it to grandeur. Future riders from New Jersey would cross the Hudson through two new tunnels being built as part of the wider Gateway Program. Future passengers for NJ Transit would arrive on new undergroundtracks on the block south of the current station, which would still have Madison Square Garden above it. More Amtrak passengers than ever before would exit via the newly opened Moynihan Train Hall built out of a century-old former postal facility. Similar to the beaux-arts Penn Station it once faced, Moynihan was built to inspire awe with features like a vaulted ceiling, Tennessee marble floors and 20-piece outdoor Corinthian colonnade. "When you go there, it fills your soul with pride," Cuomo recently boasted. Ten new towers with 20,000 square feet of new office space would be built in partnership with private developers to help fund this gubernatorial vision. The governor cannot rebuild Penn Station above ground bigger and better than the original, but his Empire Station Complex would still soar more than 1,000 feet into the sky through proposed towers like PENN 15.
The current Penn Station has few fans, but experts say that does not mean Cuomo's proposal is the only way to go. It assumes that past transit patterns will return after the pandemic, when midtown Manhattan might not be the all-important job center it once was.
Preliminary plans unveiled in February would have real estate titan and gubernatorial donor Steven Roth, founder of Vornado Realty Trust, sell five lots on the north and eastern sides of the current station to Empire State Development. The state economic development agency would then lease those lots back to Vornado, and potentially other developers, while also charging them for the development which would help fund the construction of the new tracks and improved station. Details on how much money those towers would generate, and whether other sources of revenue would be needed to fund the proposed expansion of the existing Penn Station remain "TBD," according to a MTA spokesperson. Empire State Development would also seize three nearby lots to accommodate new tracks and entrances. State officials say a new Penn Station would likely cost several billion dollars and take the rest of the 2020s to build under a best-case scenario, but past transit projects show how proposed budgets and timelines can go awry. A long-awaited plan to connect the LIRR to Grand Central called East Side Access, for example, began in 2006 with the goal of finishing by 2013. By the time it's expected to finally open next year, it will have cost nearly twice the original $6.3 billion price tag. The state Legislature approved $1.3 billion in borrowing last spring to support the underground aspects of Cuomo's Empire State Complex, though it remains unclear how Empire State Development would raise the money to buy the eight lots and fund the demolition of the buildings already there.
But is that even necessary?Interviews with more than a half-dozen transportation experts highlight how a more decentralized system offers a different way to serve the evolving commuting needs of New York and its neighbors. Existing infrastructure could expand rail service through longtime transit deserts. Organizational changes at the MTA could make fares more equitable. Better transportation hubs in the outer boroughs could divert travel away from Penn Station to such an extent that an expansion might not be so necessary after all.
"This is Cuomo empire building," said transit wonk Nicole Gelinas, a senior fellow at the Manhattan Institute. "Do we need another massive hub station adjacent to Penn Station? Probably not."
Cuomo has tried for years to remake Penn Station on his own terms, but one especially tricky part has been acquiring the city blocks needed to accommodate his Empire Station Complex. The Uniform Land Use Review Procedure etched into New York City Charter requires that community boards, the City Planning Commission, the City Council and the mayor be involved in the decision-making process. Another bureaucratic process called a General Project Plan, however, could allow the state to get the land anyway through eminent domain. The state's 1968 Urban Development Corporation Act allows ESD to unilaterally redevelop land it deems to be blighted. That might be why the agency described the area around Penn Station as full of "substandard buildings, shuttered businesses (and) limited low-quality retail offerings" in the plan unveiled in February.
Opposition from community groups and elected officials made Cuomo back down this year from immediately proceeding with the plan, as ongoing scandals weakened him politically. Historical preservationists hate how Cuomo's plan would destroy the Hotel Pennsylvania under the guise of beautifying the area. Also, COVID-19 has led to historically high vacancy rates for midtown real estate, which some opponents seized on to argue that the proposed towers would hinder, rather than help jumpstart, the local economy.
The project also faces a multitude of delays as it has to pass through many stages of approval. Empire State Development Executive Director Eric Gertler promised local officials a greater role in the project in an April 1 letter. A public meeting on the project originally set for March has been postponed indefinitely. Legislation proposed in May by state Sen. Brad Hoylman and Assembly Member Richard Gottfried, whose districts include Penn Station, would require the project to go through the Uniform Land Use Review Process. Even if the project were to somehow speed up through a General Project Plan, the MTA still has to agree with Amtrak and NJ Transit on a final design. A federal environmental review process could still take a couple years. That leaves a lot of time for alternative ideas.
Instead of the "hub and spokes" model of regional transit that was imposed on the city a century ago, some experts say a web of transit lines crisscrossing the five boroughs might better enable people to move around. One strategy is adopting what transit wonks call "through-running"to direct trains to terminal stations in urban outskirts rather than centrally-located hubs like Penn Station, where they currently sit while turning around, taking up precious space for trains to come and go. "Whether it's London, Paris, Hong Kong, Tokyo, it really is the emerging and better standard for a metropolis the size of New York," said Samuel Turvey, chair of the think tank ReThinkNYC, which has proposed an eponymous plan for Penn.
In Paris, for example, previously disjointed commuter rail and subway lines were combined in the late 20th century, into a single system. The Réseau Express Régional, better known as the RER, runs through the city from suburbs on one side to another, rather than just in and out. Within the city proper, it functions as an express train, making fewer stops than the Metro, and charging the same amount on the same payment system as its inner-city counterpart.
Something similar could happen in New York City, given the right amount of funding and political support. The Pennsylvania Railroad built its famous station in Manhattan in part to facilitate rail traffic from New Jersey through Manhattan to the outer boroughs and onwards to New England. Those tracks are still connected, and "through-running" already takes roughly 800 passenger-less commuter trains each day from Penn Station for servicing at the Sunnyside Yards in Queens. A joint plan from Amtrak and the New York City Economic Development has already developed a master plan for creating a new rail hub there that could divert riders from midtown. Metro-North, the LIRR and the subways are all controlled by the MTA, which experts say could consolidate them into a unified system, like the one in Paris. There is even some precedent for smashing such bureaucratic barriers in New York. "Go back and look at the history of the subway," Turvey said. 
More and more commuters are heading back to their old workplaces, and state officials expect transit patterns to gradually return to many pre-pandemic norms. Before the pandemic, daily users of Penn Station were projected to grow to 832,000 by 2038. Now, with the sudden explosion of telecommuting, MTA data from June shows that ridership on commuter rails are down by about 60% on most weekdays compared to pre-pandemic levels.
The MTA is betting that almost everyone will eventually go back to the office. "We still see growing markets of trans-Hudson commuters that do want to come to the Manhattan central business district," said Janno Lieber, the chief development officer at the MTA. The 2019 city study showed that North Jersey, which is adding housing more quickly than the suburbs in New York state, was the fastest growing source of commuters to the city. While the majority of them worked in Manhattan, the study also found that they accounted for 40% of the increase in commuters working in the outer boroughs since 2000, with Brooklyn representing the fastest area of commuter growth by percentage in the whole city. Reverse commuting to the suburbs also increased during this period. An integrated subway and suburban rail system would allow these riders to skip Penn Station, even if they were going all the way from New Jersey to Queens.
The ongoing East Side Access project is projected to divert somewhere around 100,000 commuters from Penn Station to Grand Central. The Penn Station Access project will allow Metro-North trains, which currently terminate at Grand Central, to reach Penn Station while adding several stations in the eastern Bronx where trains currently speed through without stopping. An expansion of the LIRR is also underway with a goal to increase capacity from Long Island. Lieber said a proposal championed by the Regional Planning Association, an advocacy group that would utilize an existing rail line that could take people from Brooklyn to Queens to the Bronx is also under consideration. "The idea that we're not looking at new travel patterns is not accurate," Lieber said.
These two projects are both happening despite the bureaucratic rivalry between the Metro-North and the LIRR, which required the MTA to carve a new station out of bedrock to avoid disrupting Metro-North operations in Grand Central. Penn Station and Grand Central exist not because of indisputably good transit policy, but because of this railroad feud. The original Pennsylvania Station transformed the seedy former Tenderloin neighborhood into a pillared temple of Roman Doric glory. The Pennsylvania Railroad's rival opened Grand Central Terminal three years later to convey its own grandiose vision for urban travel through Tennessee marble, bronze and Guastavino tiles.
Both railroads ended up dying despite their once-enormous power, as growing car ownership and suburban sprawl brought the golden age of trains to an end. The two railroads merged and eventually went bankrupt. City, state and federal governments had to figure out what to do with all that rail. Amtrak took over most of the intercity travel, while the LIRR and the Metro-North became independent parts of the MTA, created under former Gov. Nelson Rockefeller.
Adding more stops to existing commuter rails is one way to make them more like the subway, but city history also shows another. Ask anyone old enough to remember what it was like to move around New York City in the first half of the 20th century, when subway service was divided among the private Interborough Rapid Transit Company, the Brooklyn-Manhattan Transit (formerly Brooklyn Rapid Transit) and the public Independent Subway System – more commonly referred to respectively as the IRT, BMT and IND. That meant many trips required buying multiple nickel fares depending on destination. The idea of unifying them into one system existed as early as 1921, but it took two decades to realize. This required the city to buy off private interests, renegotiate union contracts and rally public support for years on end. "By providing free transfers among the three systems it would be operating under unification, the city could add materially to the convenience of the traveling public," The New York Times wrote in 1940, as former Mayor Fiorello La Guardia prepared to ink a final deal to combine the three companies. If nothing else, the history of the subway consolidation highlights how seemingly impossible ideas can happen. 
The governor's proposal follows the approach that former power broker Robert Moses took to building roads and bridges. When demand exceeds capacity, just build things bigger. That worked when Moses could operate independently through his control of quasi-public agencies like the Triborough Bridge Authority (which is now part of the MTA). But bureaucratic processes like landmark protections (partially inspired by the demolition of the original Penn Station) and environmental reviews now present humongous barriers to getting big things done, according to Marc Dunkelman, a fellow at the Taubman Center for American Politics and Policy at Brown University's Watson Institute for International and Public Affairs. "The reforms that have emerged since Moses have had the effect that no one can coalesce so much power," he said in an interview. "In the case of the Empire Station project, you're going to have warring bureaucracies."
But what if a future governor has to build an even bigger Penn Station sometime later in the century, if ridership levels exceed the 850,000 daily travelers that Cuomo's plan hopes to accommodate? Will New Yorkers regret the lack of a decentralized, yet more bureaucratically unified, rail system? That idea is not mutually exclusive with the idea of improving the current Penn Station that routinely ranks as the most unloved transit hub in the country. A potentially less invasive way to boost capacity at Penn Station would be widening train platforms to allow faster boarding and disembarking. "Yes, we should be looking at building new tunnels across the Hudson, but that doesn't have to go with another massive underground train station just south of Penn Station," Gelinas said. "Do we really want another mega-hub in the middle of Manhattan where the trains just stop and go back?"
A spokesperson for Cuomo did not respond to a request for comment on the Empire Station Complex, but his past statements show that redoing Penn Station is not just about expanding transit capacity and catalyzing economic activity. It's about righting what some say was the historical wrong of demolishing the original station, which helped inspire the modern historical preservation movement. "A great historian summed it up: 'one entered the city like a god through the old Penn Station, now one scuttles in like a rat,'" Cuomo said in 2019 while invoking the deceased architectural historian Vincent Scully. Rebuilding Penn Station would also give Cuomo another success where other political leaders have failed at long-awaited public works projects, like building the Second Avenue subway and replacing the Tappan Zee Bridge. "It's almost too ambitious," Cuomo said at the 2020 opening of Moynihan Train Hall. "It's almost too beautiful."
Cuomo's plan offers the chance to fix Penn Station at a unique historical moment where Democrats control the White House, both houses of Congress and the governorship in New Jersey. Whereas Republicans like former New Jersey Gov. Chris Christie and former President Donald Trump wrecked previous plans to build the Gateway tunnels. A multibillion-dollar infrastructure bill currently being negotiated by federal lawmakers could get that project up and running.
Sticking to a plan already begun at Penn Station has some advantages compared to changing how the broader rail network functions. Allowing cross-Hudson commuters to ride trains through Penn Station and onwards to the outer boroughs, or the other way around, would require a whole new level of cooperation between the MTA, Amtrak and NJ Transit. It would also require broader platforms at Penn Station and additional tunnels across the East River, according to the MTA. Consolidating its commuter rails into a single system with the subway like in Paris also faces complications like the need to renegotiate collective bargaining agreements and pension systems with transit unions. "That might be great," Lieber said when describing a world where the MTA board could do all of this while enacting a uniform fare policy. "We don't live in that world yet."
Yet, making Cuomo's vision a reality represents a huge investment in a model of railroading that may conflict with the direction that commuting patterns are shifting. Penn Station's virtues as a transit hub never matched its beauty, according to Alon Levy, a fellow at the NYU Marron Institute who has studied transit systems from New York City to Singapore. "America follows this mentality that America was once great and needs to be made great again," he said in an interview. "(Cuomo's proposal) doubles down on this 1930s, 1940s, 1950s mentality of how to run trains."