Labor
Unemployed New Yorkers still can't get through to the Department of Labor
The problem persists despite $193 million in contracts to address it.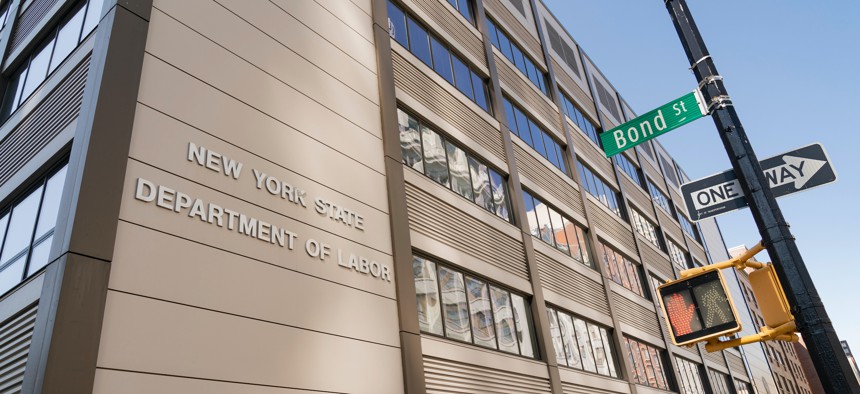 At the end of April, Tyler Grisanti's unemployment benefits stopped arriving, even though he was still eligible for payments and certifying for benefits. When the Chautauqua County resident called the state Department of Labor, an automatic menu asked him to enter identifying information before the line hung up. Despite calling the department repeatedly, Grisanti couldn't reach a live representative for a month. First, he was told he needed to verify his identity. When he called back after confirming his identity, he reached an automatic message that said call volume was high and to try again later. After Grisanti spoke with an agent, DOL released the hold on Grisanti's account and provided one week's worth of benefits. He didn't immediately receive back pay and had to call again before obtaining the other weeks he'd missed. 
"I had to go without a lot of things and neglect bills until money came in. I borrowed for the things I had to have, once my savings (were) gone," Grisanti, a former gas station attendant who filed for unemployment in March 2020, wrote to City & State, noting that he never figured out why his benefits stopped. "It took over a month of fighting and having no income before I won." 
Grisanti's situation is not unique: Seven people unable to find work during the pandemic told City & State they had recently waited weeks and months without benefits while trying to get in touch with a DOL agent.
Amid the influx of claims and months-long waits to reach a phone representative, the DOL said last June it would "continue to throw everything, including the kitchen sink, at getting New Yorkers their benefits." Even so, New Yorkers say they still can't reach a live agent, and the inability to do so leaves them unable to solve problems that stop their benefits for weeks and months.
As COVID-19 restrictions shuttered businesses across New York in March 2020, unemployment claims skyrocketed, with Labor Commissioner Roberta Reardon later saying the "surge of applications crashed on New York like a wave."
A review of contracts by City & State shows that, as the state was flooded with unemployment applications, the DOL spent more than $193 million since April 2020 to support the overwhelmed unemployment system. 
The DOL paid Navient, a large student loan provider that also provides technological support for businesses, more than $58.2 million for services beginning in April 2020. IBM was paid $56.4 million beginning in August 2020, and Deloitte received $62 million. The DOL said all of these companies were hired to answer calls and assist with processing claims. Accenture and MCI Communications, a company owned by Verizon, also provided support and as did smaller firms specializing in cloud technology and identity verification. (None of the companies contacted for this article commented.)`
The $193 million total does not include services paid for by other agencies, such as assistance provided by Google, under an existing contract paid for by the Office of General Services.
Documents obtained via FOIL indicate that workers from California, Ohio and Pennsylvania helped field the panicked calls from unemployed New Yorkers. The documents indicate Marriott International was involved in the work. Though DOL told City & State that Marriott was a subcontractor for Deloitte, the agency did not know if workers contracted to support unemployment operations stayed in hotels. The governor's office did not respond when asked why out-of-state workers were hired, and Marriott did not respond to request for comment.
Nicole Salk, a senior staff attorney at Legal Services NYC, said that many unemployed workers are experiencing delays when reaching the end of their benefit year. Salk said artists, musicians and others who received payments through the Pandemic Unemployment Assistance program authorized in the federal CARES Act were experiencing problems.
"Many of them are still unemployed, and when they had to reapply after a year, they had huge difficulties. Some of them, it worked, but many of them are still reaching out to us to get help," Salk said.
Though New Yorkers have experienced issues reaching a representative at the DOL throughout the entire COVID-19 pandemic, the large contracts that previously supported claims processing have now been terminated. Contracts for Verizon, Deloitte and Accenture ended in March, while those for IBM and Navient stopped in April.
The DOL would not say how many of its employees are still processing claims and how that figure compares to the number of such representatives pre-pandemic.
When asked how the department decided that workers hired by Verizon and Deloitte were no longer needed to help field calls, a spokesperson for the the agency wrote in an email, "Deloitte and Verizon were hired as part of an emergency response to handle the volume of unemployment claims and help deliver billions of dollars in benefits to New Yorkers as quickly as possible. NYS DOL adapts to meet the needs of New Yorkers, we currently have adequate staff to meet the agency's mission and current demand."
In Facebook groups created to help New Yorkers facing problems with the unemployment system, people share tips about how to bypass the DOL's phone system, which tells callers that the line is experiencing high volume before hanging up on them. Contacting the governor's office and asking to be transferred to the Department of Labor has emerged as a reliable method of solving claims issues. 
Lance, a single parent in upstate New York who said he's "not huge in passing his name around" and asked that City & State not print his surname, said he hasn't received payments for 14 weeks. He didn't know that contacting the governor's office might help him receive benefits.
"I've been working (for) 18 years," without receiving unemployment, he said. "So I don't know how this system works."
State Sen. Jessica Ramos, a Democrat from Queens, said her office has helped hundreds of people with unemployment issues during the pandemic, including some New Yorkers who don't live in her district. 
"The Department of Labor has been chronically underfunded for years," Ramos, the chair of the Labor Committee, told City & State. "The Department of Labor does what it can with what it has. The problem is that what it has is very little."
Ramos said she's been working with a resident who applied for unemployment back in November and still has a pending application. "They've asked her for identification. She has sent three proofs of ID."
In response, the DOL wrote in an email to City & State, "Each individual claim is unique, and there are many scenarios why someone may not be receiving benefits, and without seeing each individual claim we cannot give you a statement," adding that the agency is legally required to determine a claimant's eligibility for benefits.
Nassau County resident Jamie Cruz had been receiving payments for much of the pandemic, but in early March, her benefits stopped arriving. She tried contacting the DOL through its phone line for seven weeks, but almost always reached an automated message that told her the department was experiencing high call volume and instructed her to call again later. When she managed to get through to a representative, the agent didn't know how to help and told her to wait for a call from the DOL. 
"The people at their call center couldn't explain what the issue was, plus they couldn't tell me how long it would take to get a call," Cruz wrote over Facebook messenger. "My father was helpful with necessities for my 1.5 year old. My husband was actually in the hospital for about 2 months, which partially coincided with when my payments stopped."
Cruz contacted the office of state Sen. Todd Kaminsky, a Long Island Democrat who represents her district. The DOL called two weeks later to resolve her issue. She had waited nearly 10 weeks without pay. Though she received more than two months back pay in May, Cruz said she's had to email a DOL agent to get her payments released in recent weeks. 
Others, like Taylor Leigh, have bypassed DOL's automated systems. "They don't reply to emails, they don't reply to Twitter messages," said Leigh, who didn't receive benefits for a month and a half after someone hacked into her account, changed her direct deposit information and took her benefits. 
After reporting the fraud, Leigh verified her identity through ID.me as the state instructed her, but still didn't receive any money. Leigh,who lives in Jersey City but worked in Brooklyn, began calling relentlessly to reach a representative, eventually speaking with at least eight people over six weeks. (Workers receive benefits from the state where they earn money, not where they live.)
Though she reached agents, they didn't immediately resolve her problems. She said that representatives she spoke with kept forwarding the claim to a specialist, but she worried the adjudication process could delay the release of benefits and kept calling the DOL. After weeks of persistence, a representative quickly solved her issue on one phone call.
"The only reason I got through was when someone posted a tip on the Facebook group of buttons to press to have a better chance of speaking to a representative," Leigh wrote to City & State. "Previously the best method for calling was to press 9 – the translation service option – and when they answered they'd transfer you to another rep, no problem. But the reps got wise to it, and now they will hang up on you or make you call back."
The lack of access may violate thefederalSocial Security Act, Salk said.
"The law requires that the Department of Labor pay benefits to applicants, under the Social Security Act, when those benefits are due. And what that practically means is, usually two to three weeks. And what it practically means, is they have to do everything within their power to pay those benefits when due," Salk said. "Not being able to maintain a phone system that people can pick up and try to get through to in a reasonable way, I would say that arguably that violates federal law."
The DOL did not specifically respond to Salk's claim and instead referred to its "rigorous application and screening process" to filter out fraudulent claims and an identity verification tool launched earlier this year. 
Leigh, whose account was hacked, said the identity verification tool didn't speed the process along for her, and she didn't receive payments within two weeks, as the service advertises.
"(Six) weeks is a very long time to go without any money," she wrote to City & State. "DOL has major flaws, and it's disappointing that the pandemic is 'coming to an end' and they never figured it out."
Powered By
NEXT STORY: After de Blasio, will NYC's mental health thrive?