Transportation
5 things to know about Janno Lieber
The MTA's new acting chief has a long history in capital development.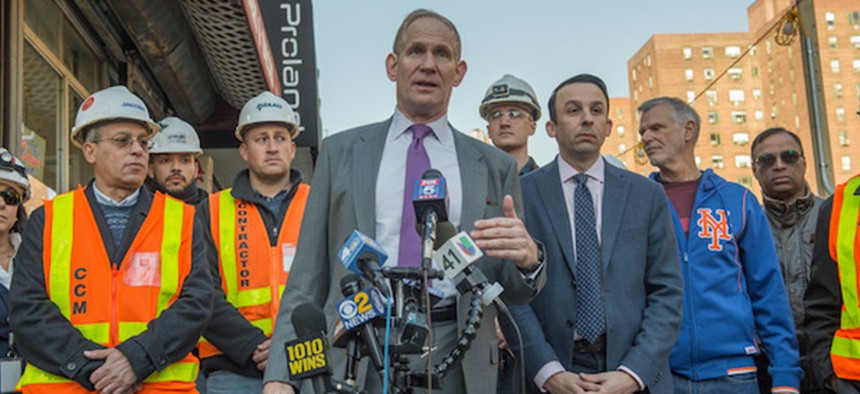 After a messy succession process, Janno Lieber has been tapped to serve as both acting chair and chief executive officer at the Metropolitan Transportation Authority. With current Chair and CEO Pat Foye stepping down at the end of the month, Gov. Andrew Cuomo made Lieber's appointment official on Thursday, scrapping his original plan to split the top transportation role into two positions, one occupied by Lieber and the other by interim New York City Transit President Sarah Feinberg. 
Officially, Cuomo said that the plan is still to pursue passage of legislation in the state Legislature that would allow him to install Leiber as chief executive and Feinberg in the role of chair, but for now, Lieber is taking over both positions. "Janno knows what it takes to make the MTA work for the millions of customers who rely on this system every day to get to their destination, and he will serve as Acting Board Chair and CEO," Cuomo said in a statement. 
Lieber echoed Cuomo's stated plan to continue to pursue legislation to split the position, saying in a statement, "I am excited to get to work leading the MTA's continued recovery from the pandemic, though I am disappointed I won't yet be working alongside my supremely qualified friend Sarah Feinberg." In the meantime, City & State rounded up a few key things to know about the new MTA boss. 
It's pronounced "JAN-o" – and it's a nickname
John "Janno" Lieber told The New York Times that he knows when someone asks for him by his given name "John," it's telemarketers calling. 
Lieber has led the MTA's capital construction for four years
Janno Lieber isn't an unfamiliar name to anyone who has been paying attention to the MTA over the last four years – especially to those following the rollout of the authority's capital programs. Lieber was tapped by Gov. Andrew Cuomo to step in as the authority's chief development officer in 2017, tasked with overseeing the MTA's multibillion dollar capital spending programs. Lieber also held the title of President of Construction & Development, and oversaw the authority's real estate department. In short, Lieber was the man in charge of the MTA's capital construction work – train and station upgrades, major projects like East Side Access, and more recently, signal modernization work.
He oversaw the rebuilding of the World Trade Center complex
Just prior to joining the MTA, Lieber led the massive redevelopment of the World Trade Center as president of the World Trade Center division at the real estate firm Silverstein Properties. Lieber has referred to himself as a "jack of all trades" in that role, working on planning, financing, government relations and more. Some of Silverstein Properties' work in redeveloping the World Trade Center was beset by delays, including in the construction of the skyscraper at 3 World Trade Center.
Former bosses include Bill Clinton and Ed Koch
Lieber is now answering to an infamously tough boss in Cuomo, but he's got some experience in working for big names. Prior to his long tenure at Silverstein, Lieber worked in former New York City Mayor Ed Koch's administration as a transportation policy advisor, before joining then President Bill Clinton's Department of Transportation as an acting assistant secretary. While Lieber presumably could have climbed the ladder in D.C., his sights were set on New York. "I had a great four years in the Clinton administration, but I didn't want to stay in Washington any longer. I'm kind of a hard-core New Yorker," he told the Times in 2015.
The new MTA boss is a former journalist 
The New Republic once counted Lieber among its ranks, though the now longtime development executive appeared to be going by "John" at the time. It's unclear how long Lieber was on staff at the magazine, but one 1981 article with the byline "John Lieber" dissects media coverage of international human rights issues – specifically the late conservative commentator Irving Kristol's criticism of human rights organizations' liberal bent. The topic is a long way from transportation infrastructure and development, but everyone, Lieber included, has got to have outside interests.