Technology
Will New Yorkers need to download another vaccine passport app?
New York City will launch its own vaccine passport app next month on top of the state-run Excelsior Pass.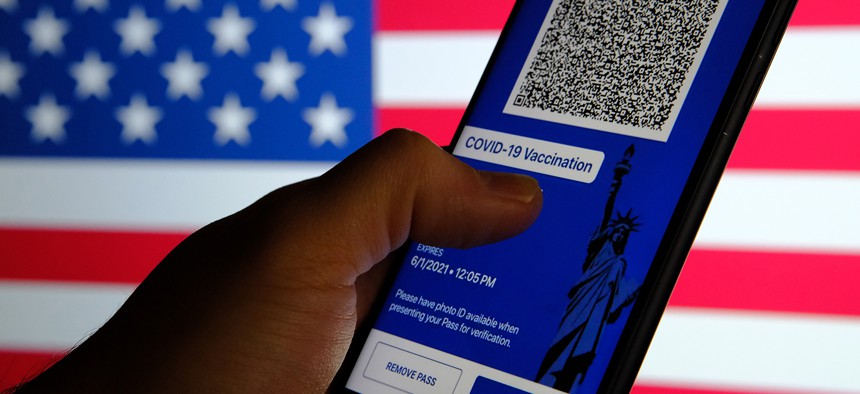 As the COVID-19 delta variant continues to contribute to rising cases across the state, both New York City and the state are taking new steps to promote vaccination and other means of protection from the spread of the virus. On Thursday, Gov. Andrew Cuomo announced that state employees would have to show proof of vaccination or submit to weekly tests. That came on the heels of Mayor Bill de Blasio's announcement earlier in the week that all city workers would be required to do the same. At the same time, de Blasio encouraged private businesses to institute similar vaccination and testing mandates.
These mandates don't necessarily mean people will be whipping out their paper CDC vaccination cards at every turn, however. De Blasio said that the city is set to roll out its own version of a vaccine passport app – a digital mobile tool for proving that a person has received a vaccine or a recent negative test for the virus. 
If this sounds familiar, that's because New York state has already launched such an app. The Excelsior Pass, developed by IBM, was released to the public this spring. Like the app announced by the city, Excelsior Pass accepts proof of vaccination or a recent negative COVID-19 test for entry into any business using the passport app. Any business requiring proof of vaccination or a negative test is also required to accept other forms of proof, including paper documents, so no one is required to use Excelsior Pass. But despite privacy and equity concerns that have been raised about the app, the state and business groups have said that Excelsior Pass would be a key part of New York's economic recovery. 
Questions still remain about the app's efficacy and just how widely it's been adopted. And with a new city-developed app rolling out next month, more questions abound about how that app will be used. Here's what's known so far about the new city app, the usage of Excelsior Pass, and how vaccine passports fit into New York's fight against COVID-19.
How is Excelsior Pass currently being used across the state?
When Cuomo announced Excelsior Pass in March, he highlighted several major sports and entertainment venues that would be participating in using it to screen customers for entry. That included Madison Square Garden and the Times Union Center in Albany, Yankee Stadium, Citi Field and other venues across the state. But as New York lifted masking and social distancing mandates in most settings in June, some of those venues were able to stop requiring proof of vaccination or a negative test for admission. Outdoor ballparks Yankee Stadium and Citi Field both now state on their website, for example, that proof of vaccination or a negative test is no longer required for entry. In large-scale indoor venues – defined as venues that hold over 5,000 people – those restrictions remain. Madison Square Garden still requires proof of vaccination or a recent negative test.
It's unclear just how widely Excelsior app is currently being used, despite reports that the state has plans to expand its use. The initial cost of the contract was quoted as $2.5 million, but The New York Times reported that that cost could balloon to $17 million if the state follows through on plans to expand the app's usage to at least 10 million people. 
So far, downloads of the Excelsior Pass app by people looking to show vaccine or test status are in the low millions. "To date, more than 2 million Excelsior Passes have been retrieved by New Yorkers returning to the things they love and miss – representing entirely organic demand," Jordan Bennett, a spokesperson for the governor, said in an emailed statement. Bennett did not respond to a request for comment on exactly how many businesses had downloaded the version of the app used to screen those users' passes. "A diverse group of big and small New York businesses, including venues, stadiums, universities, gyms, restaurants and bars, and office buildings, have and continue to leverage Excelsior Pass to fast-track the state's safe and smart reopening," he wrote. 
Some public officials, including New York City Council Member and Democratic nominee for Manhattan Borough President Mark Levine, have commented on what appears to be a lack of widespread screening for vaccination status in the city. "This right here is a problem," Levine wrote in a tweet, referencing responses to a prompt he sent on Twitter asking how often people had been screened for vaccination status at public venues in New York City. The majority of responses in the small – and very unofficial poll – were "Never."
How will the city's new passport app work?
Set to launch in early August, the "NYC COVID SAFE App" will allow people to upload and display their vaccination card or their recent negative test result. But the app is designed to let negative test results expire after seven days, requiring people using the app to show a negative result to be tested weekly. Unlike the state's app, the city app will not rely on QR codes to show proof of vaccination, according to a spokesperson for the city. (The Excelsior Pass has been criticized for being easy to cheat; The Washington Post reported that it's easy for a single QR code demonstrating proof of vaccination or a negative test result to be copied to multiple devices. Bennett, the Cuomo spokesperson, said that robust security and privacy measures are in place to prevent data-tampering, and that passes have to be cross-referenced with photo IDs to admit entry.)
The app is set to launch prior to the city's mandate going into effect for all municipal workers to be vaccinated or tested weekly. So when the mayor announced that mandate earlier this week, the COVID SAFE App was referenced as an important tool – along with others like paper vaccination cards – to showing proof of vaccination. "We think it's easy to use, which will be something people really appreciate," de Blasio said on Monday. "And the goal is since now more and more you're going to see mandates, people are going to need to have the information available more easily."
But de Blasio has also encouraged private employers to institute similar mandates, which could be served by the COVID SAFE app. "Each private sector employer needs to do what they believe is right, but I would strongly urge a vaccination mandate whenever possible, or as close to it as possible, at minimum requiring all your employees to get vaccinated or to do weekly testing," he said on Monday.
The city's app was developed as part of a partnership between the city's Department of Information Technology and Telecommunications and IBM – which also happened to develop Excelsior Pass. But it's unclear how much of the app's development was handled by DoITT and how much was handled by IBM. Laura Feyer, a spokesperson for the city, referred to the IBM and DoITT's work as a "partnership" and said that she did not yet have cost figures for IBM's work on the app.
New York's previous forays into civic technology have caused some to raise eyebrows about just how well the city's app will work. Users of Excelsior Pass have run into glitches too, and the state has its own history of faulty government technology tools and websites. The city's vaccine sign-up and finder tools were "riddled with usability issues," said Noel Hidalgo, executive director of the civic technology group BetaNYC, noting that some of those issues – including a lack of compatibility with screen readers and glitches for mobile users – were stumbling blocks for vulnerable New Yorkers to accessing a vaccine. "My concern about the city continuing to develop bespoke technology is that it's not leveraging all of the resources that it could be leveraging," Hidalgo said, calling for the city to do user testing of its tools and take advantage of IT resources across the city, including the civic service design studio in the Mayor's Office for Economic Opportunity. 
City spokesperson Feyer said that the COVID SAFE app has been user tested and that more testing would be done if and when they enhance the app. She did not elaborate on whether the app had been tested with vulnerable New Yorkers, including those less familiar with technology. In response to a question about whether DoITT worked with other city agencies on the app, Feyer said only that DoITT partnered with IBM. 
Why is New York City introducing a vaccine passport app if the state already has one? 
Two different vaccine passport apps for New Yorkers to choose from – in addition to those used in neighboring states – might cause some confusion, but the city said this week that it chose to develop its own app instead of working with Excelsior Pass because the latter didn't meet the city's needs. "We have chosen to go this route to manage the mandate for hundreds of thousands of city workers, because other options like Excelsior Pass … do not specifically accommodate the mayor's weekly testing mandate at this time, or, for example, people who are tested or vaccinated outside of New York," DoITT Commissioner Jessica Tisch said on Monday.
Hidalgo complimented the city's app for being able to work for out-of-staters, noting that the Excelsior Pass can't do that – a problem for New York's efforts to attract tourists and visitors. "If the city is truly to open up, we need that interoperability," he said. Bennett, the Cuomo spokesperson, said that the state is working on expanding the use of Excelsior Pass outside of New York.
Spokespeople for the city and state did not comment on whether talks were ever had between the two governments about working together on an app. The city does not appear to be encouraging the use of its app over the Excelsior Pass – at several times on Monday, de Blasio suggested using Excelsior Pass as one of several options, including the city's app or showing a paper vaccination card or test result. But the city's app is designed to be used for those who are required to be tested weekly, like city employees, should they choose to show proof of a negative test instead of proof of vaccination.
Can vaccine passports help further the goal of getting more people vaccinated?
Concerns about privacy, security and fraud still linger for some New Yorkers when it comes to these apps. But as both public and private employers in New York start to implement more vaccine mandates for their employees or customers, the adoption of either the state or city vaccine passport app may expand beyond large venues, where the application of Excelsior Pass began. It remains to be seen, however, whether either the city or state app will see wide adoption in smaller businesses like retail stores or restaurants – not just for employees but for customers.
Wafaa El-Sadr, a professor of epidemiology at Columbia University's Mailman School of Public Health, said that it's hard to predict now just how big an impact the passports – and the mandates necessitating their use – will have, but they may be especially likely to convince people who are currently on the fence about getting vaccinated. "It certainly is likely that as more and more venues – whether it be restaurants or theater or baseball games – require such passes, then I think in all likelihood you increase the numbers of people that are interested in those venues, and therefore you may get them to shift and want to get vaccinated," she said.