Policy
Excluded worker fund regulations draw scrutiny
The Department of Labor finally released additional regulations for the $2.1 billion program that left immigrant advocates dissatisfied.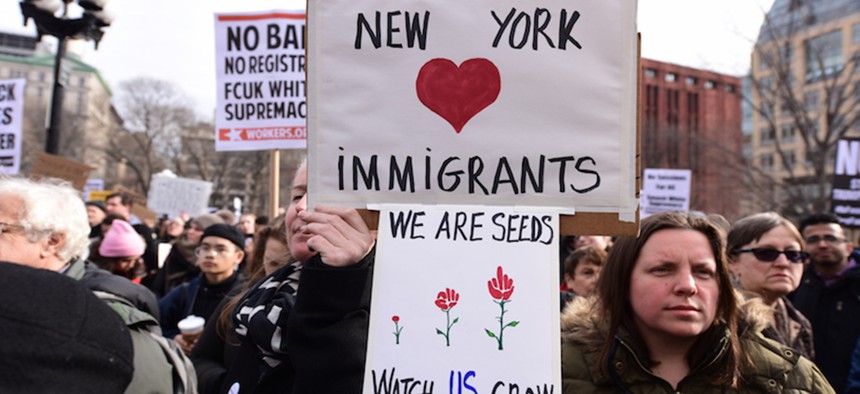 The state Department of Labor released long-awaited regulations for the implementation of the $2.1 billion Excluded Workers Fund Program created as part of the budget earlier this year to give aid to undocumented workers ineligible for unemployment and federal stimulus checks during the pandemic. The regulations offer further details about who is eligible and how to apply, including expanding upon the list of documents that people can use when applying. But immigrant advocates and lawmakers who fought for the fund said the Department of Labor is setting the state up for failure with regulations that would continue to exclude too many workers from gaining access to the fund.
New to the regulations are the requirements that a worker have lost 50% of their income in order to gain access to financial aid, and a requirement that applicants worked at least 15 hours a week in the six weeks prior to losing income during the pandemic. The law creating the fund stated applicants would need to prove loss of income, but left it up to the Department of Labor to determine what exactly that would mean. This comes on top of the existing requirement that workers did not get paid more than $26,208 in the last year. This means that someone making as little as $20,000 over the past year would be ineligible for aid unless they were making $40,000 or more the year before and could prove it. "It's almost as if they're trying to make the fund inaccessible to some," state Sen. Jessica Ramos, who has been a legislative leader in getting the fund established.
The federal government did not require this sort of proof when it sent stimulus checks, which were determined solely on income, nor does the state require unemployment filers to meet a certain threshold of lost income in order to get benefits, including pandemic unemployment assistance. "It's already been hard for people to prove the income that they did make," said Bianca Guerrero, the Fund Excluded Workers campaign coordinator at Make the Road New York. "It's going to be even harder for people to prove income that they lost – proving a negative is really difficult."
Coalition members who hoped that the regulations would create more flexibility when it came to proving work-related eligibility are also disappointed by the additions the Department of Labor made, finding them still too restrictive for many who have not received any financial support from the government during the pandemic. The law, which split aid into two tiers, laid out the eligibility for the top tier, which offers up to $15,600 with a $780 deduction. But it had offered a lot of discretion to the labor commission to determine other acceptable forms of proof for both tiers, the lower of which would offer up to $3,200 with a $160 deduction for those unable to meet the higher tier standards. 
The regulations create a system in which documents are assigned a point value, with the top tier requiring five points and the bottom tier requiring three points. The existing requirements laid out in the law are worth five points, so applicants need only one of those – a tax return in 2018, 2019 or 2020 using an individual tax identification number; provide a letter from a past employer; six weeks of pay stubs or wage statements; a W-2 or 1099 from 2019 or 2020 showing income; or a formal wage notice from an employer.
Other documents are assigned either three point or one point values and were created by the Department of Labor that applicants can mix and match to get to either three or five points total. A further stipulation is that an applicant needs at least one three-point document in order to get the higher payout, meaning that five one-point documents don't make the cut. The three-point documents are a complaint filed and acknowledged in a state court or agency alleging the applicant received or was entitled to payments for six weeks during the six months prior to becoming eligible for the fund; and evidence of regular direct deposits, deposits or transfers from an entity or unrelated individual to the applicant. One-point documents include an employer-issued ID badge, messages between the employer and the applicant, and receipts showing a pattern of commuting.
The problem, according to Guerrero, is that the documents required to access the top level of funds are those that many who work in the cash economy or are self-employed likely won't have. And those that they would be most likely to have access to were assigned one-point values. She said that the campaign has heard from undocumented workers employed off the books who said it would be difficult or impossible to get a letter from their former employers to gain access to the top benefits, and that these types of workers wouldn't have any tax records either. 
The three-point documents, necessary to get the larger sum of money, are also seen as things those in the cash economy or the self-employed, like delivery workers, domestic workers and street vendors, are unlikely to have. "Every excluded worker should have access and the ability to at least shoot to get into that top tier," Guerrero said. "We don't want to leave these folks behind." She added that she and other organizers are concerned that thousands would still be excluded from the top tier, with others struggling to even make the bottom tier. Both she and Ramos said that some of the requirements to prove identity are also too onerous and fail to take into account hardships from the past year, like applying for or renewing certain documentation.
Ramos said she would have liked to see a self-attestation option under penalty of law to allow for those who may struggle to come up with the proper documentation to still benefit. Such an option was part of the legislation she sponsored that was left out of the final language included in the budget. She also said she would have liked to see more flexibility in terms of accepted documents across the board so as not to exclude workers with uncooperative employers and those who can't get the right combination of documents. "These are the many ways that we're somehow making it harder for people to qualify for this fund, not easier," Ramos said. 
Applications for the excluded workers fund are supposed to open up in early August, creating a little bit of a time crunch to educate potential applicants on the new regulations. But Guerrero and Ramos are both hopeful that changes can still come before implementation that will address some of their concerns. "I would like to see cooperation from (Labor) Commissioner (Roberta) Reardon and her team to make this fund more accessible, not less," Ramos said.
When asked about some of the specific criticisms raised, a spokesperson for the Department of Labor did not directly address them. "We continue to work closely with the advocates and stakeholders statewide, many of whom we have funded to provide direct education and application assistance to targeted communities," department spokesperson Deanna Cohen said in a statement. "Our partners are crucial to ensuring this program is widely accessible to the impacted communities."