Technology
Fighting the digital divide with tribally owned fiber
The St. Regis Mohawk Tribe launched its own broadband network in a previously unserved area.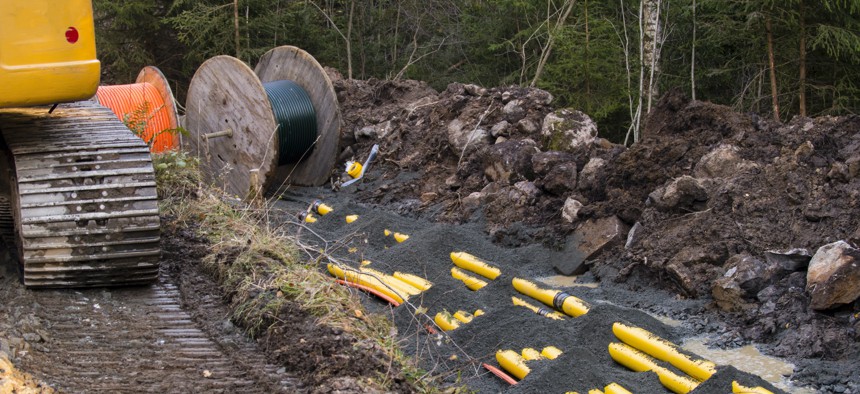 Among the many indelible images of life during the coronavirus pandemic, one was kids and teachers camped in school parking lots to attend remote classes, relying on the internet connection provided by schools and other places like libraries, school buses and even Taco Bell.
Members of the Tonawanda Seneca Nation in Western New York were among those traveling to the parking lot of Akron Central Schools, which serves both the reservation and other surrounding communities, in the early days of remote learning last year. "It wasn't 100%, far from it. But it worked," Antoinette Abrams, who works as a Native American liaison at the school, said of the internet connection accessed from the school parking lot. Remote learning eventually got easier once the district provided Wi-Fi hot spots for students to use at home. While an improvement, the connection provided by those hot spots "wasn't 100%" either, Abrams said.
The need for cumbersome workarounds and imperfect connections provided by Wi-Fi hot spots comes from the lack of broadband connection in many rural areas in New York, including parts of the Indigenous territories. Reports by the Federal Communications Commission state that deployment of advanced telecommunications on tribal lands is behind deployment in nontribal areas. As of 2018, 27.7% of residents on tribal lands lacked access to fixed broadband at speeds of 25/3 Mbps – the FCC's minimum benchmark speed – compared to 22.3% of residents in other rural areas and 1.5% of residents in urban areas. A report by the internet research group BroadbandNow suggests that among those who do have access to wired broadband on Indigenous lands, few have access to a plan below $60 per month.
The barriers to accessing a high-speed fixed internet connection in Indigenous communities are similar to those faced by other rural areas across the country: a lack of internet providers willing to build the infrastructure to provide that connection. The investment to lay fiber in remote, less populated areas is often not seen as worth it by internet providers. "(T)he remote, isolated nature of these areas combined with challenging terrain and lower incomes increase the cost of network deployment and entry, thereby reducing the profitability of providing service," the FCC's 2020 Broadband Deployment Report states of tribal areas.
As it did for many other rural and remote parts of New York, the pandemic highlighted the lack of internet connections in some Indigenous communities. While both the state and federal government have undertaken coverage mandates and grant programs aimed at making broadband both more accessible and more affordable – including encouraging large internet service providers to build in remote areas – some tribes have taken matters into their own hands.
The St. Regis Mohawk Tribe, whose land is adjacent to the U.S.-Canadian border in Franklin County, is one of several dozen tribes across the nation that own and run a broadband network. Mohawk Networks was launched with the help of a $15 million investment – some of that coming from federal grant money – to lay 68 miles of fiber in the area in 2015, and the company now functions as a tribally owned LLC, serving customers both inside and outside the territory. "We were one of those completely unserved communities," said Allyson Mitchell, general manager of Mohawk Networks. When the broadband project first started, Mitchell was working with the Saint Regis Mohawk Tribal Council. "Our leadership felt that it was imperative for us to be pushing a way to be able to connect our community, and to be able to have high-speed internet access for our community members – for education, for health care, for public safety," Mitchell said.
The network now serves about 1,600 homes as well as businesses within the community. According to the network's website, the cost of an internet-only plan on the tribe's land starts at around $60 per month. Mitchell added that the company works with low-income households to qualify for any subsidies. Residential plans, she said, generally range from download speeds of 25 Mbps to 100 Mbps. Prior to the tribe's broadband investment, the community had been relying on dial-up and cellphones. "If it were not for our broadband infrastructure and our connected community as it is right now, I don't know how that would have shaped our response to the pandemic," Mitchell said. "For us to be able to have that infrastructure was imperative for our community."
Of course, communities across rural parts of New York – and even urban areas – were forced to weather the pandemic without high-speed broadband access, including the aforementioned Tonawanda Seneca Nation.
In remote parts of the state, a lack of access to high-speed internet is often attributed to a lack of infrastructure to facilitate coverage. But affordability can be another barrier, even when the infrastructure is there. This year, Gov. Andrew Cuomo signed into law a requirement that internet providers offer $15 per month plans for qualifying low-income residents. That mandate was held up over a court challenge by a lobbying group representing internet providers, however, and it appears the plan is on hold following a court order, though the state has said it reserves the right to appeal the decision. If the requirement were to move forward, it would extend to low-income people living on tribal lands. "If a company serves a tribal area and the consumer qualifies for the service, it applies equally whether the consumer lives on tribal land or not," James Denn, a spokesperson for the state Public Service Commission, wrote in an email. Denn also noted that large providers Charter Communications and Altice USA, whose respective mergers were contingent on providing low-income broadband plans, are also required to provide those plans to people living on tribal lands, to the extent that they already serve those areas. A statewide broadband mapping project will include tribal lands in its study of the availability and quality of coverage.
H. Trostle, a member of the Cherokee Nation of Oklahoma, has studied tribal broadband across the country. In a report with the Institute for Local Self-Reliance, Trostle noted that access to the internet can be a means of furthering sovereignty for Indigenous people. "Improving internet infrastructure has the opportunity to provide a new boost to local economic development initiatives," Trostle wrote. "Owning and operating this infrastructure also supports Native Nations' sovereignty by keeping power and data within the communities rather than relying on an external provider."
While Trostle said they were impressed with Mohawk Networks and referred to it as a model that other Indigenous nations could follow. But there isn't necessarily a one-size-fits-all approach to tribal broadband. "There's a huge diversity in Indian country. There are more than 500 federally recognized tribes, and there are also state-recognized tribes, and each of them have been trying to tackle the digital divide in their own way," said Trostle, who now works as a research professional at the American Indian Policy Institute at Arizona State University. That includes Indigenous communities that partner with larger existing internet service providers to build out networks. The Seneca Nation of Indians is also working on a broadband project on its Cattaraugus Territory, an area that has not been served by private internet companies, despite nearby hookups. A grant from the U.S. Department of Agriculture and co-investment from the Seneca Nation is expected to facilitate the installation of fiber, but representatives from the Nation did not return a request for comment about how the service will work or how far the project has progressed.
While some tribes have invested in building their own infrastructure, there are still barriers to internet access. Although grant funding like the kind the St. Regis Mohawk Tribe used to help build their network is available through the federal government, it can take a lot of expertise and capital upfront to even pursue those grant opportunities. Not all tribes can invest several million dollars in this work. "Most grants are reimbursable, which means that you actually have to have all of the money upfront," Mitchell said. "You have to be able to float the project until you meet the grant disbursement terms. That is typically something that's only favorable for larger companies to be able to do."
And for Indigenous communities working in partnership with nontribal internet providers, there's sometimes a learning curve for those providers. "Because Indian country has so many different types of tribal lands, it can make it difficult to figure out the best way to do easements and right of way, which slows down projects. Because this is federal land, it's also subject to more environmental protections," Trostle said.
But there's some hope that as the pandemic subsides, a greater amount of federal funding is becoming more readily available to fund broadband expansion projects in Indigenous communities, whether those become fully tribally owned or partnerships with other entities. Both Trostle and Mitchell pointed to new funding sources, including the federal Tribal Broadband Connectivity Program, devoting nearly $1 billion to expanding broadband on tribal lands. Mitchell said that grant application requirements for this program are not as strict as previous ones. "It's something that I'm very glad to see now," she said. "It's a shame that it took the pandemic for us to be able to get to this point. But if tribes have the ability to be able to pull together a grant application, the deadline for application is Sept. 1. It's a very tight window of time, but that's something that is out there and available."
Powered By
NEXT STORY: Indigenous tribes taking the lead on legal weed