Education
How students will rely on the vaccinated to stay safe
Most kids aren't eligible to receive a COVID-19 vaccination, which leaves their protection up to those around them.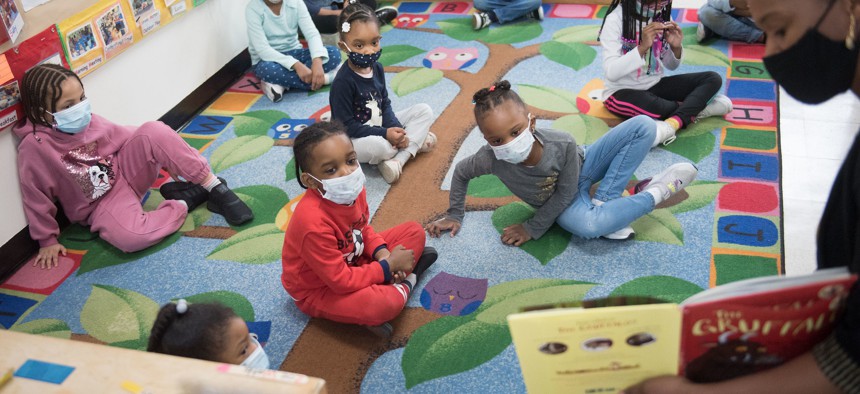 As the more infectious COVID-19 delta variant spreads throughout the state, questions have been raised about how it could complicate the start of the school year.
In-person classes are coming back, COVID-19 cases are up and vaccines are still not authorized for children under the age of 12. With Gov. Kathy Hochul telling the state Health Department to implement a statewide mask mandate in schools on her first day in office, she set the tone for safety being a priority in the upcoming school year. Some school district leaders had previously been upset that the state had declined to set statewide policies and left it up to local districts to set the rules for themselves. New York City was among the few districts that were willing to run with that leeway.
Mayor Bill de Blasio recently announced that all teachers and staff at the city's schools will be required to receive at least one dose of a COVID-19 vaccine before Sept. 27. So far, at least 63% of staffers in the city have been vaccinated. The directive went further than the requirement announced in late July for teachers to either be vaccinated or submit to weekly COVID-19 testing. On the same day the city's vaccine mandate for school staff was announced, the Food and Drug Administration approved Pfizer's COVID-19 vaccine. Pfizer, like the other two vaccines from Moderna and Johnson & Johnson, had previously only had emergency use authorization.
"I do not expect a staffing shortage. I expect our staff members to get vaccinated."
– New York City schools Chancellor Meisha Porter
With only a few weeks left before the start of school, it's unclear how the mandate will be enforced and whether a court will block its implementation now that union leaders have said they'll file a complaint. "While the city is asserting its legal authority to establish this mandate, there are many implementation details, including provisions for medical exceptions, that by law must be negotiated with the UFT and other unions, and if necessary, resolved by arbitration," United Federation of Teachers President Michael Mulgrew said in a statement. The New York Times reported that the city is negotiating with the UFT and other unions over how consequences for those who refuse to get vaccinated will work. De Blasio has emphasized, however, that the mandate will go into effect on Sept. 27, whether or not the negotiations are completed in time. The UFT had previously praised the city's vaccine or negative test requirement, emphasizing the importance of giving staff a choice of whether or not to get vaccinated. However, the leader of a national teachers union, American Federation of Teachers President Randi Weingarten, supported vaccine mandates for teachers.
Parents sending their children back to class – some of them for the first time in a year and a half – will have varying levels of assurance of their kids' safety based on where they go to school. While New York City's vaccine mandate comes at the eleventh hour, some public health experts said these kinds of mandates were necessary to send kids back to school safely – especially children under 12 who can't be vaccinated yet. "We need to kind of surround these children who cannot yet be vaccinated with a safety net of vaccinated adults," said Wafaa El-Sadr, a professor of epidemiology at Columbia University's Mailman School of Public Health.
De Blasio announced on May 24 that city schools will be returning to in-person classes exclusively on Sept. 13, without the option to attend class remotely. The new vaccine mandate for city Education Department employees is one layer of the city's measures to control the spread of COVID-19. Students and teachers will also be required to wear masks and will have to social distance from one another. Ventilation systems in city schools have also been upgraded.
It's unclear how well the vaccine mandate will go down with teachers and other staff. New York City schools Chancellor Meisha Porter addressed concerns that the requirements could lead to teacher resignations in an already short-staffed school system, saying last week, "I do not expect a staffing shortage. I expect our staff members to get vaccinated."
"We need to kind of surround these children who cannot yet be vaccinated with a safety net of vaccinated adults."
– Wafaa El-Sadr, a Columbia University Mailman School of Public Health professor of epidemiology
New York City appears to be going farther than most districts in the state when it comes to various mandates. The Rochester City School District will require staff to be vaccinated or submit to weekly COVID-19 tests. Another district in Central New York will require teachers to show proof of vaccination or wear a mask.
Hochul has already moved the ball forward for those in favor of mask mandates while Gov. Andrew Cuomo's Education Department declined to set statewide requirements.
Still, public health experts said the only way to fully ensure the safety of children not yet eligible to be inoculated against the virus was to have all adults or eligible older children fully vaccinated.
"My big thing is that all the teachers and school personnel should all be vaccinated and that should be the policy because these children, anyone under the age of 12, is definitely vulnerable," Donna Hallas, director of the pediatric nurse practitioner program at New York University's Rory Meyers College of Nursing, told City & State. "If they're not vaccinated, then they shouldn't be in school." De Blasio said that while the city is working to get kids 12 and older vaccinated, a mandate for students is not on the table right now.
El-Sadr, the Columbia professor, said that mandatory vaccinations for staff was one of several important steps schools should be taking now. Others included educating students and staff about the importance of not coming in while sick, updating ventilation systems, requiring masks indoors and holding lunch – when masks come off – outside as much as possible.
At the onset of the pandemic, research indicated that children were not, for whatever reason, particularly vulnerable to contracting or transmitting the coronavirus. Now, however, more children are becoming infected with the delta variant. In states with low adult vaccination rates, such as Florida, Louisiana, Missouri and Arkansas, child COVID-19 cases are rising rapidly. "Everybody is a little bit nervous about the possibility that the delta variant could in fact be, in some way, more dangerous in kids," Dr. Richard Malley, a pediatric infectious disease specialist at Boston Children's Hospital, told The New York Times.
Children are the largest unvaccinated population, in part because there isn't a vaccine available for children under the age of 12. The Food and Drug Administration has said it expects a vaccine to be available for children under 12 on a "fall or winter timeline." In the absence of such a vaccine, efforts are being made across the country to encourage unvaccinated adults, particularly those with young children, to get the vaccine to prevent them from spreading the virus.
"There is, with delta, we think, a reasonably high household attack rate, meaning that one person in the household gets sick and other people are at risk of getting sick," Ashish Jha, dean of the Brown University School of Public Health, told The Atlantic.
The New York City Health Department launched a $1.3 million ad campaign to encourage families to get vaccinated and will be contacting all families within the public school system to go over their vaccination options. The city also launched a referral program in June that provided $100 to anyone in a civic, faith or tenant group who was able to convince someone to get vaccinated ahead of the school year.
"Vaccinations are our passport out of this pandemic, and we are getting the word out every way we can about the importance of getting eligible people and students vaccinated," Nathaniel Styer, a spokesperson for the city Department of Education, told amNewYork. "We are alerting PA (and) PTA groups that they qualify under the city's optional referral bonus program, and they can participate to receive $100 for every vaccinated person who names their PTA as the referring organization."