Transportation
The MTA isn't budging on ending shared Access-A-Ride trips
Users want solo rides to resume because of the pandemic, but the MTA claims a driver shortage makes that impossible.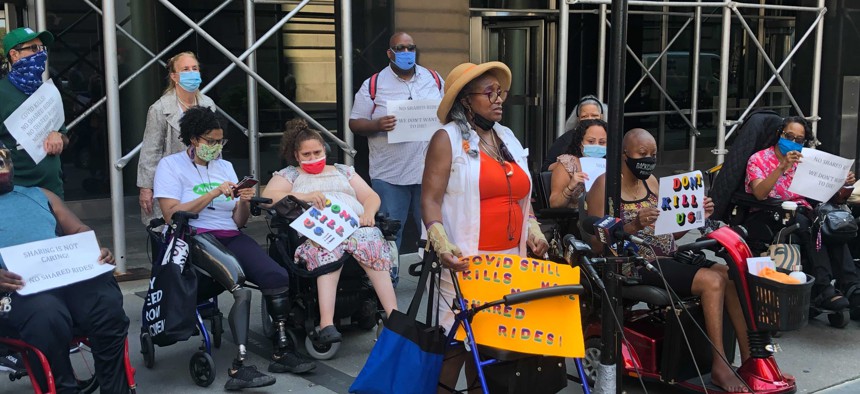 For 16 months, riders of New York City's paratransit service Access-A-Ride – more informally known as Stress-A-Ride – caught a rare break. In the midst of a global pandemic, one aspect of life for some paratransit riders actually got somewhat better. In March 2020, the Metropolitan Transportation Authority eliminated shared rides on Access-A-Ride due to the threat of COVID-19.
Some riders – the relative few still using it in those early pandemic months – and advocates for people with disabilities said the switch to solo rides made for shorter, easier and more direct trips than the "five-borough tours" they'd sometimes be taken on to get to their destination in a shared ride. They also lent riders a greater sense of health safety during the pandemic. But now that the MTA reverted back to its typical shared Access-A-Ride trips in July, those riders and advocates are again calling for the suspension of shared rides, citing the ongoing threat of COVID-19 and a rising number of delta variant cases.
Despite calls from riders and advocates to pause shared rides, the transit agency has shown no sign that it intends to do so. It costs the MTA more money to operate individual rides, but with overall paratransit costs down during the pandemic because of lower ridership, the extra costs of individual rides would be more of a long-term concern than an immediate one. The primary reason, the authority said, for the resumption of shared rides is a shortage of drivers. "The necessity for this – I don't even want to call it 'change' – but for us going back to the way that we run the system in a shared fashion is supply," said Quemuel Arroyo, the MTA's chief accessibility officer. "You've heard from Uber, Lyft and every paratransit, every taxi business in the United States that there's a shortage of drivers. We are no different than any of those industries. We, too, are facing a drastic shortage of supply on the driver side, which makes it impossible for us to meet the demand of our daily requests for trips."
The MTA has not provided details on the total size of its pool of drivers, but said that one subset of that pool – drivers who operate the blue and white Access-A-Ride branded vehicles – is down about 25% from what it was pre-pandemic. The MTA did not provide details on how many of those drivers are currently on the road or how many were on the road before the pandemic.
That subset – referred to as "primary providers" – accounts for just a small portion of all drivers fulfilling Access-A-Ride trips. Brokered rides, including those in for-hire vehicles and taxis, account for a larger portion. About 64% of all Access-A-Ride trips were done by broker providers in May, the most recent month for which Access-A-Ride data is publicly available. The MTA doesn't have data on how many of these drivers are available now or how many were available before the pandemic. Yet the authority has suggested that the driver shortage may be even greater in this subset.
Driver shortages may be partly to blame for Access-A-Ride's declining performance metrics in recent months as well. From January to May, the MTA reported that no-shows increased at least 500%, which is when a vehicle arrives at least 30 minutes after the scheduled pickup time. The rate of customer complaints per 1,000 rides about issues like no-shows and long rides also roughly tripled over the first five months of the year. While paratransit ridership dropped drastically last fall, it now hovers around 75% to 80% of pre-pandemic levels, the agency said.
Despite all this, the MTA said the return to shared rides this summer has been gradual. Only 15% of Access-A-Ride's current daily service is made up of shared trips, the authority said. Shared rides are also limited to trips of less than seven miles.
Still, riders and advocates for people with disabilities said shared rides should be suspended indefinitely because of the threat of COVID-19 and the more contagious delta variant – especially among a population that is more likely than the general public to be immunocompromised or dealing with other health issues. In response to the argument that all transit riders take on some degree of risk at this stage of the pandemic, Dustin Jones, an Access-A-Ride user and a board member at the Center for the Independence of the Disabled New York, suggested that the risk is higher in paratransit vehicles. "This is not an MTA bus, which is about 40-plus feet long, and this is not a subway car. This is a little everyday car, these are Toyota Camrys," Jones said. "There's not much room. You're not going to get 6 feet of space, and if you start packing in people – even if it's just one other person – it makes a difference."
Jones was one of a few dozen riders and advocates who rallied outside the MTA's headquarters in lower Manhattan last week calling for a suspension of shared rides. Dorothy Zuniga, another Access-A-Ride user, was also there to ask the MTA to pay attention to the extra risk that COVID-19 poses to some of its users. "What's bothering me is that we have compromised immune systems. We are very vulnerable," said Zuniga, who has multiple sclerosis. "I don't feel safe. I just got off a ride – there's not enough room." When Zuniga joins a ride, she doesn't know if her driver has been vaccinated or if the other passengers have been.
The point that paratransit riders may be immunocompromised didn't completely resonate with Arroyo, the MTA's chief accessibility officer. "I am a New Yorker with a disability. I ride the bus, I ride the subway. When I ride that, I do not have the options to get away because someone is not wearing a mask or (have it) be unknown whether or not they're vaccinated," Arroyo, who uses a wheelchair, told City & State last week. "Furthermore, I think it's inherently flawed to think that paratransit riders are immunocompromised. People with disabilities and our 150,000-plus paratransit riders run the gamut of demographics." MTA officials said that steps are being taken to ensure rides are as safe as possible. Masks are required for the driver and all passengers, and vaccination is encouraged.
State Sen. Andrew Gounardes, who represents southern Brooklyn, said the Access-A-Ride population is likely more vulnerable than other transit riders. "We're talking about people who might not be able to have been vaccinated or who might have other health issues underlying," he said. "It just doesn't seem like it's a smart policy decision right now to start cramming people back into (an Access-A-Ride) bus side by side next to each other again, when there are all these health risks."
As Gothamist reported, there's some feeling within the Access-A-Ride advocacy community that the MTA views the current call for an end to shared rides as having more to do with riders and advocates wanting to get rid of shared rides forever than with their immediate health concerns. Some Access-A-Ride users who City & State spoke to said that individual rides have been easier and that they'd like to see shared rides done away with for good. But that doesn't make the health risks of COVID-19 less real for them. Milagros Franco, an Access-A-Ride user who works for the Brooklyn Center for the Independence of the Disabled, acknowledged that in the long term, the MTA is likely going to make some decisions with cost savings in mind. But as of right now, the health risks are still too high to resume shared rides, she said. "You're putting me at risk. You're putting your daughter or son at risk. Anyone that uses Access-A-Ride," Franco said. "And it's not just us. You're putting your drivers at risk."
Gounardes, meanwhile, said that the MTA citing a driver shortage shouldn't preclude another suspension of shared rides. "I don't know what their exact personnel headcount is on any given day. So I don't know if that is, in fact, a real argument or a false argument," he said of the reported driver shortage. "But I don't think that that is something, either way, that's a problem that's not solvable. We can recruit more drivers, we can hire more drivers, we can double down on investment in the program."
Some of that work may be already underway. Primary carriers are currently offering bonuses of $2,000 or more for drivers to sign up, according to the MTA. And at the MTA's July board meeting, a few weeks after shared Access-A-Ride trips resumed, several new broker contracts for the paratransit service were approved. The MTA expects to see the addition of thousands of available vehicles and improvements in Access-A-Ride service through the fall. As of now, that won't include the suspension of shared rides.