Policy
Hochul promised a 'new era of transparency.' Here's what that would really take.
Under Cuomo, obtaining public records was often extremely difficult. Transparency advocates have a lot of ideas for reforming the process.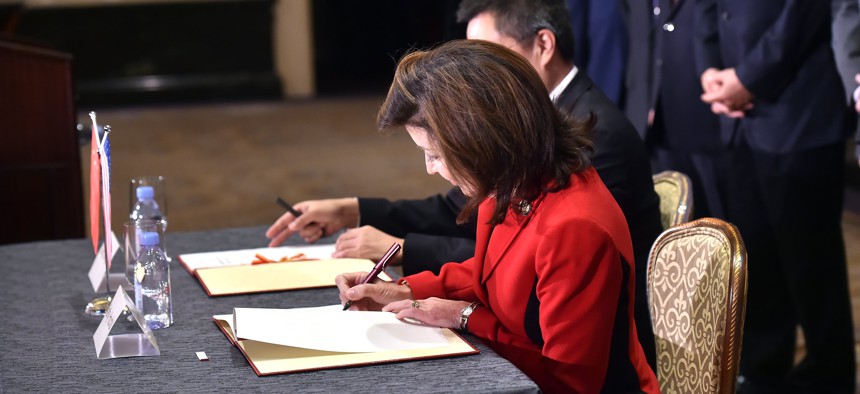 This story was published in partnership with New York Focus.
In her first speech as New York's chief executive last month, between discussing high-profile issues like eviction protections and the delta variant, Gov. Kathy Hochul spoke briefly about a seemingly more prosaic matter: reform of New York's Freedom of Information Law, known as FOIL, a state statute giving members of the public the right to request and obtain records from government agencies.
Hochul promised to make transparency a "hallmark" of her administration, teasing an "expedited process to fulfill all FOIL requests as fast as possible and post the completed request publicly online." She also promised to require state agencies to produce reports outlining their compliance with New York's transparency laws.
Transparency experts praised her decision to bring up the relatively niche subject in her first speech, but emphasized that major reform would take ending gubernatorial review of requests, increasing staffing levels for offices that deal with requests and implementing penalties when requests are unnecessarily delayed.
Hochul's team has stayed tight-lipped on the details of her plans. "The Counsel to the Governor is working on a new, expedited FOIL process to fulfill past and future requests as quickly as possible," spokesperson Haley Viccaro wrote over email. "More details on the FOIL process and these initiatives will be shared soon."
Notably, Viccaro declined to say whether Hochul will continue a controversial Cuomo-era policy of requiring responses to politically "sensitive" FOIL requests to get approved by the governor's office before being sent out. Viccaro also declined to provide a deadline by which state agencies would be expected to produce the compliance reports mentioned in Hochul's speech. 
While FOIL nominally brings transparency to state government, getting a response to requests can often take months, if not years, and agencies frequently deny requests outright. Reforming the process has long been a goal of government transparency advocates.
Hochul's emphasis on the topic so far is part of her commitment to inaugurate a "new era of transparency" in Albany, and to differentiate herself from her predecessor, whose administration was notorious for obstructing public records requests.
But Andrew Cuomo too ran for governor in 2010 on a pledge "to make the state government the most transparent and accountable in history," and transparency experts are waiting for Hochul's policy details.
Hochul's comments on FOIL send "a powerful signal," said Ava Lubell, local journalism attorney at Cornell Law School – but "the proof's in the pudding."
An obstructionist administration 
The Cuomo administration and the numerous agencies it oversaw had a reputation for intentionally stalling responses to FOIL requests. City- and county-level agencies were more responsive. 
"You do see examples of other government agencies not complying with FOIL or taking their time, [but] it's been especially an issue with the Cuomo administration," said Bill Hammond, senior health policy fellow at the Empire Center, a conservative think tank.
Hammond was speaking from personal experience. Starting in August 2020, he and the Empire Center waged a legal battle against the Cuomo administration to get the state Department of Health to release data surrounding deaths from COVID-19 in the state's nursing homes. Hammond was ultimately successful in February 2021, when a judge ordered the administration to release the records, which showed that the state health department had undercounted nursing home resident deaths due to COVID-19 by nearly 5,800. 
The resulting scandal and subsequent FBI investigation contributed to the political pressure that eventually helped lead to Cuomo's resignation after state Attorney General Letitia James' office released a report finding he had sexually harassed multiple women.
Under the Cuomo administration, this and other delays were by design. A 2018 state Department of State document obtained by the Empire Center instructed state agencies to send "sensitive" records requests – including requests "from a media outlet," "related to something political" or "connected to possible legal action against the Department" – to Cuomo's office for review and approval before releasing any information.
In 2015, Cuomo staff embedded two dozen "special counsels" in various state agencies. The counsels reported directly to the governor's office, and were responsible for "helping flag and manage potentially troublesome Freedom of Information Law requests filed with those agencies," the Albany Times-Union reported in February. 
Removing these systems of gubernatorial screening is a prerequisite to genuine FOIL reform, according to John Kaehny, executive director of the nonpartisan good government group Reinvent Albany.
"The decision (whether to release information) is not based on the law, it's based on what they find politically sensitive. As long as they continue with that, nothing is going to change," Kaehny told City & State.
At the same time, many FOIL delays are due to more mundane reasons, like understaffing. 
"When you start counting up the requests that units of government get, there's just too many for the number of people there. The law as mandated is impossible for agencies to comply with because they don't have enough people," Kaehny said. 
Agencies are also allowed to deny requests for a number of reasons, such as protecting personal privacy or withholding materials that are not final policy.  Under Cuomo, such denials were frequent. Of the 4765 FOIL requests made in New York through Muckrock, a nonprofit founded in 2010 that aids journalists in obtaining public records, just 28% have resulted in records being obtained, after an average wait time of 114 days. Filers have the option of fighting denials in court, but the process can be complicated and expensive for those not versed in the procedural intricacies of FOIL law. 
"When a lot of local newspapers were better resourced, they could afford attorneys" to appeal denials, Lubell said. But with the decline of local media, fewer outlets have the necessary funds to be able to bring suits, she said.
Damage control
Hochul's pledge of reform was likely inspired in part by a desire to distance herself from the Cuomo administration, Hammond said. "She has a political imperative to separate herself from the previous governor and the goings on that led to his resignation."
Key legislators have since expressed interest in working with Hochul on revamping the FOIL system. State Sen. Alessandra Biaggi, who chairs the state Senate Ethics and Internal Governance Committee, praised Hochul's recent comments as "encouraging and necessary," while adding that "we need to go further and overhaul the entire system."
"Former Governor Cuomo's administration infamously stalled FOIL requests often, so this is a quick fix Governor Hochul can make to bring transparency to Albany early in her administration," Biaggi wrote in a statement to City & State. 
But what reform might look like remains something of an open question. 
Hochul has pledged to require agencies to post the results of completed FOIL requests online, a move that CUNY law professor and government information expert Sarah Lamdan lauded as a win for transparency. 
"That would be huge," she said, noting that at the federal level, records that have been successfully requested three or more times must be posted online. "One really important tool for accessibility is being able to see what's already been released by agencies," she said.
Such a policy would also help relieve some of the administrative burden on FOIL responders, who would no longer be forced to repeatedly compile documents for identical requests, Lamdan said.
But while this policy would make completed FOILs more accessible, hastening response time could take more staffing and resources.
"There are tons of FOIL offices I work with where they really are trying, and you get the sense that they are totally underresourced. There's only so much you can do," Lubell said. 
Lamdan suggested that requiring agencies to post response rates and length of time elapsed could boost performance. "That's been a pretty effective tool in the federal government," she said. "Near to the time that statistics are due, agencies ... wrap up a bunch of Freedom of Information requests to improve their statistics."
For agencies not spurred into action by the threat of ignominy in the rankings, more drastic action might be needed. 
"There has to be some sort of consequences for ignoring the law," said David Cuillier, professor at the University of Arizona journalism school and expert in many states' Freedom of Information Law enforcement practices. 
Forcing state agencies to pay attorney's fees if they lose a FOIL battle in court or fining them for withholding records in violation of the law generally leads to greater compliance, Cuillier noted. In Washington state, penalties can run up to $100 per day per record.
Closer to home, Cuillier pointed to neighboring Connecticut as a model. There, individuals whose FOIL requests have been denied can appeal to an independent commission of attorneys and public servants empowered to overrule agencies' initial calls. New York's FOIL appeals process is conducted within the agency being requested, rather than being independent.
"New York needs to get a system where you have an independent entity where their decisions are binding," Cuillier said. "It's not fair to citizens to require them to hire an attorney to enforce the rights they should have as a citizen."
New York Focus is an independent investigative news publication covering New York state and city politics. Sign up for their newsletter here.