Technology
How New York is subsidizing Amazon
Local agencies across the state lure the retail giant to town using generous tax incentives.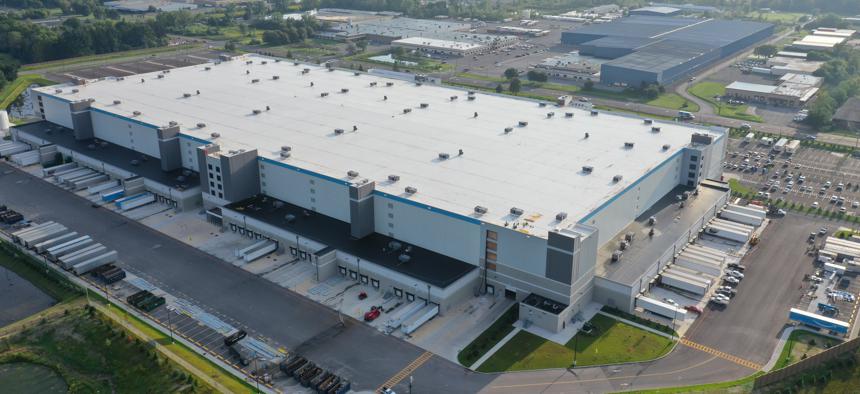 Growing up in the suburbs of Syracuse, the fountain at the closest mall, ShoppingTown Mall in DeWitt, was lined with pennies, nickels and dimes. Nowadays, the fountain doesn't run, and the retailers that used to be at ShoppingTown have moved elsewhere or out of town completely. For years, the only people who visited the mall were moviegoers and my mom when she had to return something to the now-closed Macy's. To be fair, the mall was overshadowed by the giant Destiny USA, a mall formerly known as Carousel Center, closer to downtown Syracuse. Even so, it feels like an apt illustration of the transitioning economy in the central New York area – an area that still grasps for its glory days of being home to major manufacturers like General Electric Co. and the air conditioning unit supplier Carrier Global. The economy has shown improvements in the past decade prior to the pandemic, and local officials still strive for more economic development. After a long battle with ShoppingTown's current owner, who filed for bankruptcy after leaving over $9 million in unpaid taxes, the county has bought the mall back and hopes to revitalize it with the help of a new developer. 
The eternal optimism for ShoppingTown Mall echoes excitement that has certainly surrounded the entry of a much larger project with a more powerful owner, only a few miles away from the mall. In Clay, the developer Trammell Crow Company is currently turning former golf club land off of I-90 into the world's second-largest Amazon warehouse at five stories and approximately 3.8 million square feet. Amazon has promised 1,000 jobs out of this warehouse, each paying $15 per hour. 
Onondaga County Executive Ryan McMahon has called the plan a "once in a generation project." While New York City lawmakers and activists had rejected Amazon after the retail giant chose Queens in a high-profile national search for its second headquarters in 2019, Onondaga County leaders were confident that residents of Syracuse would welcome the company. So much so that they offered the company more than $70 million in tax incentives. McMahon said offering those benefits to Amazon was a matter of course.
"You're competing, and the reality is that there needs to be a cost-benefit analysis in every community that has an opportunity," he told City & State. In Clay, the Onondaga County Industrial Development Agency and Amazon agreed to a payment in lieu of taxes deal where Amazon will pay the county, town and Liverpool schools $28 million over 15 years – in exchange for $70 million in waived taxes. McMahon noted that the town would have received less than $1 million in taxes from the previous property owner in the same time period. "So when you look at it, we weren't giving up anything. We're gaining money on day one," McMahon said.
The primary decision-makers behind the hugely consequential deal in Onondaga County are a board of seven business and community leaders and professionals appointed by the County Legislature. The Onondaga County Industrial Development Agency, and local agencies like them (known as IDAs), have been at the table with Amazon across the state, using tax breaks and deals to incentivize the online retail giant to set up camp in places critics say it likely would have come to anyway.
"We have a lack of opportunities for work among many segments of our population, and that's part of what we want to do. But in the end, we want to have economic opportunity, we want to grow the economy around here and take advantage of the attributes that we have to do that," said Patrick Hogan, chair of the Onondaga County Industrial Development Agency and Syracuse Common Council district councilor.  Industrial development agencies are public benefit corporations and were established in New York in 1969 to help spur economic development by offering companies deals to set up shop in their areas. In Onondaga County, for example, the industrial development agency gave incentives to eight projects in 2020, including the expansion of a dairy plant and construction of a solar power array. Board members are appointed by local bodies of government. For instance, cities often have their boards appointed by Common Council members whereas county boards are appointed by the county executive and then confirmed by the County Legislature. In total, there are currently 108 industrial development agencies in New York state. As Amazon has built warehouses across New York, the agencies have consistently offered generous tax incentives. According to the Good Jobs First tracker, which tracks Amazon deals nationwide, Amazon has been awarded more than a dozen deals adding up to about $380 million across the state, many deals involving industrial development agencies. In a 2021 deal with Amazon and the County of Monroe Industrial Development Agency, Amazon won its biggest New York deal where it will pay the county, town and Gates Chili Central School District $58 million over 15 years, while receiving over $150 million in incentives.  
"You're competing, and the reality is that there needs to be a cost-benefit analysis in every community that has an opportunity."
– Onondaga County Executive Ryan McMahon   
These deals are often celebrated for bringing a windfall of revenue and jobs into communities. But some critics have asked why Amazon, one of the largest and most profitable companies on Earth, needs these incentives at all. And in those negotiations, can there ever be an even playing field as a board of local businesspeople takes on the behemoth?
Michael Greene, Syracuse Common Council councilor at-large, suggested that local industrial development agencies may benefit from an additional body to guide them when making economic decisions. "What would be helpful is if there is regional leadership that comes from the county, as well as from the economic development agency, the Chamber of Commerce – that they are able to speak up and advocate on behalf of the region to say: 'Here's a baseline expectation of what we think are reasonable tax rates.'" 
In Monroe County, where Amazon has started construction on a 2 million-square-foot warehouse and distribution center, what created pushback was Amazon's choice to apply to the industrial development agency for a local labor exemption. Being approved for a tax exemption in Monroe County usually requires a project to use local labor. However, Amazon filed a waiver asking to be exempted from the requirement – a move the New York State Economic Development Council denounced. That organization represents economic development professionals, and part of its membership base is composed of industrial development agency members.    
"The boards that are approved are made up of big business people in the community. And they're in a different place than we are as far as what their values are."
– Grant Malone, president of the Rochester Building and Trades Council 
Local labor was infuriated by Amazon's decision, protesting before the industrial development agency's vote with "Local Jobs for Local People" signs. Ultimately, Amazon and Trammell Crow Company were granted a 30% local labor waiver, with approximately $41 million going to local contracts and about $17 million to outside contractors. Amazon did not respond to a question about the local labor waiver in Monroe County. Grant Malone, president of the Rochester Building & Construction Trades Council, was one of the main voices against the waiver. He suggested that a major difference in priorities is why the agency approved the tax incentives and the labor waiver. "The boards that are approved are made up of big businessmen in the community. And they're in a different place than we are as far as what their values are," Malone said. The Monroe County Industrial Development Agency did not reply to City & State's request for a comment. 
Malone's frustrations have been echoed by others. John Kaehny, executive director at governmental transparency advocacy group Reinvent Albany, agreed that industrial development agencies are staffed largely by businesspeople with their interests being aligned with other businesses. Kaehny stated that there is little oversight of industrial development agencies and that the reporting that is required of their projects is rarely completed in full. He cited an annual report from the state Authorities Budget Office that stated out of 50 randomly selected 2018 industrial development agency projects, only five provided all of the required documents. Kaehny said that the relative lack of public understanding of these deals allows for corporations like Amazon to take advantage of tax subsidies. "It's meat on the hook that Amazon is a giant superpredator, because they're going in there, and they're dealing with these local yokels at these IDAs, who are spending the public's money. It's a form of spending the public doesn't understand because of tax abatement. And, you know, the results are predictable, which is that Amazon gets enormous amounts of unnecessary subsidies," Kaehny said.
Investigating and reforming industrial development agencies has been a long-standing project. But state Sen. James Skoufis, chair of the Investigations and Government Operations Committee has breathed some life back into reform. He commissioned a 2019 report with findings such as increasing debt, insufficient oversight and inadequate reporting that led to a series of reforms advanced during the most recent legislative session. Skoufis said that often, industrial development agency members skim through deals because of their focus on winning. "These are highly competitive economic development officials," Skoufis said. "My approach here is, there comes a point where it's better to say 'no.'"
McMahon acknowledged that there were other scandals and issues elsewhere in the state, but believes that the Onondaga County Industrial Development Agency has made good decisions. He warned that the state Legislature often forgets local government. "If there's a problem, certainly you need legislation to fix it, but I would always caution the state overall to use their local governments and local IDAs as a resource for what they can do better as well with their policies," he said.
While tax subsidies from industrial development agencies will continue to be up for debate, the agencies may be able to play a key role in helping underrepresented communities with economic development. Daniel Lloyd, founder and president of the nonprofit Minority Millennials, said industrial development agencies are well-positioned to use equitable development approaches to serve businesses owned by women and people of color, citing work of the one in Babylon. "They expanded their services to provide financial, technical and legal assistance to existing and aspiring Minority and Women Business Owned enterprises and veteran entrepreneurs. This is why we are strongly advocating for additional funding, so the other 108 IDAs can follow the blueprint and Babylon can sustain its innovative program," Lloyd wrote in an email to City & State. His suggestion may offer one way that industrial development agencies can refocus to continue their stated purpose of economic development, but he added that he doesn't support subsidizing Amazon. 
As Amazon continues to enlarge its footprint, New York's industrial development agencies will likely have more chances to get the most out of deals with the company. "Amazon is constantly exploring new locations to support our growth and to best serve our customers," a spokesperson wrote in an email. "However, we have a policy of not commenting on our future roadmap – stay tuned."
Powered By
NEXT STORY: How New York can prepare for flooding