Education
NYC schools and health officials push in-person learning, despite calls for remote option
Here are the key points for why kids are still returning to class, despite concerns members of the New York City Council had during an education committee hearing Wednesday.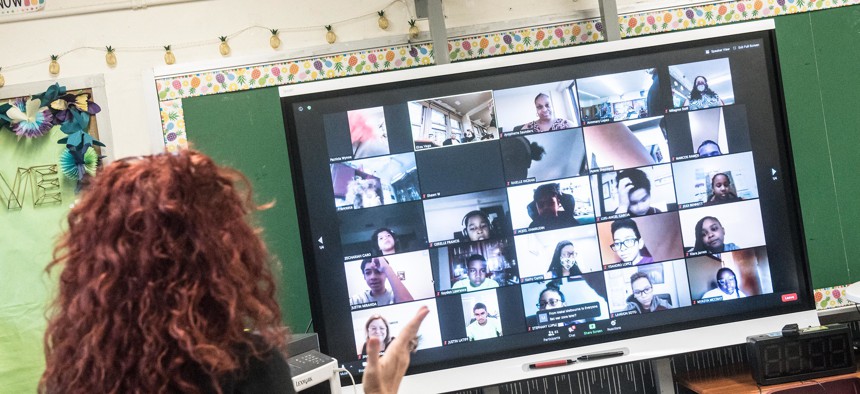 Members of the New York City Council education committee during a hearing Wednesday pressed education and health officials on one persisting question: Why, amid rising COVID-19 cases, is the city still not offering a remote learning option to all families? 
With less than two weeks before the start of school on Sep. 13, the third academic year during the COVID-19 pandemic, the city is sticking to its plan to get as many students as possible back inside classrooms on a full-time basis. That means allowing only a small subset of students to be eligible for remote learning as the school year begins, including students with underlying conditions that make remote instruction "medically necessary." 
But in recent weeks, some city lawmakers and education advocates have stepped up calls to make remote learning more widely available. Last week, when the city Department of Education released its guidelines for reopening, confirming that remote learning won't be offered to all families, those calls increased. "I'm in support of a remote option for families," Education Committee Chair Mark Treyger, who led the City Council hearing, said on Wednesday. 
Treyger and others on the committee have drawn attention to the fact that the delta variant of COVID-19 is more contagious than previous variants and that unvaccinated students – including all students under 12 who are not yet eligible for the vaccine – remain vulnerable. 
Officials in Mayor Bill de Blasio's administration, meanwhile, emphasize that schools are not only taking steps to make in-person learning safe, but that it is the best option for students who at this point have lost out on months of typical learning. But some say that with the pandemic still ongoing and the more contagious delta variant spreading, families deserve the flexibility to choose for themselves the best way for their children to learn. "Every single parent who wants a remote option should have an option to have it, period," Dia Bryant, executive director at advocacy group The Education Trust – New York, told City & State earlier this week. 
The push for a remote learning option will likely continue in the remaining days before school starts, but Schools Chancellor Meisha Porter, Health Commissioner Dave Chokshi and other city officials did shed some light Wednesday on how reopening will work. Here are some of the key points they shared about the return to classrooms. 
The city is preparing for remote learning, but says it not yet necessary
The unexpected necessity to transition to remote learning in the spring of 2020 caught schools, teachers and students by surprise, and the rollout of internet-connected devices and other resources necessary to make remote learning work took some time. So when lawmakers asked whether students are equipped for a transition to remote learning if the pandemic worsens, Porter clarified that the city isn't "throwing the baby out with the bath water" when it comes to focusing on in-person, rather than remote learning. "We're watching what happens across the state, we're watching what's happening across the country, because we know we have to be making decisions as we go along," Porter said. "In the event we need to pivot to remote, we're prepared to do that."
Students can get vaccinated at school
New York City has rolled out a "Vax to School" campaign encouraging all eligible New York City youth to be vaccinated against COVID-19. Porter said Wednesday that that will include installing vaccination sites at every school with students 12 years of age and older in the first week of school. At those roughly 700 schools across the city, the sites will pop up again during the week of Oct. 4 to administer second doses of the vaccine.
While all DOE staff will be required to be vaccinated for the upcoming school year, the vaccine is only strongly recommended to eligible students. So far, roughly 62% of New Yorkers aged 12 to 17 have received at least one dose of the vaccine, according to Chokshi, though that statistic includes all people in that age range, and not just public school students. 
Quarantine instruction depends on vaccination status and grade level
The reopening guidelines released by the city last week spelled out who will be required to quarantine in the event of positive cases of COVID-19 in classrooms, but it didn't elaborate much on how remote instruction will work for those secluded students for the week or two that they're out of the classroom.
Exact details are still light, but on Wednesday, Porter clarified the broad strokes of learning while in quarantine. Elementary school students – all of whom in a given classroom will be required to quarantine for 10 days in the event of a positive test in that classroom – will receive live instruction. In middle schools and high schools, quarantine rules depend on vaccination status. If a classroom has a positive case, students who are vaccinated and are showing no symptoms will continue to go to school in person. (They're encouraged, but not required, to get tested three to five days after exposure.) 
Students who are vaccinated and showing symptoms will have to quarantine for 10 days, and all unvaccinated students will also have to quarantine for 10 days, though they can return after seven days if they receive a negative test on day five of quarantine. For these vaccinated and unvaccinated students, remote learning will largely consist of what officials on Wednesday called "asynchronous learning." Except in cases of a full classroom or full school closure, students in quarantine will get learning materials sent home with them and have an opportunity for office hours with their teachers, but will not receive live instruction.
Testing requirements will differ from last year
Although the city randomly tested 20% of each school's population on a weekly basis last year, this year, only 10% will be randomly tested, twice a month. And in another change from last year, students will not be required to consent to testing in order to attend in-person classes. In response to questions about allowing students, even unvaccinated ones, to opt out of testing, Chokshi said that testing could be increased if necessary but that the city expects the current policy will provide a representative sample of the prevalence of the virus.