Education
Get vaccinated or go home, NYC tells school employees
Several teachers have asked the U.S. Supreme Court to block the COVID-19 vaccine requirement, but Mayor Bill de Blasio says the mandate is working.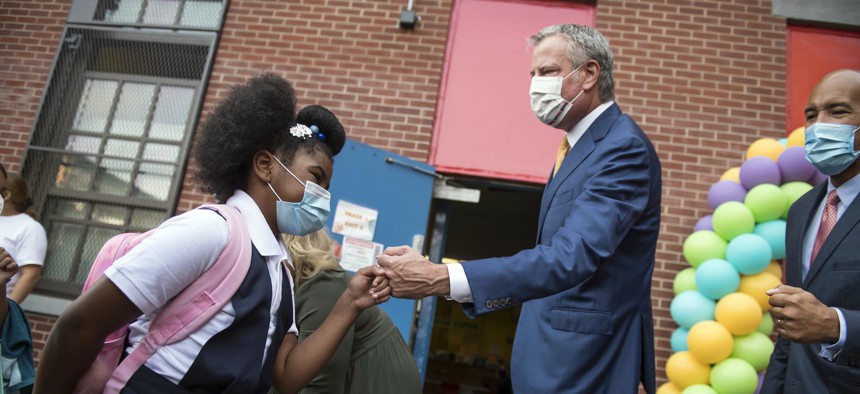 If at first you don't succeed, appeal to the U.S. Supreme Court.
The teachers and staff suing to block New York City's school COVID-19 vaccine mandate have officially reached that stage of their fight, as four filed a petition for an emergency injunction to block the city from putting unvaccinated staff on unpaid leave when the mandate goes into effect Friday evening. 
Opponents of the mandate won a temporary block last week, but that ruling was reversed on Monday by a federal appeals panel. In the meantime, the mandate has been having its desired effect, Mayor Bill de Blasio said on Friday. "The bottom line is this mandate has worked," de Blasio said during an interview on MSNBC. Ninety-eight percent of teachers, 93% of principals and 90% of all DOE employees have now received at least one dose of the vaccine, he said. As of Friday, 83% of all adults citywide had received at least one dose. 
A statewide vaccine mandate for hospital and nursing home workers has received similar pushback and legal challenges, but as with the city's vaccine requirement in schools, officials cite a marked increase in vaccinations as the mandates go into effect. Ninety-two percent of those health workers had received at least one vaccine dose as of this Monday, when the state mandate went into effect, compared to 82% of nursing home workers and 84% of hospital workers the week before. As lawsuits play out in court, people are still getting vaccinated. 
New York City is one of only a few locales that have told school employees that they must get the vaccine, without the option for an alternative of regular COVID-19 testing. Over 500 of the Department of Education's 148,000 employees have received a religious exemption so far, but other employees face the ultimatum to get vaccinated or go home with unpaid leave. Unions including the United Federation of Teachers have raised concerns about a shortage of employees once the unvaccinated start being sent home, but the city has said that it has enough substitute teachers on deck to stave off a disruption.
Several legal challenges to the city's mandate have failed so far. And for their part, the city isn't too concerned about this latest appeal to the Supreme Court. Earlier this year, Justice Amy Coney Barrett turned down a request to block a vaccine mandate for students at Indiana University. "Courts have spoken," DOE spokesperson Katie O'Hanlon said in a statement to the press. "The Health Department has the authority to implement a mandate that is firmly grounded in science and the expertise of public health officials from across the nation."