Policy
Is the New York Blood Center approval the end of City Council's member deference?
Lawmakers overruled the member who represents the district where the blood center is located, bucking a tradition that has stymied multiple other major projects.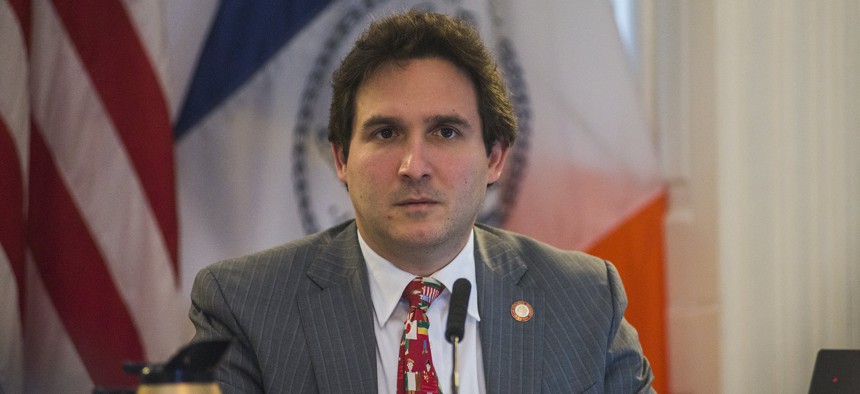 There's a little over a month left before a sea change at City Hall, with three dozen fresh faces set to join the New York City Council. But in the final days of Speaker Corey Johnson's tenure, during a debate over the New York Blood Center rezoning, council members and others in the public sphere are reckoning with the merits of member deference – the tradition in which veto power is essentially given to council members over land use proposals in their district. 
That unofficial policy was overruled on Tuesday, when the council approved a bid to upzone the New York Blood Center's building on the Upper East Side of Manhattan. It passed 43-5, with one of the only no votes coming from Council Member Ben Kallos, who represents the site. Observers of the Council say it was the first time since 2009 that a rezoning or development project has been approved against the wishes of the local member. 
The rezoning allows for a 233-foot tower (negotiated down from 334 feet) to be built at the current site of the blood center. Much of the opposition came from nearby residents who argued the project would be out of character with the mostly residential side street, and that the tower would cast shadows over a nearby park and school complex. Supporters of the project, including the Council's influential Black, Latino and Asian Caucus and Land Use Committee Chair Rafael Salamanca, said those concerns were but a small price to pay for the health care research that new laboratory space could foster. 
Kallos told City & State prior to the council's stated meeting that the council's handling of the blood center rezoning would set a dangerous precedent that major institutional players could buy the access they need to go around local members.
"The Blood Center project has been moving forward since Corey Johnson has been speaker," Kallos said. "I don't think they would have gone after this strategy of going after member deference without the blessing of the speaker."
Johnson disagreed, saying the decision to approve the rezoning against Kallos' wishes came out of a process that's done by consensus. "It wasn't just like one day I woke up and said, 'We're passing the Blood Center," he said. "It was a continuous conversation in the body to say this project has citywide importance because of what the blood center does for the health care system, for hospitals, for the future of life sciences in New York City."
Tempers flared during the vote. Several members explained their vote, with Council Member I. Daneek Miller calling Kallos' position "despicable" on the Council floor. 
A tenuous tradition 
Member deference with veto power really came into play under former Speaker Melissa Mark-Viverito, Johnson's predecessor, who gave members final say on land use proposals in their districts. Johnson had said he would take a more active role in land-use decisions than Mark-Viverito did. 
Former Council Speaker Christine Quinn told City & State member deference as it is currently understood wasn't in place when she first joined the council in 1999, and she didn't grant veto power to council members when it came to land use issues in their districts. She said the next person to lead the City Council shouldn't treat member deference the way it's been treated in recent years.
"The next speaker needs to make changes as it relates to this," Quinn said. "They need to find a way to, yes, include and respect the voice of the local member, but not give them a veto power."
Gifford Miller, who was City Council speaker from 2002 to 2005, shared similar sentiments on Twitter, saying "'Member deference' is a relatively new concept to NYCCouncil. There's a reason the Charter gives land use powers to the whole Council. Affected CMs should have a significant voice but no veto. Many "local" issues" affect the whole City. The Blood Center is a good example." 
Earlier this month, City & State asked the speaker candidates whether they'd honor member deference. Adrienne Adams, Keith Powers and Francisco Moya leaned toward bucking member deference, while Justin Brannan and Gale Brewer leaned toward upholding member deference. While Diana Ayala and Carlina Rivera didn't respond at the time, they both voted in favor of the blood center rezoning during a subcommittee vote.
While the blood center might have thrusted member deference into the spotlight, it's not the first time its merits have been debated. Back when he was vying for the council speaker role, Jumaane Williams said that member deference could stand in the way of developing affordable housing. However, Carlos Menchaca and Jimmy Van Bramer penned an op-ed in Gotham Gazette arguing that "member deference creates accountability at the ballot box, where it belongs." They went on to say that ending member deference would favor developers and the wealthy at the expense of working-class New Yorkers, especially those of color.
The op-ed had been released as the de Blasio administration's Industry City Rezoning in Sunset Park was nearing a City Council vote. Menchaca had opposed the rezoning, and while there had been speculation that member deference would not stand, Menchaca's opposition ultimately doomed the project.
Menchaca joined Kallos in opposing the blood center rezoning, saying "we built a very robust set of principles around how something like Industry City, that is so important to the neighborhood and the city, would fall under the thresholds. It didn't meet any of those thresholds, and it died. The thresholds that Ben is talking about I think are reasonable. He is in support, it just didn't get there. That has to mean something."
Now, with a new speaker set to take over next year, member deference might not look the way it has these past years. 
"When I was Speaker, local members were heavily consulted, but our professional staff played a huge role too," Miller said in another tweet. "If a matter was of citywide significance, the decision was made by the whole body. The case of Angel Rodriguez was a good example of why this was so important."
The case Miller alluded to was regarding former Brooklyn Council Member Angel Rodriguez, who along with a friend, was charged in 2002 with extortion, after he changed his vote to favor a rezoning in the Red Hook neighborhood in exchange for the developer selling them three Marble Hill properties worth $2.5 million at $1 million.