Housing
New York requests nearly $1 billion in additional Emergency Rental Assistance funds
The request comes as the state has spent nearly all of the $2.4 billion in funds that it initially received.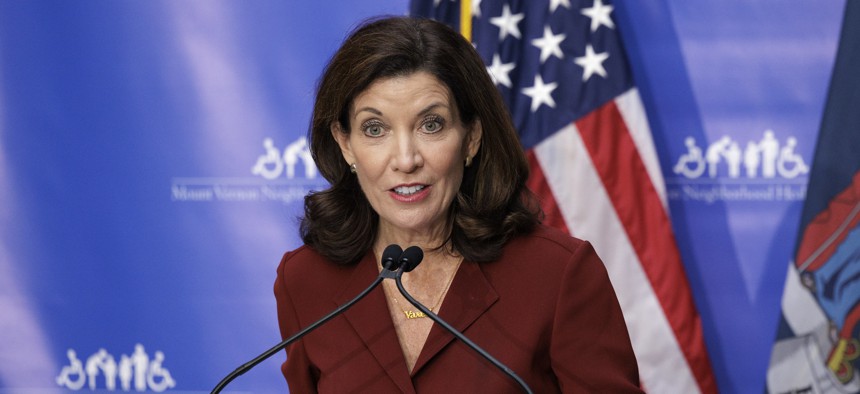 New York has requested an additional $996 million from the federal Emergency Rental Assistance Program, Gov. Kathy Hochul's office announced on Friday.
"From the start of my administration, I pledged to get federal rental relief money to New Yorkers still recovering from the pandemic. While New York accelerated getting rent relief out the door and moved from the back of the pack to the front amongst other states, there are still many individuals in need of assistance," Hochul said in a statement. 
The announcement comes as New York has nearly expended its $2.4 billion in Emergency Rental Assistance Program funds since it first began making payments in mid-July. The state's Office of Temporary and Disability Assistance, which is administering the program, has distributed about $2 billion to approximately 165,000 applicants, almost half of whom are landlords, Hochul's office said. The state has received more than 280,000 applications in total, according to the Governor's office.
Hochul sent a letter requesting additional funding to U.S. Treasury Secretary Janet Yellen in September. On Friday, 17 members of Congress representing New York, led by U.S. Rep Kathleen Rice, urged Yellen to meet Hochul's request. 
"The State currently has thousands of applications pending for ERAP assistance and continues to receive applications at a rate of over 10,000 per week. These applications represent an estimated $130 million in weekly new requests for assistance," the members, including Reps. Jamaal Bowman and Nydia Velázquez, along with Senators Chuck Schumer and Kirsten Gillibrand, wrote. 
Despite having more renters than any state in the country, New York was behind dozens of others in getting the program off the ground and nearly missed the deadline for distributing the money before it would be forced to return it to the Treasury Department. Renters and landlords also said that the state's online application system was constantly malfunctioning, the Associated Press reported.
New York made the additional funding request after the U.S. Department of Treasury began accepting applications on Oct. 26 from states that need additional relief, Hochul's office said.
Powered By
NEXT STORY: What's the deal with the New York Blood Center?