Health Care
NYC launches COVID-19 vaccine drives for kids, ages 5 to 11
Mayor-elect Eric Adams is already talking about getting rid of the city's public school mask mandate but epidemiologists feel it's too soon to do away with masks.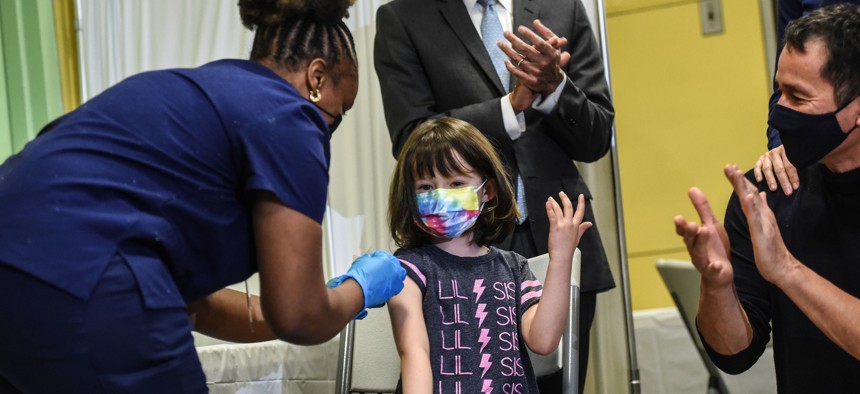 New York City launched a massive endeavor to vaccinate children between the ages of 5 and 11 against COVID-19 with in-school vaccination drives on Nov. 4 – and already there's talk of the city's public school mask mandate coming to an end. 
During an interview on CNN's "State of the Union" last week, Mayor-elect Eric Adams revealed that under his administration he hopes to remove the mask mandate, provided that its removal would not pose a health threat. 
"I think part of the development in the socialization of a child is their smile," Adams said. "I think it's imperative if we can find a safe way to do it, I look forward to getting rid of the masks. But it must be done with the science."
Adams' comment was made just days after the Centers for Disease Control and Prevention approved the COVID-19 vaccine for children between the ages of 5 and 11. 
In an effort to increase vaccination rates and reduce the transmission of the virus, Mayor Bill de Blasio and the city Department of Education rolled out vaccination drives at public schools. As vaccination rates among children are expected to increase, the future of the city's public school mask mandate continues to be debated.
Dr. Stephen Morse, a professor of epidemiology at the Columbia University Medical Center, told City & State that in order for schools to even consider going mask-free, the surrounding area of any given school would have to be backed up by a good COVID-19 testing program. This combined with extremely low levels of the virus circulating in the area and the majority of the population not being susceptible to infection would be the minimum before going mask-free could be considered, according to Morse.
"The delta variant was a surprise and delta's increased transmissibility made us move our goalposts," Morse said. "We still need good testing to know how well our control measures are working."
During the beginning of the pandemic, much of the public hoped that the introduction of the vaccine and the push to vaccinate the population would allow people to ditch their masks but unfortunately that wasn't the case. 
"The history of premature responses and complacency make me think we need to be cautious for at least several months longer, especially with holidays coming up and all the opportunities for the virus to spread," Morse said. 
Dr. Joshua Schaffzin, director of infection prevention and control at Cincinnati Children's Hospital Medical Center, echoed the importance of wearing masks as the holiday season approaches in an interview with USA Today, especially as travel is expected to increase, along with the anticipated spread of seasonal respiratory viruses. 
"We know that masks work," Schaffzin said. "What we've learned from the beginning of the pandemic is that masks are effective, and it's good for us to get used to wearing them in many situations."  
Morse also emphasized that the newly approved vaccine for children has the ability to make schools much safer for students and staff. 
"If all the children and school staff, except for those who can't because of specific medical problems, are vaccinated, that will make an enormous difference," Morse said. "We'll still need testing to be sure but schools could be among the first places where we could feel fairly safe taking off the masks if we can have high vaccine coverage and testing."
While more testing and vaccination could possibly lead the city's schools to become mask-free, experts believe we're not there yet, therefore masks should continue to be used.
"We're not there yet, so I think we'll still need those masks for the near future. The history of premature responses and complacency make me think we need to be cautious for at least several months longer," Morse said. "We know what it would take to be able to get rid of masks in school, but, for the next few months at least, I don't think we'll get there with confidence."
In a statement sent to NPR, a spokesperson from the CDC shared that the "CDC continues to recommend universal indoor masking for all teachers, staff, students, and visitors to K-12 schools, regardless of vaccination status or community transmission levels. At this time, there are no changes, however, as the science changes, we will update our guidance as needed."
At a press briefing on Nov. 8, Mayor Bill de Blasio and city Health Commissioner Dr. Dave Chokshi stated the city can't abandon masks in schools just yet, as there is still much to learn about the virus, especially as winter approaches.
"I'd love to free our kids and educators and staff from it. But right now, it's too soon for that action in my view," de Blasio said. "So, the day will come, and I think it will come relatively soon, but we're not there yet."
"That is not today. Masks have been an important component of our layered approach to prevention, along with vaccination, improving ventilation, distancing where possible, and other measures," said Chokshi. "Those protocols are why our schools are as safe as they are."
So far 26,300 vaccine doses have been administered to children between the ages of 5 and 11 at in-school vaccine drives, with 72,000 doses having been administered to children between the ages of 5 and 11 overall, across the city, according to data provided during a city press conference on Tuesday.