Health Care
Hundreds of NYC correction workers have not been vaccinated
The deadline for all Department of Correction staffers to receive a COVID-19 shot was Tuesday at 5 p.m.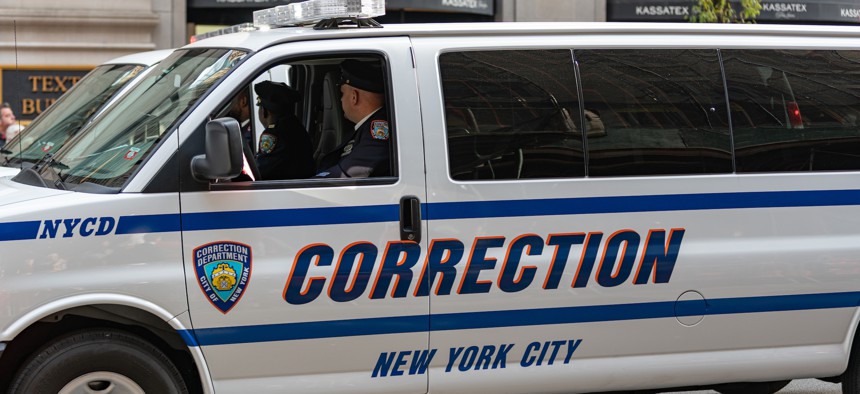 Nearly a quarter of New York City's uniformed Department of Correction workers have not met the Dec. 1 deadline to be vaccinated for COVID-19, which means that hundreds of staffers are set to be sidelined from their jobs amid a staffing shortage at Rikers Island.
Mayor Bill de Blasio announced the vaccination mandate for all correction workers on Oct. 20, when just 51% of workers had been vaccinated, the lowest rate of any city agency. He also promised a $500 incentive for any holdouts. By Nov. 15, the DOC vaccination rate reached 63% and has since ticked up to 77%, officials said.
Of the 7,814 uniformed correction workers, 6,016 had received a COVID-19 shot by the Dec. 1 deadline, Department of Correction Commissioner Vincent Schiraldi said at a Wednesday press briefing with de Blasio. Another 708 were granted accommodations, which can be religious or medical-related, to sit out the shots. The remaining staff accounts for workers out on medical and family leaves, according to Schiraldi.
"The numbers are changing literally as we speak, and that's a good thing because it means more people will get vaccinated," de Blasio said.
Workers who did not show proof of vaccination by Tuesday at 5 p.m. and do not have an accommodation are expected to be suspended without pay.
The imminent suspensions come as conditions at the city's island jail complex have devolved into chaos, in part, due to a staffing shortage that was brought on by an influx of resignations the correction officers union blamed on decrepit working conditions. Leave-related absences have exacerbated the workforce gap. 
In late summer, photos and videos began to emerge from the facility showing inmates throwing parties, engaging in violent brawls and sleeping crammed side-by-side in single cells. Already this year, at least 14 inmates have died in city jails. 
Council Member Mark Levine, who chairs the health committee, toured Rikers on Monday, along with several other local lawmakers, and described an ongoing "humanitarian crisis."
"On our visit today we spoke to men incarcerated there who told us they do not have consistent meal service, educational programming, social services, religious services, even access to lawyers and medical appointments," he tweeted, adding that the vaccination rate among inmates stands at about 40%. He also estimated that just half of workers were wearing masks. 
In an effort to close the manpower gap, de Blasio authorized the agency on Monday to assign workers to 12-hour shifts, opposed to eight. 
The correction workers union blasted the measure as "nothing short of torture" and vowed to "do everything (they) can to fight" it.
"Just as he prepares to leave office while also leaving our jails in the worst conditions ever, Mayor de Blasio has issued one more reckless and misguided order that will only drive our jails into a deeper crisis and will wreak complete havoc on both our officers and the inmates in our custody," Correction Officers Benevolent Association President Benny Boscio Jr. said in a statement.