Health Care
Will Hochul reinstate COVID-19 restrictions?
Gov. Kathy Hochul said she would put COVID-19 restrictions back into place if the state's cases keep increasing but there's been little talk about when that would happen.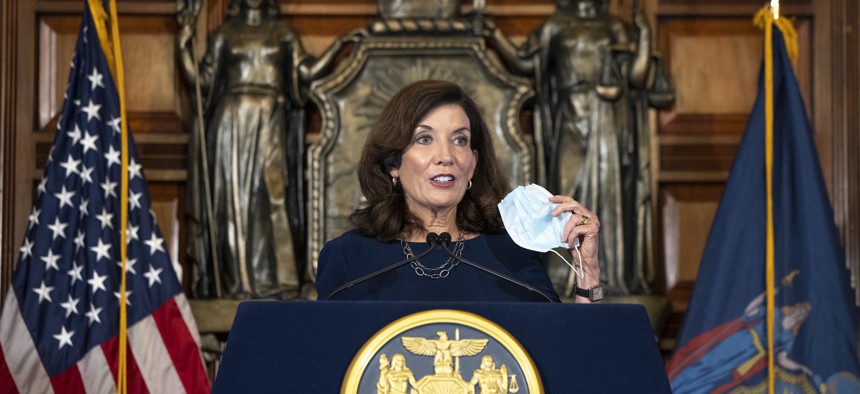 Over the past few weeks, New York has seen a steady rise in positive COVID-19 cases and it's possible that regulations and restrictions to prevent the spread of the virus may make a comeback. 
Last week, Gov. Kathy Hochul warned New Yorkers that the state may need to enact COVID-19 restrictions, particularly in upstate counties, if the state doesn't see a drop in positive cases soon.
"If the numbers don't start on a downward trend, we're going to have to talk about tighter protocols," Hochul said. "So this is the warning and I hope the community will listen because it doesn't have to be this way."
During a Monday press conference, Hochul once again commented on how the state has been navigating the ongoing pandemic. 
"We have a multifaceted approach, but again, warning everyone, we're going to continue to see spikes go up. I want to make sure that we know that if you've been vaccinated and you catch COVID, the infection, your symptoms are dramatically less than they would have been," said Hochul. " It's far better to deal with that than to be among the thousands of people who are hospitalized because they chose not to get the vaccine."
While Hochul hasn't commented on what COVID-19  restrictions would look like and when the state would roll them out, she has urged New Yorkers to get vaccinated as she anticipates there will be spikes in positive cases around the holiday season. 
On Tuesday, the mask mandate resurfaced in Erie County. Now, people, two-years-old and up, must wear masks indoors at public locations within the county, as well as in bars, restaurants, grocery stores, fitness centers, hotels, banks and hair salons. The decision to reinstate this mandate came soon after the county reported that there had been 456 new COVID-19 cases per 100,000 residents over the past week, surpassing the federal government's threshold for high transmission. 
Upstate counties, such as Erie, Alleghany, Lewis and Wyoming, are also seeing an uptick in COVID-19 hospitalizations. Regions of New York with higher vaccination rates have lower hospitalization rates, whereas regions with lower vaccination rates have higher hospitalization rates, according to the Empire Center.
On Nov. 23, the New York State Department of Health reported 5,336 new positive cases statewide. As of Nov. 24, 561 deaths caused by COVID-19 have occurred across the state since the start of the month, according to the Centers for Disease Control and Prevention. And as of Nov. 23, New York's daily death average is 32, according to The New York Times. 
Eileen Sullivan-Marx, the dean of New York University's Rory Meyers College of Nursing, told City & State that viruses will continue to mutate to survive, as more people become vaccinated. 
"As we move indoors, as we gather, as we loosen up, as the numbers of people who are not vaccinated shrink, we will still see these increased bumps," Sullivan-Marx said. "The virus is going to try and mutate as it did with Delta to survive."
Dr. Stephen Morse, a professor of epidemiology at the Columbia University Medical Center, spoke to City & State about the recent spikes in COVID-19 cases across the state, emphasizing that they are not comparable to the surge that the public saw during last year's holiday season. 
"It's essential not to get complacent as we start to see cases go down. Holidays, when many people are traveling and getting together, are always notorious for surges in respiratory viral infections, including this one," Morse said.  
The state also now has more resources than it did last year, such as multiple COVID-19 vaccines, which allow most people the opportunity to gather together during the holidays with a sense of security. 
Sullivan-Marx emphasized the critical role that vaccine mandates have played across the state. 
"Mandates have helped with that a great deal and they always do whether you're talking about smallpox or polio, or other types of screening, and vaccines for other diseases. You always get to a certain point with humans, that mandates will have to take you to the next step and they have," Sullivan-Marx said. 
While vaccinations have been the first line of defense against the virus, medical experts are still encouraging people to take precautions regardless of whether you're indoors or outdoors. 
"Vaccination is important but not the only line of defense we have. The precautions we're all now so familiar with may seem boring and annoying, and we're all getting fatigued, but those precautions remain essential because there's still a lot of virus around," said Morse.