Health Care
Omicron breakthrough cases becoming more prevalent
Gov. Kathy Hochul is emphasizing booster shots as new science highlights how the coronavirus variant evades vaccines.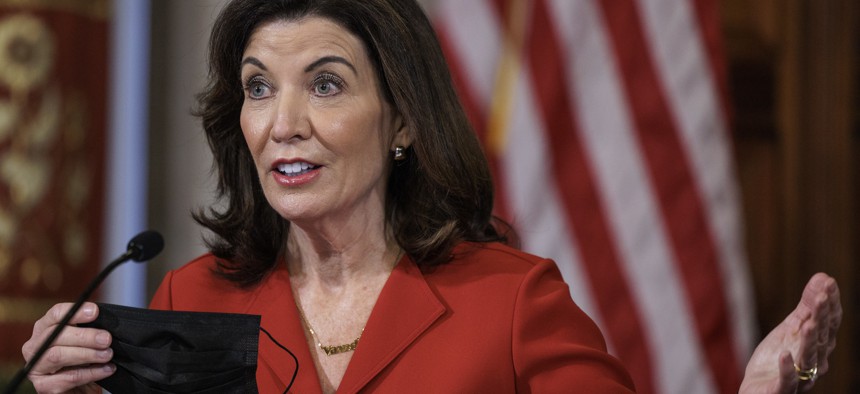 Science has shown that vaccines are great at preventing deaths and hospitalizations from COVID-19. A new variant of the coronavirus, however, has highlighted that the vaccines are hardly perfect. Vaccinated people make up a small fraction of serious COVID-19 cases, and data shows how the variant can spread among them whether they show symptoms or not. A new normal of breakthrough infections is upon us. "The winter surge is getting worse and it is going to get even stronger," Gov. Kathy Hochul told reporters at a Thursday press conference in Albany.
Experts said the omicron variant makes testing now important for vaccinated people, especially those participating in large social gatherings, but state officials did not emphasize that as they confront growing caseloads. Vaccines remain the focus of the Hochul administration while testing – especially among the vaccinated – has become a lower priority for state officials than earlier in the pandemic. "Our main message to people who have been vaccinated now is to get boosted," Dr. Mary Bassett, the new state health commissioner, said Thursday at the press conference when asked by City & State whether omicron meant the state should place a greater emphasis on testing among the vaccinated. "We do know that people who are vaccinated can become infected. People who have survived COVID and been previously infected can also be reinfected. So stay tuned."
Ongoing supply shortages present a key impediment to expanding testing for everybody statewide, Bassett told City & State in an interview. She added that such problems have hampered places like the United Kingdom when officials have wanted to increase testing, which in turn undermined their public health responses in the end. "Procurement isn't straightforward," she said. "We have to know that we can do what we say." The logistical issues around increased testing could be an impediment to the state successfully combating the omicron variant.
State data showed there have been more than 226,000 breakthrough cases from all variants. That number will likely increase dramatically as omicron continues to spread and becomes more dominant compared to other variants like delta. Testing makes particular sense before visiting vulnerable people like the elderly for the holidays, according to Bassett. "Personally, I have a mother who's 93 years old and before I go to see her, I get tested," she told reporters. "All of us have to start planning around the most vulnerable people in our networks, especially as the holidays come." New York City – where the COVID-19 test positivity rate has doubled in recent days – appears to be taking such advice to heart, with Mayor Bill de Blasio announcing plans Thursday to increase testing sites, extend testing hours and distribute 500,000 rapid test kits to the homes of people across the five boroughs.
The Hochul administration is requiring businesses statewide to either check vaccination status or require all patrons to wear masks – though some localities are refusing to enforce it. Hochul – who recently called the pandemic "a crisis of the unvaccinated," which was largely true for previous variants – has said that the state is setting up a portal for New Yorkers to request any of the 1 million at-home tests the state has ordered, but she said these efforts were focused on unvaccinated people.
People who refuse to get the shots are demonstrably at a much greater risk of serious illness or death from COVID-19. State data shows that vaccinated people have about a 90% lower chance of being hospitalized from COVID-19. So it makes epidemiological sense that Hochul would emphasize the more shots, the better.
Early data shows that omicron means vaccinated people have to worry about COVID-19 as well. Booster shots appear to make a big difference, but that does not mean vaccinated people do not have to worry about getting tested.  "All individuals whether vaccinated or unvaccinated should get tested if they have been in social gatherings with large numbers of individuals," Dr. Wafaa El-Sadr, an epidemiologist and professor at Columbia University, said in an email. "Testing is recommended for all who were in contact with a case of COVID-19." Yet, based on what Hochul and Bassett said Thursday, state officials are worried about other aspects of the pandemic at the moment, not on getting more vaccinated people tested despite the new dangers of omicron.