Health Care
Supreme Court denies challenge to New York vaccine mandate for health care workers
Lawyers for the plaintiffs have vowed to continue fighting the ruling.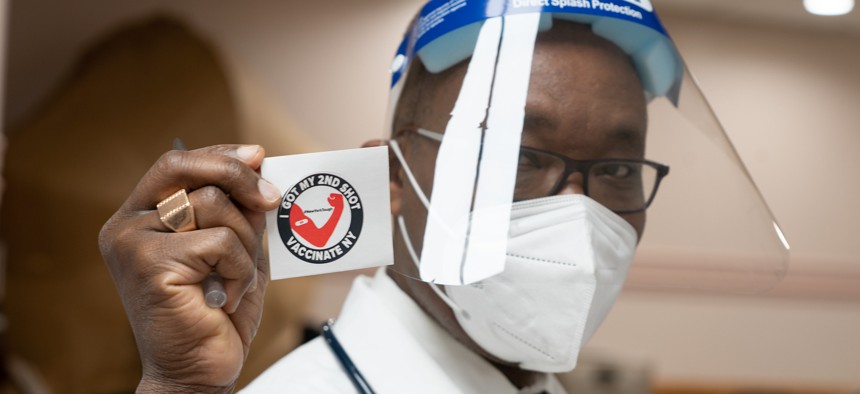 The U.S. Supreme Court upheld New York's vaccine mandate for health care workers on Monday, which means that those who were seeking a religious exemption to the COVID-19 vaccination will either have to comply or walk away from their jobs altogether. 
The court essentially ruled that New York's mandate does not include a religious exemption and only offers an exception for those who had severe reactions to an initial dose of the COVID-19 vaccine.
Justices Neil M. Gorsuch, Clarence Thomas and Samuel A. Alito Jr. were the only three of the Court's six conservative judges to dissent the rulings, which come after a similar decision in Maine.
"Six weeks ago, this Court refused relief in a case involving Maine's healthcare workers. Today, the Court repeats the mistake by turning away New York's doctors and nurses," Gorsuch wrote. "We do all this even though the state's executive decree clearly interferes with the free exercise of religion – and does so seemingly based on nothing more than fear and anger at those who harbor unpopular religious beliefs."
The rulings applied to two cases in New York, one filed by a group of 17 health care workers, most of whom are Catholic, and another brought by Christian nurses Diane Bono, Michelle Melendez and Michelle Synakowski, along with the Connecticut-based group We the Patriots USA, which advocates for "medical freedom."
Lawyer Norm Pattis, who represents the plaintiffs in the latter case, has vowed to continue the fight, and said they will "file additional requests for relief with the Supreme Court in the coming weeks."
"Diane Bono, Michelle Melendez, Michelle Synakowski, and the New York healthcare workers represented by We The Patriots USA have consistently stated that their faith comes before anything else. They will not bow to mass hysteria. They trust God, not doctors or governors masquerading as false prophetesses," his New Haven-based firm, Pattis & Smith LLC, said in a statement. 
Gov. Kathy Hochul, who was named as a defendant along with former Health Commissioner Dr. Howard Zucker, applauded the decision. 
"Our greatest responsibility is to protect our most vulnerable. Ensuring that the health care workers who care for our loved ones are vaccinated is critical to keeping New Yorkers safe," she tweeted. 
The state estimates that about 4,000 health care employees have quit or were placed on leave since Nov. 22, the deadline to be vaccinated, according to The New York Times, though it's unclear how many of them were seeking religious exemptions.