Criminal Justice
New council members denounce conditions at Rikers
After a visit to the deteriorating jails complex, new progressive council members decried the "dehumanization" at Rikers.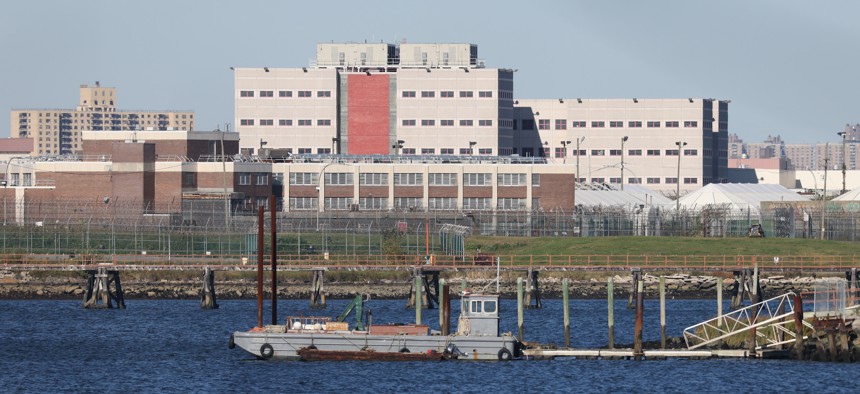 Four new members of the New York City Council – Alexa Avilés, Tiffany Cabán, Shahana Hanif and Sandy Nurse – held a press conference on Friday decrying the abysmal conditions at Rikers Island, following a visit to the jails complex the day before. 
In addition to speaking about the general conditions at the jails, some advocates for inmates and Cabán drew particular attention to an issue that has become an early debate between the new City Council and new mayor Eric Adams – the use of solitary confinement for detainees who use violence. Cabán said on Friday that she spoke with someone in punitive segregation during their visit who had been given 30 days "in the box," and when she asked why he was there, he said that he had thrown water at a correction officer. 
Melania Brown, the sister of Layleen Polanco – a transgender women who died while in solitary confinement at Rikers in 2019 – was also at the virtual press conference. "Solitary confinement is a practice that was put in place to mentally, physically, emotionally break us down as human beings," Brown said. "My sister was left there to die alone."
The press conference was just the latest occasion to draw attention to the roundly and frequently criticized conditions on Rikers Island. The complex has been thrown into chaos by violence from both correction officers and inmates, a staffing emergency, deteriorating physical conditions and overcrowding, and widespread mismanagement. In 2021 alone, 16 people died while detained at or shortly after being released from Rikers. Several died by suicide. 
"This is the first time I've walked to actually see where so many family members and friends throughout my life have been held," Avilés, a council member from Sunset Park, said. "Nothing could prepare you to see the actual conditions that they're in on a daily basis." 
A December 2021 report from a federal monitor notes that conditions at Rikers have actually "substantially worsened" since a 2015 judgment required a series of reforms aimed at reducing the unnecessary and excessive use of force against detainees. The most recent report confirms that those reforms have not been achieved. "In this Department, the use of force is almost a foregone conclusion to address any issue and therefore occurs too frequently, and without the necessary attempts to resolve the situation without resorting to physical force," the December report reads. 
The four council members who made the trip to Rikers this week followed a string of similar visits by elected officials over the last year to bear witness to the conditions there. State Sen. Jessica Ramos and Assembly Member Jessica González-Rojas said they witnessed someone attempt suicide on a September visit last year. "It's all because the incarcerated men and women who are on that island are being treated unfairly, and the correction officers are working under very deplorable conditions themselves," Ramos said at the time.
Nurse, who represents Brooklyn neighborhoods including Bushwick and East New York, said that during their visit this week to the new intake facility, she saw three transgender individuals who were in a holding cell. Nurse was told that they were being held there because of a "fighting situation," but one of the detainees told her different. "When I did speak to one of the individuals, the reason they said they were in there was they were sexually and physically assaulted because they had been mixed in with the men's general population," Nurse said.
Hanif, also from Brooklyn, appeared shaken while speaking about the conditions she witnessed. "I'm still decompressing yesterday's visit," she said. "It's important to remember that most people on Rikers are still awaiting trial. They haven't been convicted of anything."
The crisis on Rikers will be an early challenge for Adams and for Louis Molina, who the mayor appointed as the new jails commissioner. On Friday, Nurse thanked Molina for accommodating with their "unannounced" visit to Rikers.
One point of debate is how to handle detainees who use violence, and Adams has already taken a position in favor of putting those detainees into "punitive segregation," a term that is currently used by the city to refer to solitary confinement. Last year, the city Board of Correction banned the use of solitary confinement – the practice of isolating an inmate in a cell for 23 hours a day – and replaced it with a new model that would require a minimum of 10 hours outside of the cell. (Advocates for inmates still called this model insufficient.)
Following a move to pause the transition away from solitary confinement because of the violence at Rikers last November, de Blasio eventually began moving people out of solitary confinement in December. Just a few weeks prior to his swearing in, though, Adams suggested that he would return to putting people who are violent into isolation. Though Adams has said that solitary confinement in small jail cells is wrong, he has also said that he supports punitive segregation. "Punitive segregation" is currently used synonymously with solitary confinement, however, and it's unclear how punitive segregation would look different under Adams. A spokesperson for the administration did not immediately respond to a request for comment.
Those statements by Adams prompted a majority of the new City Council to sign on to a letter asking Adams to reverse his "pro-solitary confinement position" at the end of last year. Adams didn't take kindly to the letter, on which Cabán, Hanif, Avilés and Nurse were among the 29 signatories. "For people to continue to say 'Eric supports solitary confinement' – that is just a lie," Adams said in response to the council members' letter. "I support punitive segregation."
Legislation in the City Council known as HALT would ban the use of solitary confinement in city jails, but despite having over 30 co-sponsors in the previous council session, it was not brought to a vote. Asked about their priorities for changing the conditions at Rikers, Cabán quickly jumped in to say, "Pass HALT."