This Week's Headline
Hochul sitting pretty in polling and Rikers inmates transferred
Rounding up the week's political news.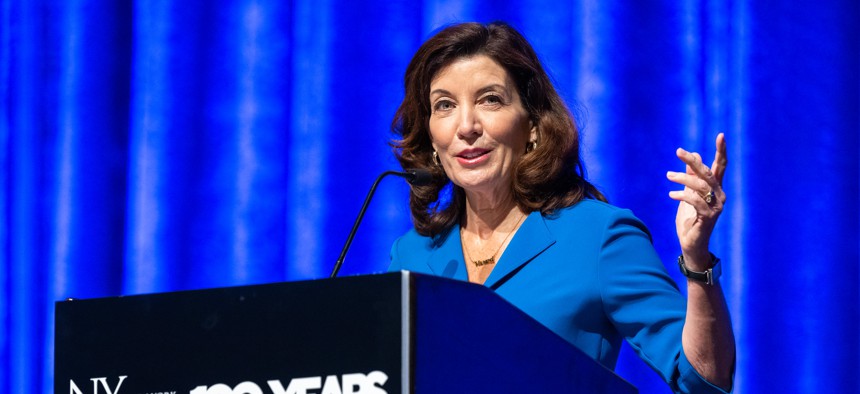 In her ongoing bid to distance herself from her disgraced predecessor, Gov. Kathy Hochul met with families of nursing home patients who died of COVID-19 and apologized to them for the pain caused by former Gov. Andrew Cuomo's policies and his attempts to conceal the true death toll. Why did she do this? Because she "give(s) a damn" Hochul said bluntly – and she's trying her damndest to make sure people notice. Seems like some are taking notice as recent polling suggests. Keep reading for that and the rest of this week's news.
Hochul sitting pretty in new polling
Marist College has released the first poll for the upcoming gubernatorial primary next year, and although it's incredibly early with a field still in flux, Hochul seems to be positioning herself well to win a full term. In a three-way matchup with state Attorney General Letitia James and New York City Public Advocate Jumaane Williams – neither of whom have officially declared yet – Hochul holds a double-digit lead. James trails her in second with Williams in third, although a fairly significant percentage of voters polled were still undecided. Hochul still led in a four-way matchup that included former Gov. Andrew Cuomo, once again ahead of second-place James by double digits. The new governor also enjoys good approval ratings, with 49% of New Yorkers approving of the job she's doing after two months in office – although 20% are still unsure. So while Hochul positions herself for reelection, much can and will still change over the next several months as the honeymoon period comes to an end, challengers declare and more voters formulate opinions on a governor still relatively unknown. Notably absent from the poll, however, was New York City Mayor Bill de Blasio, who has also been exploring a run for governor. According to one of the pollsters, he was too much of a "fringe" candidate to include. 
Gifted and Talented is going – or is it?
De Blasio announced that he would phase out Gifted and Talented programs in schools, the latest step from his administration to address racial and economic disparities in the New York City school system. As the program stands, children are tested in kindergarten to determine whether they would be part of the highly selective program, which has been criticized for exacerbating segregation. De Blasio said that the test will be eliminated permanently, and that the current Gifted and Talented students will be the last, instead replaced with the possibility of accelerated learning when kids are a little older in elementary school. But the lame duck mayor will soon be replaced, almost certainly by Eric Adams, who said he doesn't support eliminating Gifted and Talented entrance exams. He also said he believes that the city should expand Gifted and Talented programs to serve more students.
Rikers inmates moved 
As part of the effort to address the staffing crisis at the Rikers Island jail complex, Hochul and de Blasio jointly announced that the city would transfer 200 women – including trans women – trans men and nonbinary people incarcerated at Rikers to two prisons to the north to help reduce the population at the troubled complex in New York City. The hope is that those who may have not had access to services due to staffing shortages would receive them at the state prisons. While some lawmakers applauded the move, several public defender groups and criminal justice reform advocates criticized the decision as it would remove in particular trans women from the gender-affirming policies at Rikers without doing anything to actually address the staff issues there.