Criminal Justice
How the population at Rikers Island can be reduced now
Here are the avenues Gov. Kathy Hochul and New York City Mayor Bill de Blasio can immediately pursue to release more inmates, according to lawmakers and advocates.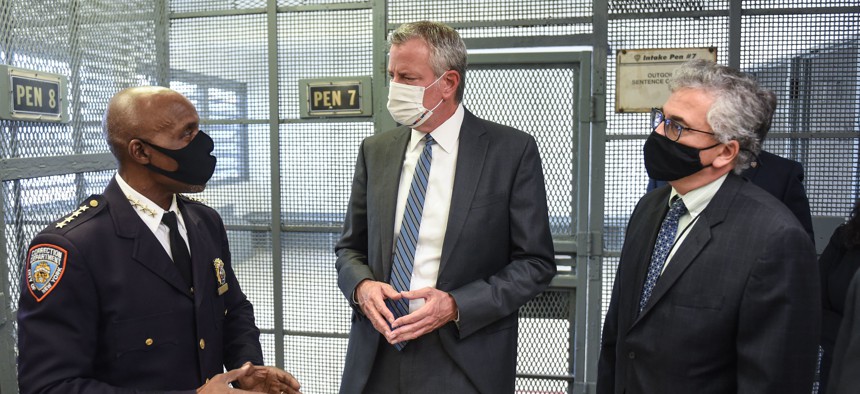 At an Assembly hearing Friday on the conditions at Rikers Island, criminal justice reform advocates gave passionate testimony about what lawmakers could do to reduce jail populations and alleviate the crisis occurring at the troubled jail complex. Legislative fixes include bills like the Treatment Not Jails Act that would move inmates in need of mental health care into treatment facilities.
But such fixes can't come before the Legislature meets again, and that's not scheduled to happen until January. In the meantime, avenues exist for executives like New York City Mayor Bill de Blasio and Gov. Kathy Hochul to reduce the population at Rikers immediately, despite having not taken them yet.
On Hochul's part, she has taken steps to get rates of incarceration at Rikers down, starting with the signing of the Less is More Act, which will prevent most people on parole from getting jailed again on a technical violation when it takes effect next year. But when she signed that act, she announced the release of nearly 200 people immediately who met the conditions of the new law. Hochul also has facilitated the transfer of another 200 to state prisons that have room for inmates.
But both lawmakers and advocates say that she could do more right now without any new legislation. At the Assembly hearing, Zachary Katznelson, executive director of the Independent Commission on New York City Criminal Justice and Incarceration Reform, testified that more incarcerated people are eligible for release right now under a provision of Less is More that he believed took effect on Sept. 1. Unlike the other parts of the law that don't take effect until March 2022, he claimed the section setting incarceration limits for technical parole violations was tied with the effective date of a different law signed earlier this year relating to parolees' right to vote. "Anybody who's in Rikers right now that has been held longer than the possible sentence they could receive under Less is More should be released immediately," Katznelson said. He estimated that number to be about 160 inmates.
This seemed to come as news to Assembly Corrections Committee Chair David Weprin, who asked whether Katznelson believed Hochul has the discretion to release those incarcerated people now in light of the bill's overall effective date. "It's not a question of discretion, actually at this point," Katznelson responded. "It's a question of law." Weprin said he would be happy to work with Katznelson on a letter to the governor "immediately" on this point. 
But such a letter has already been sent by state Senate Deputy Majority Leader Michael Gianaris, signed by 44 of his legislative colleagues in both the Senate and the Assembly. Weprin was not among the signatories, although several of his committee members signed. Gianaris made the same argument about the Less is More provision already in effect, citing about 164 people who should be released under the law now, including 21 jailed since the bill's signing. However, the section on the effective dates of the law was messy and convoluted, and an alternative reading would not apply the immediate effective date to the punishment caps, but to a renumbered section of law amended under the bill that gives parolees the right to vote. Regardless, criminal justice reform advocates believe Hochul has the discretion to release those inmates as she did with others who would be eligible under Less is More. 
The letter also includes another avenue Katznelson mentioned available to Hochul, namely directing the state Corrections Commissioner to lift parole warrants for those arrested for new crimes while on parole. Katznelson said that most of those people are arrested on non-bail eligible crimes who would not be behind bars if not for their parole. "The only way that can happen right now until Less is More fully comes into effect is for parole to lift warrants and give judges discretion that they should have to release people today," Katznelson said. In his letter, Gianaris estimated that about 672 people in the New York City jails system would benefit from this. 
At a Thursday press conference, Hochul said that she had received the letter and looks forward to responding, but did not speak about any specifics included in the letter or commit to any additional actions. "I'm the elected official who's done the most to assist the situation in Rikers because it is a tinderbox," Hochul said. She said that she already has released all those incarcerated who would be eligible under the Less is More Act had it taken effect immediately. "With respect to the content of the letter from the members of the Legislature: if they want to change the effect date beyond what they passed this past spring, they want to come back to Albany, let's have that conversation," Hochul said.
Still, New York City, not the state, ultimately controls Rikers Island, and de Blasio has taken less action than Hochul in recent weeks to address the crisis at the complex. Advocates for the incarcerated and others have called on him to release those incarcerated for less than a year into a work-release program known as 6A. He utilized the program to drastically reduce the population at Rikers at the height of the pandemic last summer, but has mostly declined to do so again. After saying "that's not our focus right now" to demands that he release 250 eligible detainees, he agreed to release a smaller number that he described as "in the dozens, it's not the hundreds." First Deputy Mayor Dean Fuleihan said at the hearing that about 400 people incarcerated at Rikers have been released since lawmakers first sounded the alarm bells following a Sept. 13 visit He also mentioned Less is More allowed officials to release 165 detainees, although he didn't elaborate whether that number is separate from the releases announced by Hochul.