Health Care
New York lawmakers look to expand access to health care for undocumented immigrants
"Coverage for All" passed the Assembly Health Committee this week as New York revisits access to care in the pandemic's third year.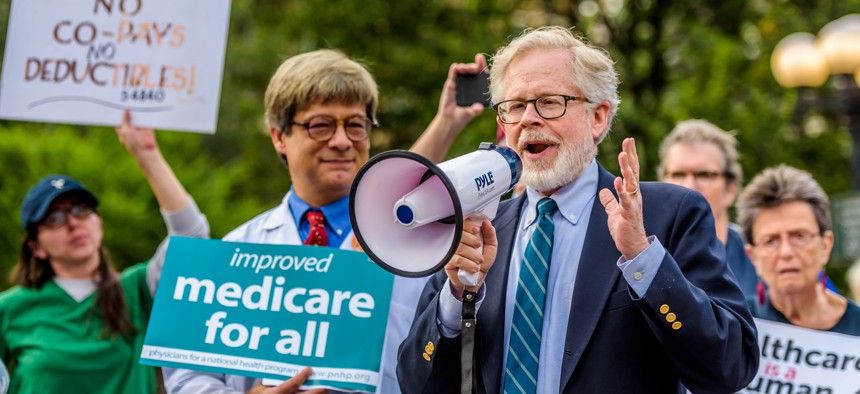 As the pandemic enters its third year and 1 million New Yorkers remain uninsured, lawmakers are renewing a push to expand health care access. The group they're targeting is the same that won unemployment aid for the first time during the pandemic: undocumented immigrants. A bill referred to as Coverage for All would allow the 400,000 New Yorkers without documentation to get insurance through the state's low-income public option, the Essential Plan. State legislators and advocates feel confident after the bill made it through a key Assembly committee, but its future is far from guaranteed. 
Members of the Assembly Health Committee voted to advance the bill, sponsored by committee chair Richard Gottfried, on Tuesday by a margin of 15-10. Although only the first step in the process – it will likely have to pass through at least two more committees before it can come to a vote in the Assembly – advocates for immigrants celebrated the small victory early in the session. Murad Awawdeh, executive director of the New York Immigration Coalition, said he feels confident that the ongoing COVID-19 pandemic offers the best opportunity yet to make the legislation a reality. 
"Right now we're looking at our community continuing to get sicker," Awawdeh said. "If you look at the numbers, you're going to see that immigrants who lack health insurance died at a much higher rate than other marginalized and vulnerable communities." He pointed to the success of the $2.1 billion Excluded Workers Fund created last year to provide aid to unemployed immigrants as evidence that something like Coverage for All could pass the Legislature this year. The fund was the first of its kind in the nation, and cost more than the estimated $500 million that lawmakers say expanding health insurance would cost.
Some progressive lawmakers and activists see Coverage for All as a necessary step in the bigger fight for the New York Health Act, which would create universal health care in the state. Over 200 groups sent a letter to state leaders calling for the passage of both in order to improve health care outcomes. "The important thing is that there are immigrants today that do not have coverage that can get covered pretty immediately," said Assembly Member Jessica González-Rojas, who has advocated for Coverage for All since taking office last year. "Even if we pass New York Health tomorrow, it's still going to take quite a number of years to get this whole system up and running."
Right now, undocumented immigrants can't access federal programs like Medicaid due to their status unless they are pregnant or in an emergency situation. Nor can they qualify for the Essential Plan, the state-funded option on the insurance marketplace created with the Affordable Care Act, due to the need for a valid visa. Coverage for All would remove the visa requirement so that any immigrant who makes at or below 200% of the federal poverty line can get insurance through the Essential Plan. For a family of three to qualify, they'd have to make less than $43,920. Expanding or creating coverage for undocumented immigrants was one of several options proposed to close the remaining insurance gap included in a recent report from the Citizens Budget Commission and the Community Services Society.
Expanding health care access to immigrants is not a novel idea. Anyone under the age of 19, regardless of immigration status, can get insurance through the state-funded Child Health Plus program for children of low-income families. Coverage for All would effectively extend that access to those who would otherwise lose health insurance when they age out.
Ultimate approval of the legislation is far from guaranteed. First introduced in 2019, it has never made it to the floor of either chamber. It came close in 2019, when the Assembly version made it to its third committee but stalled in Ways and Means. The Senate version has never even made it out of the Health Committee, and currently, it is not on any upcoming meeting agenda for that committee. Bill sponsor and Health Committee Chair Sen. Gustavo Rivera did not return a request for comment. But in a statement on Tuesday when the bill moved in the Assembly, he said he remains "committed to advocating for this measure in the Senate."
Like other measures offering expanding rights and privileges to undocumented immigrants, Coverage for All faces opposition from Republicans, and likely from moderate Democrats as well. Such was the case during the debate over a law permitting undocumented immigrants to get drivers licenses – in the end, it pass the Senate only by a thin margin due to suburban moderates voting no. Similarly, moderates in the Assembly expressed reservations about the Excluded Workers Fund, notably Assembly Members Thomas Abinanti and Amy Paulin. 
Paulin and Abinanti, both members of the Health Committee, voted in favor of Coverage for All on Tuesday. However, three Democrats – Aileen Gunther, Phil Steck and John McDonald – joined Republicans in voting against it. "There are a number of concerns with this bill, which is likely why it had opposition from both Democrats and Republicans in committee," Assembly Minority Leader Will Barclay said in a statement to City & State. "The basic standard of having legal status in this country in order to qualify for a taxpayer-funded program has always been (an) appropriate criteria." None of the three Democrats who voted against the legislation responded to a request for comment.