New York State
The messy, last-minute changes to the 'excluded workers' fund
Charged state budget talks about aid for undocumented immigrants has revealed fractures among Democratic lawmakers.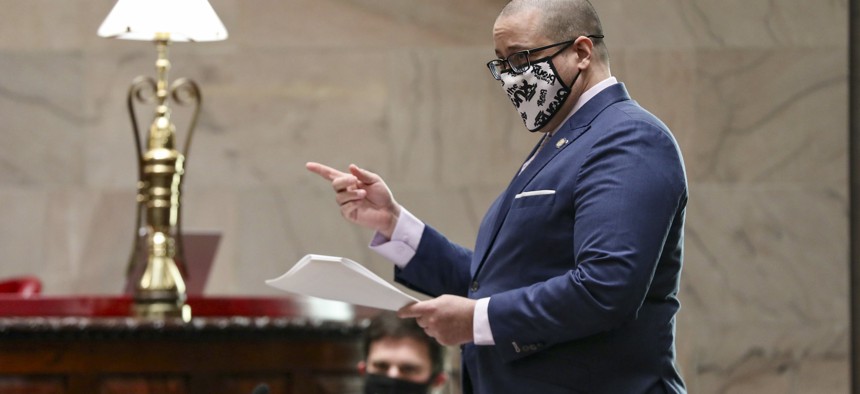 As lawmakers and Gov. Andrew Cuomo draw closer to a budget deal, a controversial fund to provide aid to people who were ineligible for unemployment and federal stimulus relief has been a final sticking point in finalizing the spending plan. And it's revealing fissures among Democratic members of the state Legislature. 
Gov. Andrew Cuomo initially didn't include the fund in his executive budget proposal. But both the state Senate and the Assembly included $2.1 billion to create the fund meant to provide aid to undocumented immigrants. Then the plan to create the fund seemed to fall apart over the weekend. Some 30 Democratic Assembly members and 13 Democratic senators reportedly had separate private meetings to express their reservations with the fund for people who have not received any unemployment or federal stimulus funds in the past year. Among the chief concerns, according to legislative sources, included proving residency, tax withholdings for the payments, the size of the fund and documentation requirements to prove loss of income.
Immigration advocates zeroed in on Assembly Members Thomas Abinanti and Amy Paulin of Westchester as leaders opposing the fund, staging protests at their offices over the weekend. Abinanti has since defended himself against accusations of racism, and told Gannett Albany on Monday that he remained undecided on the issue, citing concerns that the fund does not include mothers who left the workforce to care for children and others forced out of the workforce during the pandemic.
At a rally Monday at the state Capitol, state Sen. Gustavo Rivera of the Bronx called out Abinanti and Paulin for their reported opposition. "If you are willing to stand against what these folks have more than earned through the blood, sweat and tears that they put into our communities every day," Rivera said. "Then guess what. You don't get to do legislation with me."
Rivera later elaborated to City & State that he would not sponsor legislation with Abinanti or Paulin's name on it, nor move it through the Health Committee, which he chairs. He said he would do the same for anyone who ultimately votes "no" against the fund and who explain on the floor why they're voting against it. Rivera said lawmakers who are opposed to the fund and fighting for greater restrictions are "kowtowing" to racist constituents. "That's who you want to stand with? Cool, cool, cool, cool, cool, cool," Rivera said. "I ain't standing with you." At Monday's rally, state Sen. Jabari Brisport joined Rivera in committing not to work with Abinanti, Paulin or others who stood in the way of getting the excluded workers fund passed.
Abinanti agreed to speak with City & State, but did not call before this story was published. He has been defending himself and his position on Twitter, saying that claims that he called undocumented people criminals were lies. He also said that his position has been "misrepresented." Paulin was not immediately available for comment.
Rivera also told City & State that the Assembly, not the state Senate, was standing in the way of getting the fund passed. He said that leaders had reached a handshake agreement last week, but that some were trying to change it at the last minute. "The backpedaling is not happening from us," Rivera said. Although he didn't offer details about the purported agreement, he said it was "expansive, that covers as many workers as possible, that is not restrictive without necessity." Senate sources said that senators were briefed on Friday on a version of the fund that included a flexible application process to prove loss in order to access the most money available in the fund. Rank-and-file Assembly members were never briefed on the specifics of that version, according to sources. "The issue now is whether the Assembly's going to stick to it," Rivera said.
Rivera's comments drew the attention of Assembly Speaker Carl Heastie, who responded sharply on Twitter. "With all due respect Senator, the Assembly has had and will have the votes to pass an excluded workers fund bill that covers all workers," Heastie wrote. "Stop worrying about the Assembly and worry about your own house." Abinanti added on as well, comparing Rivera to former President Donald Trump. "The assembly speaker is a gentleman who treats people with respect & encourages civil dialogue – not a Trump like bully who threatens and attacks to stifle reasonable discussion," Abinanti tweeted.
Later that evening, both chambers went into conference, where the internal turmoil seemed to continue. Assembly Member Amanda Septimo, a first-term lawmaker from the Bronx, tweeted that Abinanti called her a "smart-ass." Abinanti quickly fired back that Sepitmo had flipped him off while he was explaining his concerns about the excluded workers fund. Septimo explained that she only did that after he called her a smart-ass. Septimo said she would not comment further on what happened, but the back and forth drew attention from Albany observers and reporters about the apparent dysfunction among Democratic lawmakers.
On Tuesday, state Democratic Party Chair Jay Jacobs added his two cents to the public airing of grievances. "Questioning certain provisions of the 'excluded workers' bill does NOT make someone racist," Jacobs wrote in a statement. "If we, as a party and a nation, can no longer debate issues like that without being subject to ad hominem attacks that unfairly question one's motives, then Donald Trump has truly won and we are no longer a democracy." Rivera offered his thoughts on Jacobs' statement on Twitter: "To paraphrase the bard: The gentleman doth protest too much."
Despite all that, lawmakers and legislative sources seem relatively satisfied with the version of the fund detailed last night. It falls short of $3.5 billion immigration advocates were calling for, and doesn't reflect the truly flexible application process they wanted. It includes two tiers to access funds, with the top tier offering over $15,000 to those able to provide some kind of formal documentation to prove loss of income, like a pay stub, bank statement or individual tax identification number. Legislative sources and those with knowledge of the briefing say that people who were recently incarcerated would no longer be eligible for the aid through the fund, and those applying would need to meet certain residency requirements.
Some Senate sources expressed dissatisfaction with the newest version, as it was seen as a step back from the more flexible process detailed Friday. But another Senate source expressed contentment with the plan, which they thought adequately addressed competing interests. A Senate spokesperson said the chamber has the votes to pass the measure. Assembly sources said the deal was seemed like an acceptable compromise, especially when wrapped up with other priorities that will make it into the budget, even if some concerns remain. And Heastie made it clear on Twitter that he believes his conference has the votes to pass it.
Powered By
NEXT STORY: Is Andrew Yang for real?