Energy & Environment
Can Bitcoin mining become a campaign issue?
Jumaane Williams is calling on Gov. Kathy Hochul to put a stop to proof-of-work cryptocurrency mining.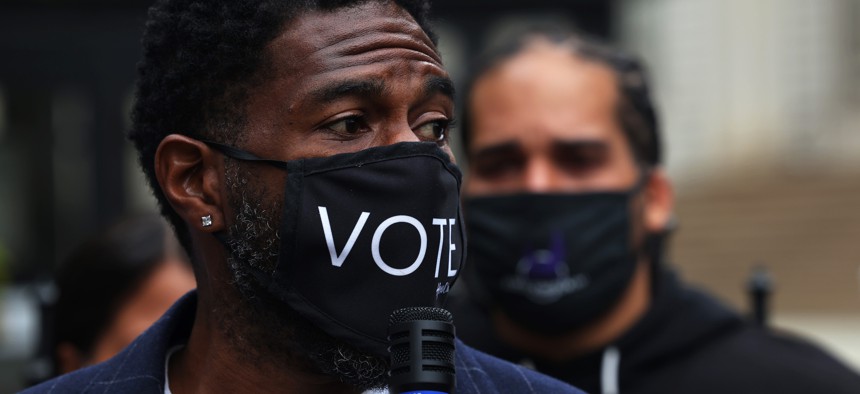 For months, environmental advocacy groups have been turning up the pressure on Gov. Kathy Hochul to put a stop to Bitcoin mining, and this week, they gained a partner in Jumaane Williams, New York City's public advocate and one of Hochul's challengers in the Democratic gubernatorial primary.
At a press conference on Monday near Seneca Lake – where one Bitcoin mining operation's future is up in the air – Williams called on Hochul to regulate proof-of-work cryptocurrency mining, stating plainly that he hoped pressure from an opponent would force her to act. "I am here because of how important this issue is. I do know my plan is to win a race, but I also know how effective just campaigning can be," Williams said. "Hopefully my presence here will allow the governor to maybe do something different than she was going to do." 
Bitcoin mining – in particular a method of mining called proof-of-work – has been shown to consume a massive amount of electricity because of the sheer number and power of computers that are used to compete for access to new Bitcoin as they're released into circulation. State lawmakers have introduced a bill to put a moratorium on proof-of-work cryptocurrency mining until its environmental effects can be studied. That bill stalled in the Legislature last session, but is likely to gain more attention this year. 
Some of the environmental opposition to Bitcoin mining in New York has been clustered near Seneca Lake, where a company called Greenidge Generation has been doing proof-of-work cryptocurrency mining out of a converted natural gas power plant. Though New York doesn't currently restrict cryptocurrency mining, the state Department of Environmental Conservation is in the process of reviewing air permit renewals for Greenidge. The state could effectively put a stop to its cryptocurrency mining if it finds that the plant is not in compliance with the state's Climate Leadership and Community Protection Act and declines the permits. The DEC has not yet made a decision on Greenidge's permit renewals, but some environmental advocates read it as a positive sign that the DEC denied permits for two new natural gas power plants – unrelated to Bitcoin mining – last fall, citing a lack of compliance with the CLCPA in those decisions. 
But the Greenidge plant isn't the only site doing cryptocurrency mining in New York, and in addition to calling for Greenidge's permits to be denied, Williams is calling on Hochul to regulate proof-of-work cryptocurrency mining to keep more sites from cropping up.
It's unclear, though, whether Bitcoin mining will gain much traction as an issue in the governor's race. "Voters in the Democratic primary care about creating and maintaining good jobs, they care about the tax burden that crushes many middle class families in the suburbs and upstate. They care about addressing the COVID pandemic. I don't think that there are a lot of voters who spent a lot of time up at night wondering about Bitcoin mining," said one Democratic political consultant, who asked not to be named in order to speak freely about race. "It's pretty environmentally bad, but it's not top of mind for most voters."
So far, Hochul hasn't said much about Bitcoin mining, its environmental effects or whether she would support a moratorium. "Governor Hochul is taking bold, nation-leading actions to confront climate change head-on, and the state is actively reviewing proposals regarding the role of cryptocurrency mining in New York's energy landscape, especially in light of the Climate Leadership and Community Protection Act," a spokesperson for Hochul wrote in a statement, adding that the governor would review any legislation that passes in the legislature. Spokespeople for Rep. Tom Suozzi, who is also running in the Democratic primary for governor, did not return a request for comment about his stance on cryptocurrency mining. 
Whether it's a galvanizing campaign issue or not, Williams' team is confident about one thing. "This is an issue that isn't going away," a spokesperson told City & State.