New York City Council
City Council takes step to making open restaurants permanent
A zoning amendment called a "first step" in the process passed easily in the City Council on Thursday.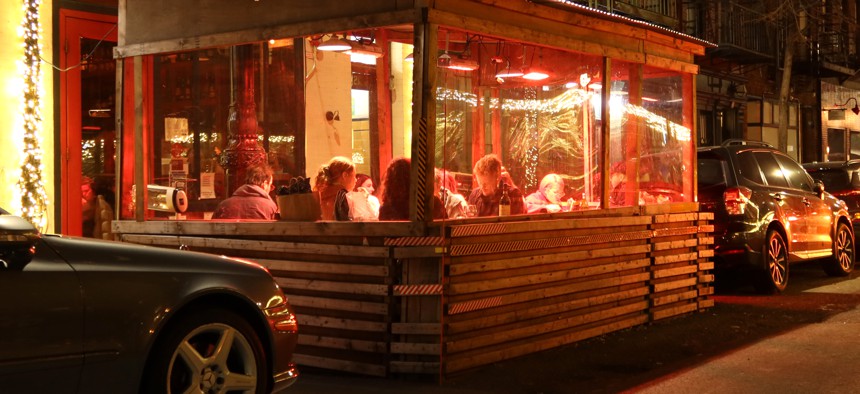 New York City is one step closer to making outdoor dining permanent. The City Council on Thursday passed a zoning amendment that will remove geographic restrictions on where sidewalk cafés can be set up in New York City. 
While sidewalk cafes are just one aspect of the kind of outdoor dining that has flourished in the city during the COVID-19 pandemic, lawmakers, advocates and at least one city agency's Twitter account said that the passage of the zoning text amendment on Thursday marks an important step on the way to keeping the Open Restaurants program for good. "By approving the Open Restaurants text amendment, it removes those geographic restrictions, allowing sidewalk cafes to be located in many more neighborhoods, particularly outside of Manhattan, where they had been restricted," Andrew Rigie, executive director of the New York City Hospitality Alliance, told City & State. Rigie added that the amendment only takes effect upon the enactment of legislation and rules that create a new permanent Open Restaurants program.
Supporters said that the amendment will correct previous inequities in who can benefit from sidewalk cafes. Crucially, it ensures outer borough communities will be able to enjoy al fresco dining at these cafes, as they have during the temporary Open Restaurants program launched in the thick of pandemic in 2020. "It's talking about actually giving our outer boroughs an opportunity to flourish like Manhattan has, and giving families like mine an opportunity to understand and expect equal treatment," Council Member Marjorie Velázquez, who represents the Bronx, told City & State.
Following its earlier passage in the land use committee, the text amendment passed in the council on Thursday with a majority of 43 votes in favor and six against. 
The city's temporary Open Restaurants program was enabled by an emergency executive order in June 2020 to help struggling businesses during the pandemic. Since then, the popular program has been renewed, with the city approving more than 12,000 permits for establishments to participate in outdoor dining. 
While the zoning amendment passed on Thursday has been called a first step, there's still a long way to go in making the Open Restaurants program permanent. "The next step is the City Council will have to consider and enact legislation that creates the regulatory framework for outdoor dining, which could include parts of the application process and the overall framework," Rigie said. After that, the city agency overseeing the program – possibly the Department of Transportation – will start the rulemaking process, which will lay out more details about what outdoor dining can look like and how businesses might be permitted.
Hammering out the details of what a permanent outdoor dining program can look like will take time, as some residents continue to voice complaints that the temporary Open Restaurants program increases noise, attracts rats and creates unsightly streets. Others have raised concerns about outdoor dining sheds cutting down on sidewalk and parking space. A hearing on this issue earlier this month lasted more than eight hours. "At the end of the day, we want a world where restaurants and small businesses can survive, at the same time that communities feel engaged in the process, have a say, and have a way of working together," Velázquez said on Thursday.
It remains to be seen exactly what outdoor dining would look like under a new, permanent program, though it might involve fewer outdoor sheds. Sara Lind, director of policy at Open Plans, a nonprofit focused on creating livable streets, said that her organization has advocated for a year-round program that looks more like the European café-style of movable tables and chairs, rather than large permanent sheds.