Housing
Hochul's reversal on granny flats is an exercise in compromise
The new governor wanted to increase housing density in the suburbs through the budget, but she changed course after getting negative reactions from the 'burbs.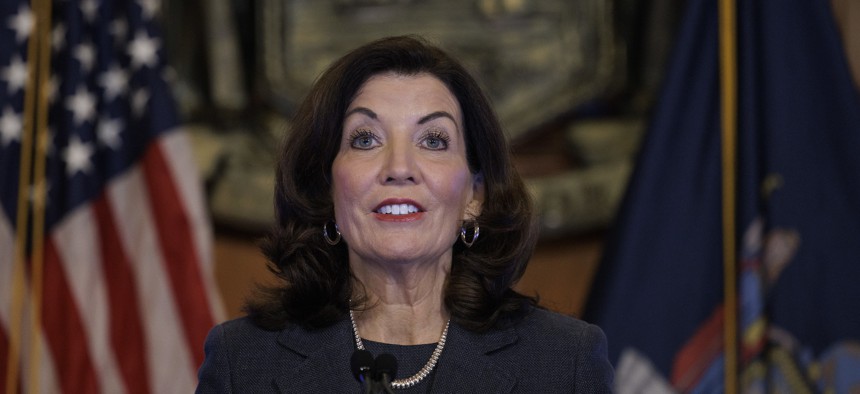 Gov. Kathy Hochul has promised a new era of collaboration and cooperation with lawmakers. Talk is easy though, and many have said her real test would come with the massive state budget. A recent decision to remove a controversial housing proposal from her spending plan indicated that Hochul is in fact walking the walk of compromise. 
As part of her initial budget proposal, Hochul included a requirement for local governments to allow for more housing on land otherwise zoned for single-occupancy units. Those so-called "accessory dwelling units" could be apartments or cottages on the same plot of land as traditional, single-family suburban homes. Hochul pitched the idea as one to help address the state's affordable housing crisis, making it easier for more homes to be built in areas less dense than major cities. 
However, the proposal received harsh backlash from suburbanites, particularly from Rep. Tom Suozzi, Hochul's opponent in the Democratic primary for governor. He framed the idea as an attempt by Hochul to "eviscerate local zoning control" and "end single family housing across New York" in a recent press release. Other lawmakers from the suburbs also rallied against the idea, decrying a loss of local control. Hochul's retreat on the issue looks like an early admittance of defeat in the face of criticism. 
Hochul denied that she caved to pressure with her decision, insisting it came about after conversations with local leaders during which they raised concerns she wanted to address. "I think what happened is you see a different kind of leadership here, where I will take ideas from people," Hochul said at an unrelated press conference on Tuesday. "I have a broad policy objective I want to achieve, but I can achieve that by working closely, rolling up our sleeves and working with our partners." She pointed to the fact that she left in place a provision aimed at legalizing current unregulated accessory units in New York City since Mayor Eric Adams wanted it, while removing the part that involved suburbs.
And some lawmakers agree with Hochul's framing – namely those who sponsor similar legislation to expand and legalize the housing units outside the budget process. Despite dropping the proposal from her budget, Hochul made it clear that doesn't mean she's washing her hands of the issue. "She specifically told me that as well, that just because there are problems with timing and everything doesn't mean that we're done having the conversation," said Manhattan Assembly Member Harvey Epstein, one of the bill's sponsors. "I think she's committed to finding a path forward."
Epstein added that Hochul's personal conversation with him on the matter represented a stark contrast between herself and former Gov. Andrew Cuomo when it came to interacting with rank-and-file lawmakers. "I think it's a really good sign that this governor is trying to live up to her commitment to be a collaborative person," he said.
Westchester state Sen. Peter Harckham, the other sponsor, struck a similar tone after Hochul removed the proposal from her budget. "I understand Governor Hochul's decision to remove the (accessory dwelling unit) initiative from the Executive Budget; this action highlights our primary concern, which is to get all of the details of the bill right, rather than enact a bill right away," he said in a statement at the time. Although Harckham has rallied with supporters to enact his and Epstein's legislation, he did not denounce the governor's decision to ax her version from the budget. 
None of this is to say that the road ahead for the legislation will be easy. "I have serious concerns about the infringement these proposals would have on New York's long-standing history of municipal home rule," Long Island state Sen. Anna Kaplan said in a letter to mayors in her district this month, referring also to a proposal Hochul ultimately removed from her budget meant to spur transit oriented development in the suburbs. In the same letter, she affirmed her opposition to the bill from Epstein and Harckham as well, asserting it would "effectively ban single-family zoning." A spokesperson for Kaplan said she is involved in ongoing discussions on how to increase affordable housing stock in the suburbs, something she supports. 
While Hochul appears to have kept her promises about cooperation so far, the real negotiations begin next month. And all bets may be off if she doesn't have to play nice right before a crucial election. But as Hochul takes a markedly different approach to the budget process so far compared to her predecessor, even this apparent setback offers lawmakers and political observers one of the first real opportunities to see whether those early promises would actually hold up under real Albany pressure. 
Powered By
NEXT STORY: 'Real crisis': Adams and Hochul announce cybersecurity defense program