New York City
Eric Adams presents his $98.5 billion budget
The mayor emphasized fiscal discipline in his first preliminary budget – but it's still pretty huge.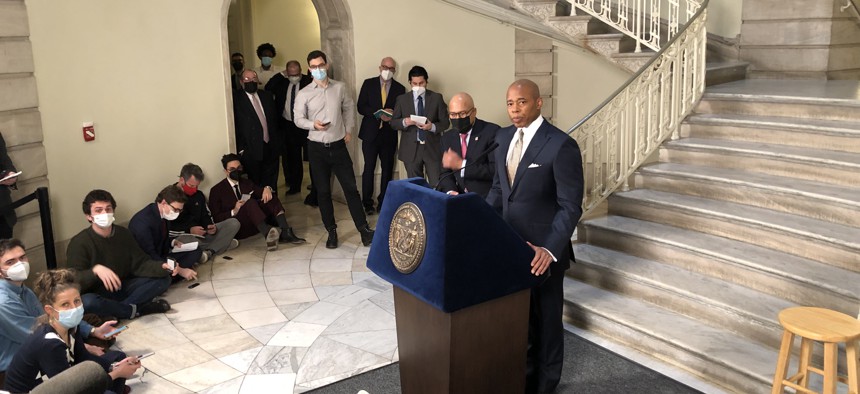 New York City Mayor Eric Adams can promise to "get stuff done" all he wants, but before he can do that, Adams needs to get that "stuff" properly funded. On Wednesday, the new mayor unveiled a preliminary budget proposal for the fiscal year beginning July 1, totaling $98.5 billion, down from the $106.5 billion that is projected to be spent in the current fiscal year. "My administration is focused on fiscal discipline," Adams said in his budget address from City Hall on Wednesday. "We are not spending our money, we're spending your money."
A central component of Adams' preliminary budget would fulfill a campaign promise of cutting city agencies' budgets by 3% to 5%. The city got a preview of that plan last month, when Budget Director Jacques Jiha asked all but a few city agencies to submit plans that would reduce their budgets by 3%. This Program to Eliminate the Gap (PEG) will result in almost $2 billion in savings, according to Adams' preliminary budget. The actual savings will depend on how closely actual spending in the next fiscal year adheres to the budget Adams proposed on Wednesday. In Fiscal Year 2022, de Blasio proposed a budget of $98.7 billion, but actual spending rose to $102.8 billion by November, and is expected to rise further. Adams' fiscal plan would allocate $3.7 billion of the current fiscal year's revenue to FY'23 expenses, meaning that total expenses for the upcoming year are projected to be around $102.3 billion.  
Where will those savings created by the PEG go? Among other things, Adams' budget baselines funding for the Fair Fares program offering discounted metro cards, adds new positions for the city's summer youth jobs program and expands the Earned Income Tax Credit. Repeating a common refrain, Adams said Wednesday that reducing crime is a "prerequisite to prosperity," referencing the blueprint to end gun violence that he unveiled last month. Adams did not expand on what kind of funding will be put toward his gun violence initiatives – which include putting more cops on patrol and launching new "neighborhood safety teams." That might not necessarily mean hiring new officers, though. Adams' preliminary budget actually reduces the NYPD's budgeted headcount by 770 employees – all through vacancy reductions, meaning that empty civilian positions will remain unfilled. But Adams reiterated on Wednesday that he would like to redeploy some uniformed officers working desk jobs to street patrols. "Taxpayers deserve a better product," he said. "You can't have thousands of police officers doing clerical duties when shootings are up." 
New York City's budget process is just beginning, but these are the initial numbers you need to know.
$98.5 billion – The total proposed spending by Adams for the fiscal year that starts in July. This number is likely lower than actual spending will be, as budgets typically climb between the time the preliminary proposal is made and the end of the year.  
$22 billion – The amount of federal COVID relief funding the city is expected to receive, between fiscal year 2020 and fiscal year 2025, according to the Citizens Budget Commission. Federal aid has allowed record high spending in the current fiscal year, but the federal funds are tapering off in the upcoming year and Adams has to adjust.    
$6.1 billion – The preliminary budget increases the city's reserve funds to a total of $6.1 billion, a $1 billion increase. Adams pointed to those reserves when asked how the city would deal with future health crises or new COVID-19 variants.
$1.9 billion – The savings achieved by Adams' PEG cuts to city agency budgets, including $866 million in savings in the current fiscal year, and $1.1 million in the next.
0 – The numbers of layoffs Adams said were made in order to reduce the city's headcount by 3,200 in the current fiscal year and by 7,000 in the next fiscal year. Adams said those reductions were made by eliminating vacancies, but it's unclear if those figures factor in the 1,430 municipal workers who were terminated for refusing to comply with the city's COVID-19 vaccine mandate.
$2.7 billion, $2.2 billion and $3 billion – The budget gaps forecasted for the forthcoming years – Fiscal Years 2024, 2025 and 2026, respectively. Adams called these gaps "manageable."
$204 million – The reduction to the NYPD's expense budget, from $5,611,000 in the current year to $5,407,000 in the upcoming year. Police funding has been one of the most contested budget issues in the past couple years, but the budget line doesn't tell the whole story. More state and federal funding is expected to be allocated to the NYPD before the budget is passed in June – plus, the agency's budget line only reflects a portion of the approximately $10 billion spent on police annually.
$100 billion – The total funding in the mayor's preliminary capital plan, which includes $1.2 billion for the rehabilitation of 12 highway bridges.
30,000 – The number of new positions for the Summer Youth Employment Program that will be created with a $79 million investment in the next fiscal year, growing youth summer job opportunities to 100,000 spots. The SYEP program is one of several Adams has pointed to as a gun violence preventative measure. 
$30 million – The amount to be set aside in the next fiscal year to fund health screenings and other support services for first-time moms in neighborhoods hit hardest by COVID-19. Access to maternal health care and combating higher morbidity and mortality rates among pregnant people of color is a goal that several people in the City Council's new female majority have discussed.
Powered By
NEXT STORY: Why isn't New York enforcing its nurse staffing law?