Policy
How Asian American lawmakers want to address ongoing violence and poverty
Education, vaccines and social services are included in the $64.5 million worth of ideas Asian American leaders have for the upcoming state budget.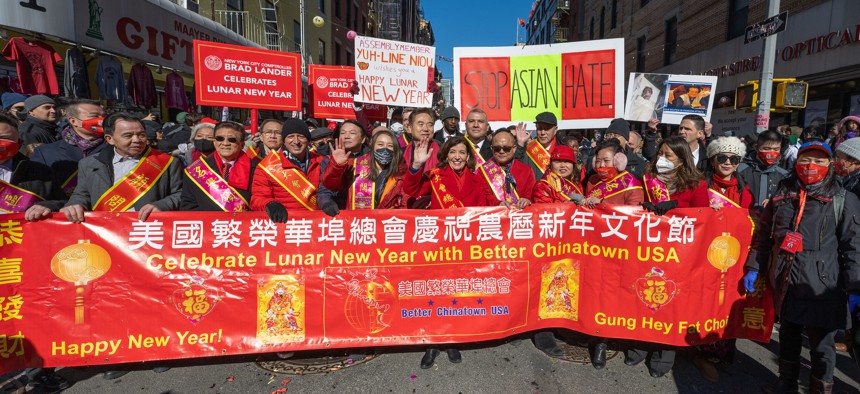 Recent killings have highlighted ongoing dangers to Asian Americans, who remain one of the most impoverished groups in the Empire State. State legislators and dozens of community groups say the state budget process could begin delivering $64.5 million worth of help. "The onslaught of hate crimes targeting the (Asian American and Pacific Islander) community has significantly worsened with the COVID-19 pandemic," state Sen. John Liu of Queens said in a press release. "Such hatred, bias and discrimination have long been part of the AAPI experience." 
Gov. Kathy Hochul has offered a few signs in recent weeks about how she might be more amenable to the various state budget requests than her predecessor, whose relationship with Asian American lawmakers was particularly fraught. That could help get the proposed spending in the $216 billion-or-so state budget expected to pass April 1, though legislative leaders and Hochul have yet to officially back the new funding. 
More than two-thirds of the proposed $64.5 million in funding – $46 million – would go toward community organizations to fund a wide variety of human services like food programs, legal help, mental health services and more, according to the coalition of groups supporting what they are calling the AAPI Equity Budget. "We do need to get some immediate systems in place to be able to continue to fight anti-Asian hate," said Jo-Ann Yoo, executive director of the Asian American Federation, one of the organizations that would be tasked with funneling the money to the dozens of smaller organizations that are part of the coalition. "We also need to build infrastructure." This includes helping community organizations hire the staff they need to maintain programming, she added.
The remainder of the $64.5 million ($18.5 million) would go toward a variety of programs. This includes $5 million for COVID-19 programs that could deliver funding, personal protective equipment and vaccine equity to Asian American communities. Another $5 million would fund projects aimed at demonstrating how state agencies could better use data to benefit Asian American communities. Last year, Hochul signed into law legislation (which Cuomo previously vetoed) requiring the state to break down demographic data on Asian New Yorkers into more specific subcategories. One million dollars would go towards establishing a so-called AAPI State Commission modeled on those created in other places like California while another million would fund a task force studying how to improve education among certain populations of Asian Americans like English language learners. Another $6 million aims to boost how schools teach K-12 students more broadly about Asian American history and related topics. 
"Gov. Hochul is committed to supporting the vital organizations that advocate for New York's diverse communities, including AAPI communities amid the ongoing pandemic and horrifying wave of hate crimes, and we will work with the legislature on these priorities," spokesperson Hazel Crampton-Hays said in an email. The state budget approved last April included $10 million in funding for similar efforts. Hochul recently touted the release of such funding – "contracting takes forever," Yoo said about why it took nearly a year for the funding to move. Hochul has also shown solidarity with Asian Americans in other ways that former Gov. Andrew Cuomo never did. Visiting Manhattan's Chinatown is one example. 
Advocates also want to enlist the help of Assembly Speaker Carl Heastie and state Senate Majority Leader Andrea Stewart-Cousins. "We seek your support," read two Feb. 17 letters to Heastie and Stewart-Cousins signed by 21 and 25 members of their respective conferences. A few dozen more could convince the consensus-driven legislative leaders to get on board with the proposed $64.5 million package. Representatives of the legislative leaders did not respond to requests for comment by publication time. 
Two prominent legislators – Liu and Assembly Member Yuh-Line Niou of Manhattan – are leading the push to secure the $64.5 million in funding, according to a press release that did not include other Asian American legislators. Assembly Member Ron Kim of Queens did not sign onto the press release because of the role of the Chinese-American Planning Council in distributing funding due to an ongoing controversy about alleged wage theft. He added that he otherwise supports the funding in addition to his own recently unveiled proposals aimed at helping members of the community deal with ongoing violence against Asian Americans. 
This disturbing trend affected Niou when white supremacists trolled a recent virtual meeting between herself and supporters of her state Senate campaign. The incident follows others that demonstrate once more the specific forms of racism faced by Asian Americans in New York and beyond. "Our Asian-American communities are facing a crisis of anti-Asian hatred and violence," Niou said in the press release. "We are frightened. We are angry. Most of all, we have asked our government for real, tangible help to ensure AAPI New Yorkers can feel safe in their own city."