Politics
Local lawmakers plead for federal help in New York's gun violence crisis
Federal legislation, funding and coordination are part of a range of proposals to stop the flow of illegal guns into New York.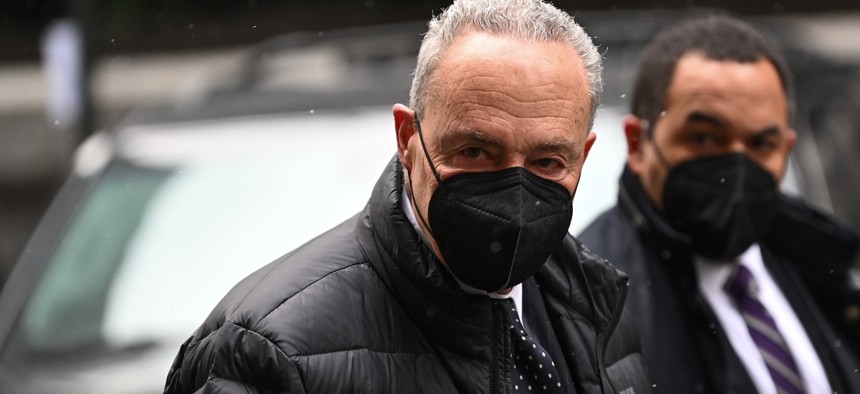 Amid a wave of shocking incidents of gun violence in New York and a surge in shootings here and across the country over the past two years, local leaders have heightened their calls for federal intervention in the crisis. 
Sen. Chuck Schumer on Sunday announced plans to seek an additional $1.5 billion for the Bureau of Alcohol, Tobacco, Firearms and Explosives in the next federal budget, money that he said will "take on trafficking, disrupt the Iron Pipeline, and focus in on New York, Long Island and beyond."
The call for federal intervention comes as President Joe Biden is expected to meet with Mayor Eric Adams on Thursday to discuss the city's gun violence issue, which has gained renewed attention in recent weeks in the wake of the shooting deaths of New York City Police Department officers Jason Rivera and Wilbert Mora.
Gov. Kathy Hochul also met with Biden Monday in Washington while in town for the National Governors Association Winter Meeting, though it's unclear if they broached gun violence. Her office did not respond to questions about whether the topic was addressed at the meeting before publication time. 
Schumer's announcement follows Hochul's debut of an Interstate Task Force on Illegal Guns, which met for the first time in a three-hour session last week to discuss strategies, including data sharing and tracking ghost guns. The ATFE, along with members of the state and New York City police departments and representatives from neighboring states, were in attendance. The coalition is also expected to meet in the coming weeks with local police departments across New York.
Interstate coordination is a key component to fighting gun violence in New York, where studies have shown the majority of guns used in crimes can be traced to states with weaker firearm laws, mostly in the south. The "Iron Pipeline" refers to Interstate 95, which snakes up the East Coast from Florida to the Canadian border. 
The Glock 45 handgun used to kill Rivera and Mora was reported stolen from Baltimore in 2017, police have said, and has become a powerful prop for local elected officials seeking national coordination to combat gun crimes. 
Adams also emphasized the importance of federal partnerships in his recent "Blueprint to End Gun Violence," which promises to "increase coordination and information-sharing with the ATFE, FBI and other national stakeholders.
As part of the plan, he called on Congress to pass legislation requiring universal background checks for gun sales, enhanced penalties for traffickers and tracking of ghost guns. Sen. Kirsten Gillibrand stood alongside Adams earlier this month while renewing her years-long push to pass a bill co-sponsored by Rep. Carolyn Maloney that would make trafficking of firearms a federal crime. 
Elected stakeholders have also repeatedly emphasized the importance of community partnerships and intervention to prevent gun violence from happening in the first place. In December, the U.S. Treasury Department committed more than $20.5 million to the Mayor's Office of Criminal Justice to help support programs for at-risk youth, including the expansion of a street outreach program known as "Cure Violence."