Criminal Justice
Will Biden finally intervene in the Rikers crisis?
Calls for the president to visit the jail complex underscore criticism that New York has allowed conditions there to deteriorate.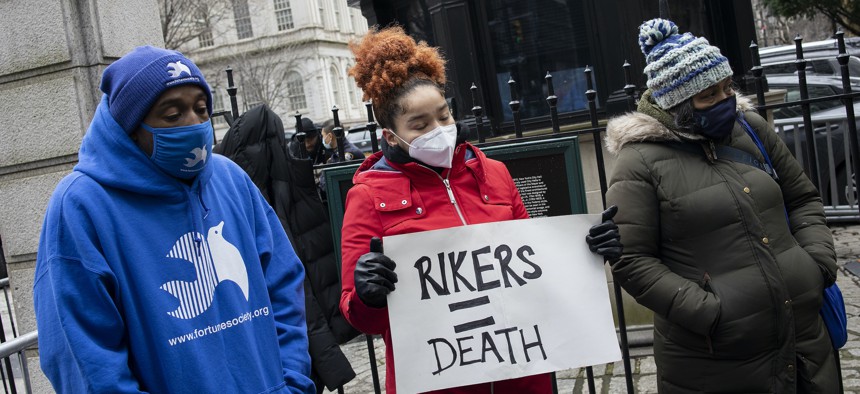 Public defenders are calling on President Joe Biden to survey the ongoing humanitarian crisis at Rikers Island when he visits New York next week – a request that is more symbolic than it is practical and underscores the continued pleas for outside intervention at the facility.
"Biden's visit to New York City is an opportunity for this nation's leader to witness firsthand the horrendous conditions New Yorkers endure each day on Rikers Island — conditions that should serve as a reminder of why incarceration is not a panacea for public safety concerns," the Legal Aid Society, the Bronx Defenders, Brooklyn Defender Services, New York County Defender Services, the Neighborhood Defender Service of Harlem and the Queens Defenders wrote in a joint statement. 
Presidents rarely, if ever, visit jails. Obama was the first sitting president to visit a U.S. federal prison in July 2015, so it's unlikely that Biden will take up the request to visit a city-run jail facility. Biden's planned visit is not technically about Rikers but another criminal justice issue that is plaguing New York: gun violence. He is expected to meet with Mayor Eric Adams next Thursday to discuss the issue following a series of high-profile shootings in New York in recent weeks.
The plea for Biden's attention capitalizes on the cries from lawmakers and advocates for federal help at the facility, along with New York's failure to manage the jail. In September, U.S. Rep. Ritchie Torres, along with at least a dozen other lawmakers, sent a letter to Biden seeking federal aid for the jail complex. At the same time, the federal monitor ordered to oversee the jails as part of a 2015 settlement with the city reported that the "conditions in the jails have significantly deteriorated in the past few months" and declared them to be in a "state of emergency." The warning was followed by a scathing report released by the federal monitor, Steve Martin, in December that called 2021 "the most dangerous year" on Rikers since 2015. 
Since the report was released Dec. 6, COVID has spread rapidly at the jail, at least two inmates have died and others have gone on a hunger strike to protest the jail's abhorrent conditions. New leadership has also been put in place and promised the return of policies that advocates and elected officials say are a step backwards in securing more humane conditions for incarcerated people.
Adams appointed former Las Vegas jails boss Louis Molina to head up the Department of Correction earlier this month and one of his first moves was to declare the return of punitive segregation. He then swiftly fired jails watchdog Sarena Townsend, who reportedly claimed she got the ax after refusing to toss thousands of disciplinary cases against correction officers. 
The hunger strike has ended, New York County Defender Services executive director Stan German told City & State in an email, but inmates who engaged in the protest have experienced retaliation, according to a letter German sent to Molina on Wednesday. 
"It is readily apparent to all observers that the NYC Department of Correction under the new administration in City Hall is determined to coddle the very unions that have been one of the biggest contributors to the crisis on Rikers," he wrote in the letter, which was first reported by The Daily News and obtained by City & State. "It is also extremely disturbing that in just three weeks, DOC has engaged in a campaign of retaliation against both employees and incarcerated persons who bravely call out the atrocious conditions."
The NYCDS is representing one of the inmates who was allegedly targeted. Shortly after speaking on behalf of protesters, inmate Edwin Bowins, German wrote in the letter, was transferred to a gang dormitory where officers called him a "snitch" and he was "subsequently assaulted by ten to fifteen different detainees." Bowins was then transferred to the floating Vernon C. Bain Correctional Center, known as "the boat," German wrote, and temporarily barred from meeting with his lawyers, according to German.
The Correction Officers Benevolent Association union blasted the allegations as "left-wing propaganda"  and denied a hunger strike was ever underway. 
"They exploited a group of inmates who lied about being on a hunger strike, when in fact they were eating from the commissary every day," COBA President Benny Boscio said in a statement. "We will continue to expose their hypocrisy and we strongly object to any notion that we have caused the problems facing Rikers Island."
Councilmember Carlina Rivera, who chairs the body's criminal justice committee, said she and her colleagues were currently looking into a number of issues at Rikers and working on a formal request for additional safety measures that could come as early as Thursday. 
"We're working on getting more information as to the details and the status of everyone on Rikers, those who are detained and incarcerated, as well as the staff there," Rivera told City & State, adding that "staff safety, but also reported retaliation against those who are participating in the hunger strike" were areas of particular concern.