New York City
Urgency to improve Rikers conditions grows as inmate hunger strike enters Day 6
Advocates on Thursday demanded Mayor Eric Adams step in to improve conditions at a rally outside the jail complex.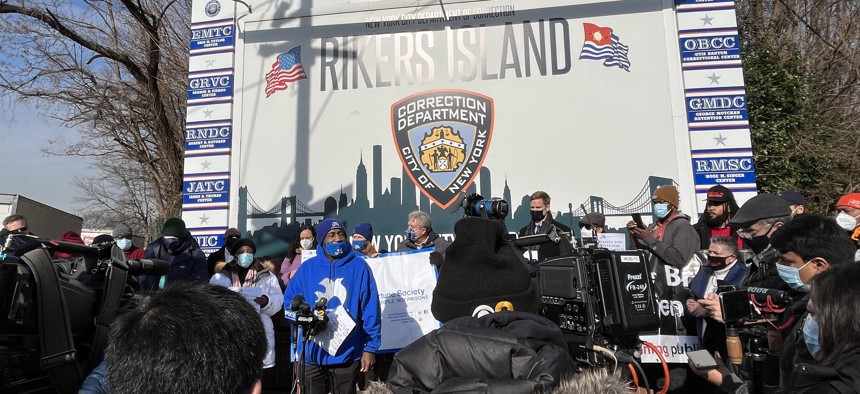 Advocates and elected officials rallied outside of the Rikers Island jail complex Thursday to demand improved conditions at the facility amid an inmate hunger strike.
About 200 detainees have been refusing meals since Saturday in an effort to call attention to lack of heat and hot water in some areas of the jail, inconsistent medical care, rampant fighting, and issues with security and sanitation, said one advocate who attended the rally and fields inmate-complaints calls. The figure was also reported Tuesday by The New York Times.
"It's just becoming unbearable," Victoria Phillips, a community, health, & justice organizer with the Urban Justice Center, told City & State. Heat has become an increasingly urgent issue amid single-digit temperatures this week, Phillips said.
"The things I keep hearing about consistently is (no access to) mail, heat and no access to hot water. One unit was even complaining about no water. An officer confirmed this morning to me that they were freezing last night," said Phillips, who attended the 11 a.m. rally, hosted by The Fortune Society, alongside Council Members Gale Brewer, Carmen De La Rosa, Shekar Krishnan, Lincoln Restler and Erik Bottcher. 
While inhumane conditions at the city's largest jail complex have been an issue for decades, they reached a breaking point this summer amid a COVID-induced staff shortage. Despite a skyrocketing number of inmate deaths and near-constant media reports of turmoil inside the facility, the Department of Correction has dismissed inmate concerns, Phillips said.
"Last night I kept hearing from incarcerated (people) and staff, that wardens and deputies haven't really even come around to hear their demands," Phillips said. The city needs to "actually bring officers (in) to start making things happen, start escorting people to medical (appointments), get the mail going. There's no reason someone does not have access to the law library or access to court… that's a constitutional right."
Jail officials on Tuesday denied there was a hunger strike underway.
"A group of detainees were refusing institutional food and instead eating commissary food," DOC spokesperson Jason Kerset told The Times. "The warden is engaged with them and addressing their concerns, and our employees have been working tirelessly to keep our facilities and all who work and live in them safe."
COVID-19 is also spreading rampantly throughout the complex. Less than half of inmates are fully vaccinated and more than 370 have tested positive for the virus in recent days, according to The Times.
"The Department of Correction and the officers' union must provide adequate staffing of all posts across Rikers to ensure safe operations and conditions," Fortune Society President and CEO JoAnne Page said in a statement. "We stand with the men in (Robert N. Davoren Complex) who are taking this collective action out of desperation, and their loved ones."
At least 16 inmates died while in city custody last year. Phillips noted the death toll could be even higher when accounting for inmates who died from injuries and ailments sustained at Rikers after their release. 
"If you speak to medical staff, they were already saying even before the strike, that not even half of the inmates who put in for medical appointments are being seen," Phillips said. "I have yet to see the real data on those who were released and then died, because of conditions that they were placed in."
The rally comes a day after a disturbing video showing an unhinged gang-led "fight night" involving dozens of inmates was unearthed by The Times. One of the inmates involved in the brawl was released by Manhattan Supreme Court Judge Justice April Newbauer last month, because, she said, the DOC failed to protect the man as he awaited trial on robbery charges. 
As calls for reform mount, a battle is brewing between the newly elected mayor and City Council over his criminal justice policies, including within the Department of Correction. Mayor Eric Adams replaced his predecessor's reform-minded DOC Commissioner Vincent Schiraldi with former Las Vegas jails boss Louis Molina, who vowed in his first public statement to bring back the controversial practice of solitary confinement at Adams' behest. 
Molina then fired city jails watchdog, Sarena Townsend, who told The Daily News that she was given a pink slip after refusing to toss thousands of open use-of-force complaints against staff.
Advocates on Thursday made their pleas for better conditions directly to Adams. 
"The mayor's office could step in right now," Phillips said. "There's nothing new about the outrageous barbarian conditions except for the people who pass the buck. The City Council passes it to the mayor's office and the mayor's office passes it to the DOC."
Powered By
NEXT STORY: NYPD Detectives' Union joins fight against Alvin Bragg